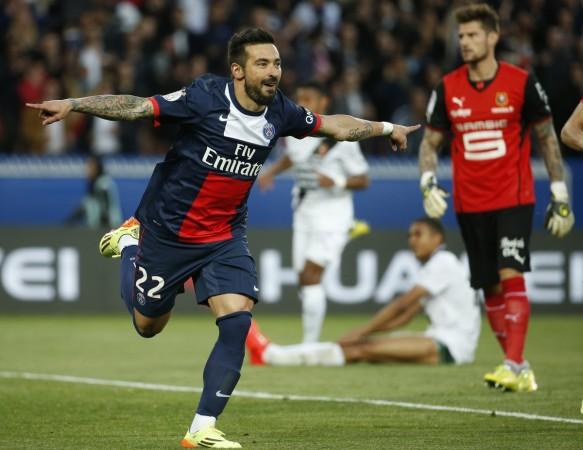 Liverpool are reportedly lining up an £18 million move for Paris Saint-Germain forward Ezequiel Lavezzi after they pulled the plug on the Loic Remy deal.
Although the Reds were expected to sign Remy for a reported fee of £8.5million, Liverpool mysteriously pulled out of the deal after everything had been agreed between the two clubs.
While some reports claim that the French striker failed his medical, others suggest that the deal fell through due to Fabio Borini's insistence to remain at Liverpool.
Liverpool boss Brendan Rodgers, who had said that Liverpool would be moving "onto other targets" following the collapse of the Remy deal, is now reportedly looking to sign Lavezzi, according to the Daily Express.
PSG are believed to be keen on offloading some players to balance their transactions in the summer transfer window, so that they can finance a big money move for Real Madrid's Angel Di Maria.
The French side have been asked to "significantly limit spending in the transfer market for seasons 2014-15 and 2015-16" after being found guilty of breaching UEFA's the Financial Fair Play rule.
Now as they have already spent £50 million to land Brazil defender David Luiz from Chelsea, the French champions will need to sell some players if they want to land Di Maria on a permanent transfer this summer.
Meanwhile, Liverpool striker Daniel Sturridge says that all the players need to step up to fill the void left by the departure of Luis Suarez.
The Reds decided to sell Suarez, who played a big hand in Liverpool's success last season, scoring 31 goals in 32 appearances in the Premier League, to Barcelona, after the Uruguayan received a lengthy ban for biting Italy Giorgio Chiellini during the 2014 World Cup.
Although everyone is now counting on Sturridge, who scored 21 Premier League goals last season, to provide the fireworks following Suarez's depature, the former Chelsea and Manchester City man insists that the entire squad have to step up.
"This is a huge club with a lot of players who can step up," said Sturridge. "I wouldn't say it's by default that I'm the main man. As a team we will move forward, I wouldn't say I'm the main man. We are going to do our best to move forward.
"It is everyone's job to step up. The new boys who have come in, as well as the players who have been there all season."