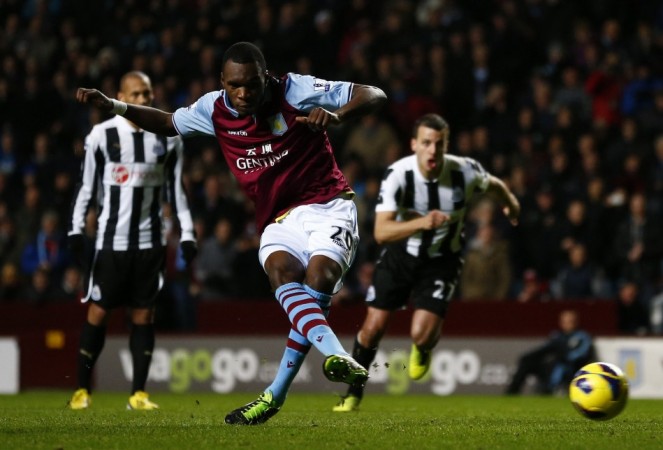 Belgian goalpoacher Christian Benteke Liolo is all set to arrive at Anfield this week, in what could be Liverpool's seventh signing of the summer.
British daily Express has reported that Reds manager Brendan Rogders is set to trigger the striker's £32.5million buy-out clause this week and swoop for the player from Aston Villa.
The 24-year-old striker, who was born in Zaire and later emigrated to Belgium, is also linked with North London rivals Arsenal and Tottenham, but it is mooted that Benteke is all set for a move to the Reds and Rodgers' side have kept on their pursuit for the player all summer.
The former Belgian pro league winner with Standard Liège arrived at Villa Park in August 2012 for a fee believed to be around £7m. Since then, Benteke has been quite consistent with Villa as he notched up 49 goals in a total of 101 games for the club.
His recent performances in the Premier League 2014-15 also attracted admirers, as the striker became the topscorer for the club, having scored 13 times from 29 Premier league appearances.
He also scored twice in the FA Cup, and was awarded Premier League Player of the Month in April this year.
Earlier, it was reported that Villa were not willing to sell their star striker if a fee is offered for Benteke that is less than his buy-out. However, with the report coming that Liverpool are indeed ready to meet the player's market price, the transfer seems imminent this summer.
Liverpool lost their attacking tooth following the departure of star forward Luis Suarez to Barcelona last summer, and Rodgers' side has since struggled on the attacking front. They recorded just 52 Premier League goals last season – the lowest total in the top-seven.
The Reds have been on a spending spree this summer, having already snapped up Roberto Firmino, Danny Ings, James Milner, Adam Bogdan, Joe Gomez, as well as defender Nathaniel Clyne from Southampton.
While Ings has been in instrumental in the goalscoring form for Burnley last season, it is believed that Rodgers is trying to fill any missing void in the attacking department by the purchase of the more-experienced Benteke. If the transfer does take place, Liverpool's shopping spree this summer will go way beyond the £80m mark.
Meanwhile, the BBC have reported that the Reds are all set to name England Under-19s boss Sean O'Driscoll as their new assistant manager today.