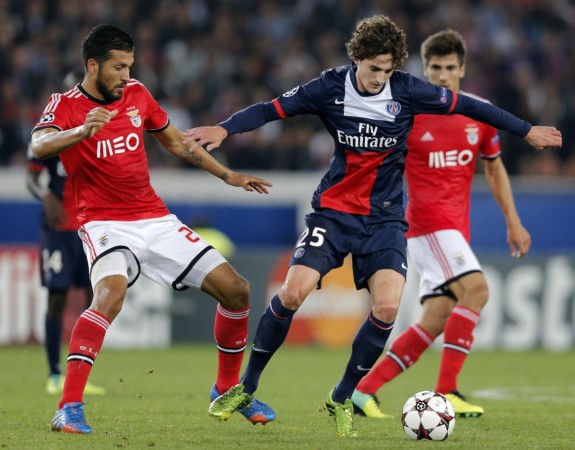 Liverpool are reportedly looking to beat Tottenham Hotspur to the short-term signature of Paris Saint-Germain youngster Adrien Rabiot in January.
Earlier many top Premier League clubs including Manchester United, Chelsea and Arsenal were interested in landing the talented teenager, but Rabiot remained loyal to PSG by signing a new contract at the Parc des Princes earlier this season.
However, Rabiot is currently way down the pecking order behind the likes of Blaise Matuidi, Marco Verratti and Thiago Motta, and due to this reason the Parisians are believed to be keen on sending the 19-year-old midfielder on loan so he gets exposed to more first team football.
Tottenham Hotspur were earlier believed to be the favourites to land him on a short-term basis in January, with the Spurs reportedly agreeing to pay all of the player's current wages, but the Daily Express now claims that Liverpool have also joined the race for his signature by offering similar terms to PSG.
With both the clubs struggling in the Premier League and other competitions this season, it will be interesting to see which side Rabiot opts to join in January.
Meanwhile, Liverpool goalkeeper Brad Jones feels that his teammate Simon Mignolet has been subject to a lot of unfair treatment even though he admits that the Belgian's misfortune has given him a chance to earn a new contract at Anfield.
The 32-year-old Australian shotstopper started in the Reds' last three games after Brendan Rodgers announced that Mignolet was dropped for "an indefinite period" following his poor form.
And Jones feels that Mignolet, who arrived from Sunderland for a transfer fee of around £9 million in 2013, has been treated very unfairly especially by the media.
"That is what TV pundits do, isn't it? They pick holes in people," Jones told the Guardian. "They pick holes in teams and point out things, 'You could have done this ... you could have done that ...'; a lot of the time, it can be unjustified. Sometimes it is justified."
"Football is all about different situations. Certain people like to justify their position by jumping on the bandwagon and saying something that gets in the press. It is up to them. That is their job."
However, Jones admits that Mignolet's recent misfortunes have given him a chance to prove himself at Liverpool.
"Every game is an opportunity. The manager hasn't said anything. I'll just play each game and hope that I do well enough to play the next one. I haven't had an awful lot to do in the last three."
"It is just up to me to go out and do my best and hold on to it for as long as I can, " he added. "As long as that continues, great. If it is a couple of weeks, a couple of months, we will see. I just have to make the most of it when I can."
Finally despite Jones now being preferred over the Belgian as Liverpool's first choice goalkeeper, he insists that he still maintains a good relationship with Mignolet.
"We have a very good relationship. We are old enough to know there is nothing petty between players. It is the manager's decision. We just crack on in training and work as hard as we can. We want to improve each other. Whoever is playing, we want results and we want to get the team up the table. As soon as we start moving up the table, everyone is happy."