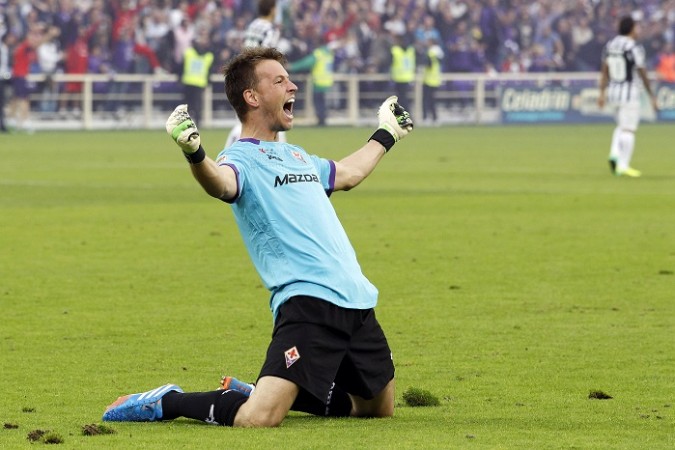 Liverpool are reportedly looking to hijack Juventus' summer move for Fiorentina goalkeeper Neto, according to the player's agent, who denied claims of the Series A champions already agreeing terms with the Brazilian.
The 25-year-old, who is currently on the final year of his contract with the Viola, has already announced that he will be leaving Fiorentina when his deal runs out this summer.
Although Neto is being pursued by a number of clubs, it was reported that he had already agreed terms with Juventus, who are believed to looking for a backup for their 37-year-old goalkeeper, Gianluigi Buffon.
However, Neto is interested in being the first choice goalkeeper and the player's agent Stefano Castagna rubbished claims of his client already agreeing terms with the Old Lady.
"The only thing that is official is that Neto will not be staying in Florence," Castagna told Gazzetta TV. "Since Feb 1, when it became possible to talk to other clubs, we've been evaluating offers that are interesting for the lad, in England, Germany and Spain in addition to Italy."
Castagna revealed that one of the clubs interested in his client was Liverpool (who are themselves looking for a new goalkeeper following Simon Mignolet inconsistent form this season), although he insisted that Neto is yet to decide his future following his exit from Fiorentina.
"One of those in England is Liverpool, and then there is a top Spanish club interested in him," added Castagna. "Right now, the lad has to make a well-pondered decision for his career."
"He's young and he's grown a great deal, but even when he was 18 he was one of the best in Brazil."
However, Castagna hinted that it would be more prudent for his client to join a club like Liverpool where he will have the chance to immediately become the first choice goalkeeper.
"If you decide to join a top club then it's obvious you're competing with other good goalkeepers, but if you join one of the top 10 clubs in Europe, then it's an opportunity you've obviously got to fight for."