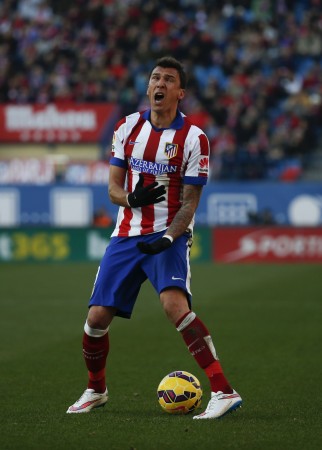 Liverpool are reportedly considering a move for Atletico Madrid striker Mario Mandzukic as Brendan Rodgers looks to bring in a new striker in the summer.
Liverpool did bring in Mario Balotelli and Rickie Lambert following the departure of Luis Suarez to Barcelona last summer, but both of them has proved to be a big flop this season, scoring only three goals between them so far.
Daniel Sturridge, who was very impressive in 2013/14, scoring 21 goals in the Premier League, has also struggled this season due to injuries.
As a result Rodgers is looking to get a new attacker who can provide him with regular goals this season.
Liverpool are already being linked to the likes of Javier Hernandez, Radamel Falcao and Ciro Immobile, but according to the Metro, they are more serious in securing the signature of Mandzukic.
This is because Mandzukic has been much better than Hernandez, Falcao and Immobile this season, scoring 20 goals in 38 appearances for Atletico in all competitions so far this season.
Despite his good form, the Croatian is reportedly keen to make a move out of the Vicente Calderón Stadium this summer due to him reportedly falling out with Atletico manager Diego Simeone.
And Liverpool are reportedly looking to pounce on the 28-year-old striker before someone else does.
Meanwhile, the Merseyside are also reportedly leading the race to sign Real Madrid's Asier Illarramendi after submitting a bid for the defensive midfielder.
The 25-year-old Spaniard, who completed a move from Real Sociedad to Real Madrid for a reported €32.2 million, is reportedly looking to make a move out of the Bernebeu this summer after failing to establish himself as a regular first team starter.
Arsenal, who are in the hunt for a new defensive midfielder this summer, were being linked with a move for Illarramendi, but Liverpool have reportedly stolen the march on the Gunners by making the initial offer, according to Spanish publication Marca.
Although the details of the Reds' offer are still not clear, it is believed that they have bid about £23 million, the asking price of Real Madrid.
The Reds are reportedly targeting Illarramendi as a replacement for their captain Steven Gerrard, who will be leaving Anfield and moving to the MLS after the end of this season.