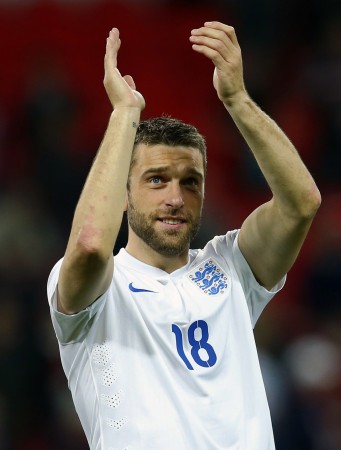 Liverpool have officially announced the signing of England striker Rickie Lambert from Southampton, for a fee understood to be around £4m.
"Liverpool Football Club are delighted to announce the signing of Rickie Lambert from Southampton. The striker, who was on the club's books as a youth player, has put pen to paper on a deal with the Reds after passing a medical at Melwood," read a statement on the Reds' website.
The 32-year-old, who has impressed during his first two seasons in the Premier League - scoring a total of 28 goals for the Saints, will probably be used as a backup for Luis Suarez and Daniel Sturridge as Liverpool look to mount a fresh challenge for the English title and other competitions next season.
Lambert could not hide his delight after signing for his boyhood club.
#LFC are delighted to confirm the signing of Rickie Lambert from Southampton #LambertLFC - http://t.co/xmGMX74N7z pic.twitter.com/wL6zEdVS4a

— Liverpool FC (@LFC) June 2, 2014
"I can't believe it. I've loved this club all my life. I left here 17 years ago - and I haven't stopped loving it since. To be back here now having just signed at the age of 32 is hard to describe. I have always dreamt of playing for Liverpool, but I did kind of think the chance of playing for them had gone. I didn't think the chance would come. It was a shock when I heard Liverpool were in for me," Liverpool website quoted Lambert.
Lambert: "I can't believe it. I've loved this club all my life. To be back here now is hard to describe." #LambertLFC pic.twitter.com/xcXv7iGi8b

— Liverpool FC (@LFC) June 2, 2014
"I've been trying to keep it as quiet as possible and tell only my close family. My mum and dad shed a few tears when I told them, especially my mum. It's not just playing for Liverpool, it's the fact I'm coming home," the striker added.
Although the Reds have plenty of fire power in the form of Sturridge and Suarez, who scored a total of 52 goals in the Premier League last season, manager Brendan Rodgers was looking to add more depth to the squad.
Now, with the arrival of Lambert, Liverpool are likely to be place Iago Aspas on the transfer market, after he turned out to be a flop last season, while Fabio Borini, who spent the last term on loan at Sunderland, is also expected to be sold this summer.
Meanwhile, Southampton have stated that they will not be involved in anymore transfers till a new manager is appointed. The Saints claim that they only let Lambert leave because "the club felt it could not stand in the way of having him fulfil his boyhood dream".
"We are staying true to our plan and vision and, as a result, we have no need to accept any offers. We are deep in the process of appointing a new manager who will continue to move our club forward. It remains our preference not to partake in any transfers until the new manager is in place," read their statements.