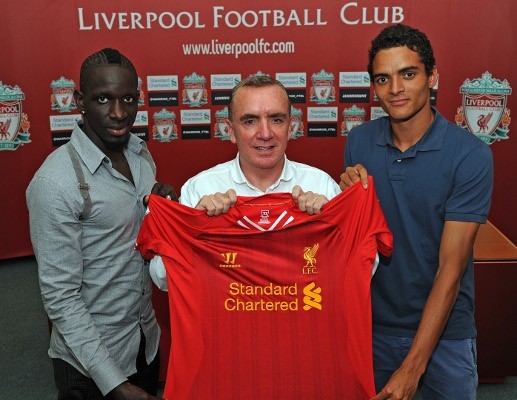 Liverpool have confirmed the signing of three players on the last day of the transfer window. Nigerian winger Victor Moses, France international Mamadou Sakho and Sporting Lisbon's Thiago Ilori joined the club earlier today.
Moses arrives from Premier League rivals Chelsea who signed the player for £9 million pounds from Wigan Athletic last summer. With Liverpool manager Brendan Rodgers keen to bring in a left-sided wide forward, Moses seems to fit the profile. Moses will be at the club on a season-long loan.
The Nigeria international hopes he can help Liverpool qualify for the Champions League.
"I'm delighted to have made the loan from Chelsea to a big club like Liverpool," he told the club's official website. "The most important thing is for me to be professional about it and I'm here to do a job for the club. The target is to get into the top four and for the club to compete in the Champions League - and I'm delighted to be here."
Moses revealed that his decision to leave Chelsea was based on playing time.
"As a young footballer coming up, I just want to play games," he explained. "Not playing games can really damage your career. Liverpool is a massive club and I just want to enjoy my football out on the pitch and try to help my teammates."
Mamadou Sakho shared similar sentiments in his first interview.
"My aim while I am here is to play in the Champions League with Liverpool," he told Liverpool's official website. "I remember their teams when they were in the competition when I was younger. The Champions League is a tournament that all the great clubs in Europe participate in and that's where we need to get to."
The highly rated centre-back transferred to England from Paris Saint-Germain, with Liverpool paying a transfer fee of £12 milllion. He hopes to add to the illustrious history of the club.
"With regards to the history of Liverpool, the thing that struck me most was the victory in the Champions League final when I was very young," he added. I hope to create a new piece of history with our supporters at Anfield."
Sakho's arrival is timely for the club, with centre-backs Kolo Toure and Sebastian Coates recently injured. In addition to Sakho, Thiago Ilori, who also plays in the centre of defence, has been brought in from Sporting Lisbon for £7 million pounds.
Unlike Sakho, Ilori is unlikely to be a first-team regular, as he is not proven in top European competition. At only 20 years old, his first season will consist of occasional appearances aimed at helping him adapt to the English game.