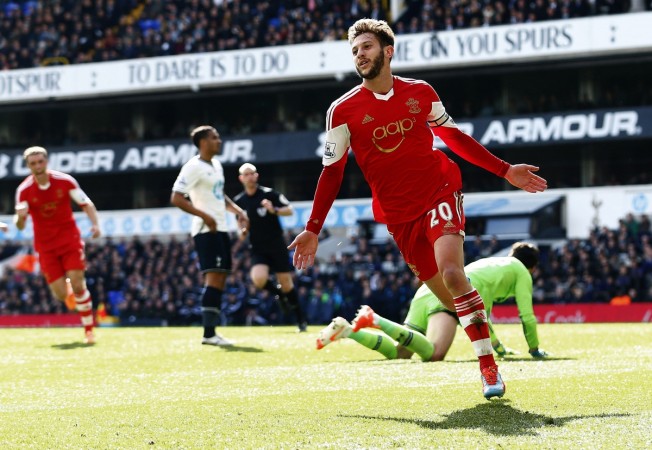 Liverpool are reportedly on the verge of signing Southampton captain Adam Lallana for a fee rumoured to be in the region of £20m.
The 26-year-old, who is likely to be called up by England manager Roy Hodgson for the 2014 World Cup, is being pursued by several clubs after enjoying a very successful campaign with the Saints this season.
And, according to ESPN, Lallana has opted to join Liverpool, who have been very impressive under Brendan Rodgers this season.
"I'm ambitious. I want to one day play in the Champions League," Lallana stressed.
Having already lost the likes of Gareth Bale, Theo Walcott and Alex Oxlade-Chamberlain to bigger sides, Southampton chairman Ralph Krueger says that he is not surprised to see his club's players being pursued by the European giants.
"The reason people look at our players is because the club does an excellent job developing them. It should be difficult here every summer. It is really important that people respect that there will be conversations going on, beginning on Monday, with clubs. That is part of the business," Krueger was quoted as saying.
Meanwhile, Lallana, who is expected to complete his Liverpool move before England's pre-World Cup training camp in Portugal on 19 May, is confident that the Three Lions will be well prepared for Brazil.
"We'll be as well-prepared as any other nation, if not more. To win the World Cup you are going to have to beat the best at some point, so why not in the group phase? OK, in Euro 2012 we lost to Italy on penalties, but we have to remember it was a draw over normal time. We have a great chance of beating them. People might say it's a tough draw but I'm sure Italy are saying the same," said Lallana.
The in-demand midfielder also praised England manager Roy Hodgson, saying that the former Inter Milan boss' experience will prove to be very useful in the World Cup.
"He has got a very good style, and he is highly experienced at all levels, having managed in different countries. That experience is going to be vital when you are taking a team to Brazil for the World Cup. You will have seen a gradual change in the style of England over the past couple of years, since he has been in charge. I just can't wait to get on the training pitch with him again. He is a great man-manager," the Saints skipper added.