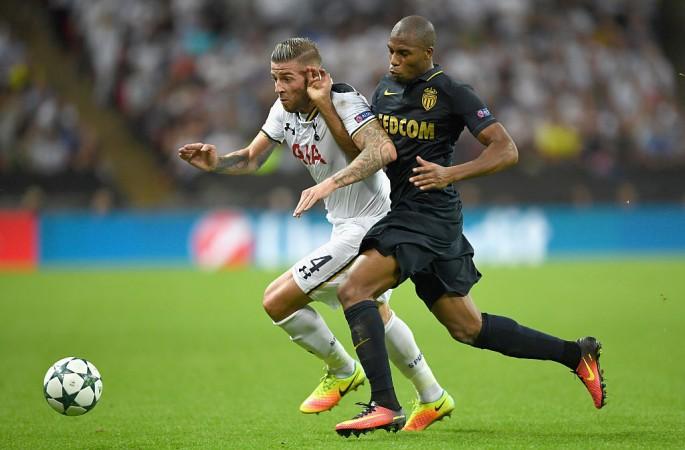 Liverpool have agreed a deal to sign Robinho from Monaco before the start of next season for an undisclosed fee, the club have announced. The midfielder was an integral part of Monaco's title winning squad in 2016/17 and also led them to the semi-finals of the Champions League.
Fabinho, who has four caps for France, becomes the club's first signing of the summer transfer window. The 24-year-old will arrive from the Ligue 1, where he made 225 appearances and scored 29 goals in five seasons with the French club.
Fabinho has spent spells playing as a right-back but has excelled in defensive midfield and is viewed as a replacement for Can, who is out of contract this summer and has repeatedly been linked with Juventus. Fabinho joined Monaco on loan in 2013 from Portugal and has since been a mainstay of the club in central midfield.
Fabinho told Liverpoolfc.com: "I am really excited about this move. This is something that I always wanted – this is a giant of a team. The infrastructures of the club look exceptional.
"A football club of this size coming after my services, I didn't have to think that much about coming over.I will try to create my own history at this football club. Hopefully, on a personal level, I'm able to win titles with this club. I will try to grow and learn and improve myself, and to be part of the club's history."
Manager Jurgen Klopp, who stood a distraught figure following his side's 3-1 loss to Real Madrid in the finals of the Champions League, also waxed lyrical about Fabinho. His arrival will add some much needed depth in central midfield and will form a solid partnership with Naby Keita, who arrives from RB Leipzig in the summer.
"We have signed a fantastic player, but someone who is an equally fantastic person I think," the manager explained to the official website. "His reputation as a character in the dressing room and his attitude in training has come through from everyone we speak to.
"He has a lovely family also - adding a person like this to our dressing room only makes us even stronger. What we have - in terms of our environment at Melwood and in the team - means anyone coming in must be of that build. They must be the highest quality person and player.
"He has ability and mentality to play at the highest level in a number of positions. He can play '6', '8' and '2'. This is cool.
"He is tactically very strong and football smart. I think he improves our squad and there aren't that many players you can say that about in this moment, because the quality we have already is so high."