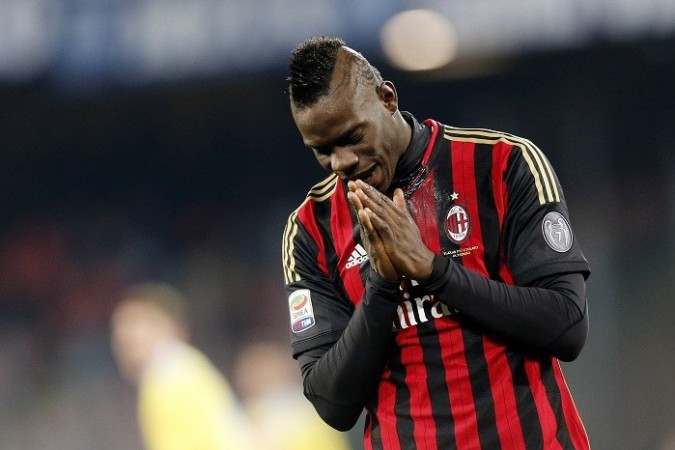 Out-of-favour Liverpool striker Mario Balotelli is expected to finally find some game time as he prepares for a season-long loan move to Italian giants AC Milan.
The Italy striker had signed for Milan only in January 2013, before coming over to Merseyside the following year.
According to reports in the British and Italian media, the ex-Inter Milan wonder kid is set to take a pay cut to return to the Serie A outfit, and Brendan Rodgers' side are also expected to pay some of Balotelli's wages, as a part of the deal.
While Gazzetta dello Sport has added that the Italian's medical is slated to take place later on Tuesday at Milan's Milanello training ground, the contract does not feature a clause where Milan can buy the player outright from Liverpool at the end of the loan spell.
Milan CEO Adriano Galliani had also indicated last week that both he and club president Silvio Berlusconi are happy to see Balotelli return to the club. "Some loved ones leave and then they return: the president and I are both romantic souls," Galliani spoke to Sky Sport.
Balotelli has not been too bad with his performances for Milan in his earlier stint as he scored 30 times from 54 games for the San Siro outfit.
The 25-year-old controversial striker, however, has had a torrid time with the Reds last season. The lanky forward picked up just 16 appearances in the Premier League, and scored just once. He also notched up five yellow cards.
He was neither a part of Liverpool's pre-season tour this summer nor has featured for any of the games under Brendan Rodgers this season.
Liverpool manager Rodgers, speaking after his side's goalless draw at Arsenal on Monday, said he was unable to confirm the reports of Balotelli's move to Milan. "I don't know anything on that," he told at his post-match press conference. "I've just finished the game. My focus has been on preparing the game, so nothing on transfers."
Meanwhile, Liverpool legend Jamie Carragher has hit back on the Anfield side, saying that the £16m shelled out by the club in signing Balotelli last summer was a 'major mistake'.
"The Balotelli signing was a major mistake from the whole club," Carragher was quoted by the Daily Star. "He (Rodgers) has got Benteke and Sturridge to come back.
"I still can't believe he signed him, but it hasn't worked out and he's going to move. He's kidded some coaches if he's got another move this time to AC Milan. Where's the evidence of his quality?!"