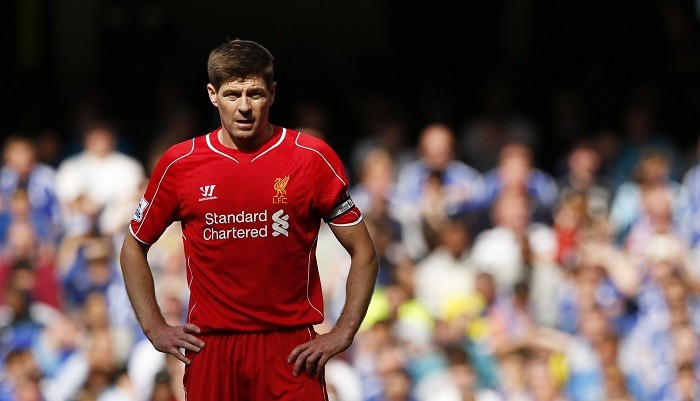 Liverpool captain Steven Gerrard has urged the club to make some quality signing when the transfer window opens this summer.
The Reds spent a fortune on the transfers of Rickie Lambert, Adam Lallana, Emre Can, Lazar Marković, Dejan Lovren, Divock Origi, Alberto Moreno and Mario Balotelli last summer, but these signings have failed to make an impact this season.
As a result, the Reds have underachieved this season as they are currently fifth in the Premier League and eliminated from all cup competitions.
However, Gerrard despite feeling that the current squad has a "lot of potential", admits that Liverpool need to add some more players this summer if they want to challenge for silverware next season.
"There's a core of players here with huge potential," Gerrard, who is set to leave Anfield for MLS side LA Galaxy at the end of the season, told Sky Sports. "I'm hoping the owners will back Brendan again, and bring in that bit of quality that help us go one step further next year."
The 34-year-old feels that the Reds have done pretty well this season, reaching the semi-finals of the Capital One Cup and the FA Cup and coming close to finishing fourth in the Premier League, considering the fact that they have been without the services of two of their best players, Luis Suarez and Daniel Sturridge.
While Suarez left Liverpool to join Barcelona last summer, Sturridge has featured in very less games this season due to him suffering from persistent injuries.
"We've gone very close in a couple of cup competitions this year and we've also come close to the top four positions, and that's with losing arguably the best player in the world last year in Luis Suarez," added the former England captain.
"We've also not had our star striker available for most of the season in Daniel Sturridge, so to come so close without those two available... I think we've done okay but I think next year we can go one better," he added.
With the Reds believed to be planning a mass exodus of players including Kolo Toure, Glenn Johnson, Jose Enrique, Rickie Lambert, Fabio Borini and Mario Balotelli this summer, they may well be investing in more new talents in the upcoming transfer window.