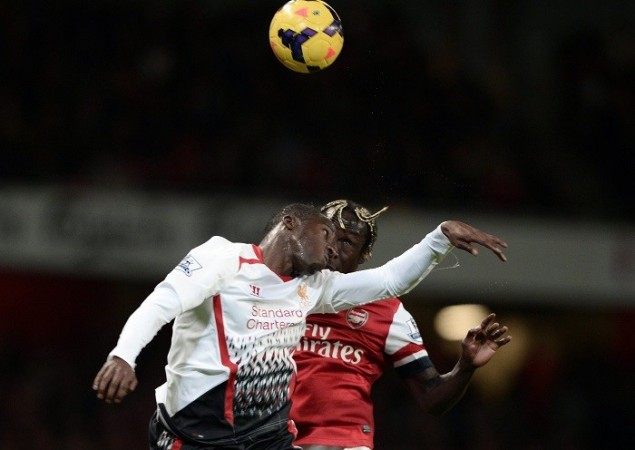 Aly Cissokho is loving life at Liverpool and wants to make the move to Anfield a permanent one.
The French left-back completed a season-long move from Valencia to Liverpool in the summer, and has been impressed by what he has experienced in the club so far.
Cissokho expressed his pride at playing for a big team like Liverpool, and admitted he would love to extend his stay.
"It's a great source of pride for me every day to be able to play with players like this and to represent a big club like Liverpool," Cissokho told the club's official website.
"It's a source of pride for all the coaches I had as a youth player. Of course, I am very happy to be here and I hope to stay here.
"It's a great city. We have a great training complex here, and we all have a lot placed at our disposal to get the best from each player, and that's a good thing for me."
Cissokho was brought in to give Jose Enrique competition at left-back, but has been found out at times, particularly in the game against Arsenal, where he was substituted at halftime.
However, the 26-year-old has no doubts he can cut it in the Premier League, and welcomed the competition for places at Liverpool.
"To start with, when you want to play in a team like Liverpool, you have to expect that there's going to be high level of competition for each place, whether in central defence, midfield or in attack," he said.
The target for Liverpool this season is to qualify for the Champions League, and the Reds have made a great start which sees them currently sitting in second place, two points behind Arsenal.
"Everyone in the team is disappointed not to be competing in European competition, and every player wants to give his best to ensure that the club is up there in the qualifying positions at the end of the season.
"The season is long, and there are a lot of matches to come. The coach makes, and will continue to make, his decisions, and it's important to respect them so that the team can be in the best shape each Saturday."
Cissokho, who has also played for FC Porto and Lyon during his career, apart from Valencia, has been impressed by the quality in the Premier League.
"I'd say the English championship resembles the leagues I've known to date -- very physical, high tempo, as in France, and like in Spain and Portugal, a lot of intensity, as with here, combined with technical football.
"It's very engaged, and it's non-stop. It's surprising to see that even with those teams in mid-table, as well as those nearer the top of the table, there's never a let up in the tempo, and they all play at the maximum level right up to the last minute of the match."