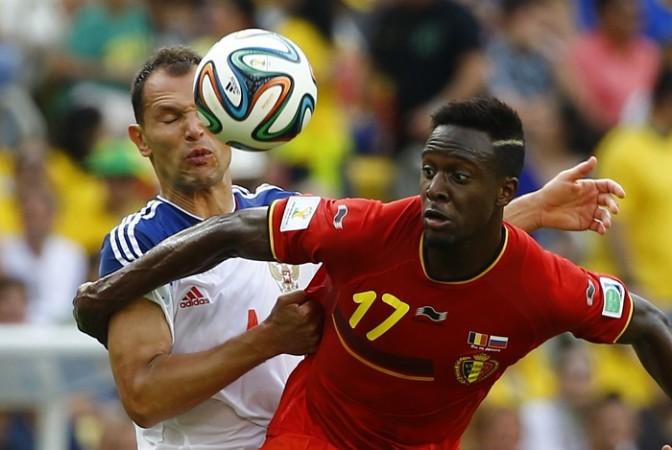 Liverpool are set to bring Belgian striker Divock Origi back from Lille, as the Reds firepower in front of goal seems to be a major concern.
Origi was one of the several players Brendan Rodgers brought into the Liverpool side during the summer. The player cost Liverpool £10 million then, but the youngster had to be sent back to Lille for a one-year loan deal, as per the deal which the Reds agreed.
The current crop of strikers are not performing, with Mario Balotelli, their main striker signing, not finding the back of the net even once in the league, while Daniel Sturridge has been hit with several injuries. Other strikers such as Fabio Borini and Rickie Lambert have not been great in front of goal either.
Hence, Liverpool are looking at bringing Origi back to Anfield, six months earlier than planned.
The Reds are ready to shell out £3million more in order to acquire Origi's services, reported Liverpool Echo.
No deal has been struck between the two clubs, but it is likely that the French club will try to get the most out of the deal.
Origi's club Lille have not been in terrific form this season as they have only secured 21 points from 18 matches, placing them in the 13th position of the Ligue 1 standings.
Though, Origi might have only scored three goals in the domestic league so far, Liverpool are still eager to bring back the player to bolster their squad.
Liverpool have started to play with a false number nine in the form of Raheem Sterling in recent matches.
The English international is more potent if he attacks from the wings and uses his pace to great effect, runs past defenders, cuts inside and makes crisp passes inside the box. It is at this juncture, where players like Origi would come into play, in front of goal.
The Belgian could smoothly fit into Rodgers' plan, as the Reds play a high pressing game and are dependent on forwards with pace.
Even with Daniel Sturridge expected to return soon, Origi could play a pivotal role in the remainder of the season as they remain in the hunt for a Champions League spot next season.
If Liverpool are successful in cutting short Origi's loan deal, the Reds could sell Mario Balotelli, who is said to have attracted interest from Serie A clubs, including Napoli and Inter Milan.