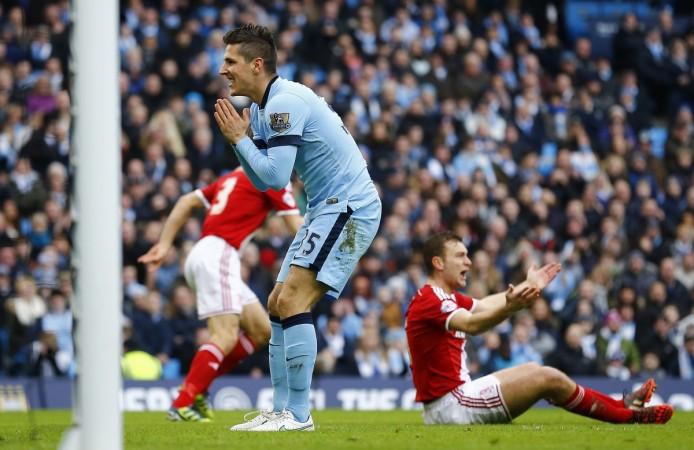 After losing Luis Suarez to Barcelona during last summer transfer window, Liverpool have not been able to replace their talismanic Uruguayan striker, who nearly helped the Reds win the elusive Premier League title last season.
Brendan Rodgers signed a number of players with the money they received from Suarez's sale, but they could not sign a world-class striker to solve their woes. Their so-called marquee signing, Mario Balotelli, did not do any justice to his potential with a poor season for the Reds.
With Liverpool's new players, Rickie Lambert and Mario Balotelli, failing to strike goals for the Reds, the club have been left frustrated and are keen on signing another striker, who could at least find the back of the net more than 20 times in the Premier League.
But with no Champions League football next season, it might be a tough task to sign a world-class forward.
As of now, the Reds have reportedly set their eye on Manchester City striker Stevan Jovetic. Brendan Rodgers is said to be launching a bid of £12million for the forward, reported Daily Mirror.
With strikers such as Sergio Aguero and Edin Dzeko in Manchester City's ranks, the Montenegro international forward has not got much game time to play for City. With age (25) by his side, he will be eager to come and join a side, which provides him more game time and a starting role as well. If Liverpool can meet such criteria, it will be no surprise to see Jovetic ply his trade in Liverpool's red.
Jovetic joined Manchester City after enjoying a terrific spell with Serie A side Fiorentina, but have not failed to cement his place. The forward scored more than 100 goals for the side, so there is no question about his goal-scoring ability, but he has also not been able to strike such form for City with eight goals in two seasons for Citizens.
The Reds could even do without the services of Lambert and Balotelli, as both the forwards have been linked to other clubs in the recent past as well. With Raheem Sterling having not signed the contract, his future still lies uncertain at Anfield.
Hence, it might be wise for Brendan Rodgers to strengthen his squad as early as possible during the summer transfers and sign in the required players of quality, not quantity like last season.
Along with Lambert and Balotelli, Italian Fabio Borini might also be on his way out of Anfield as well.