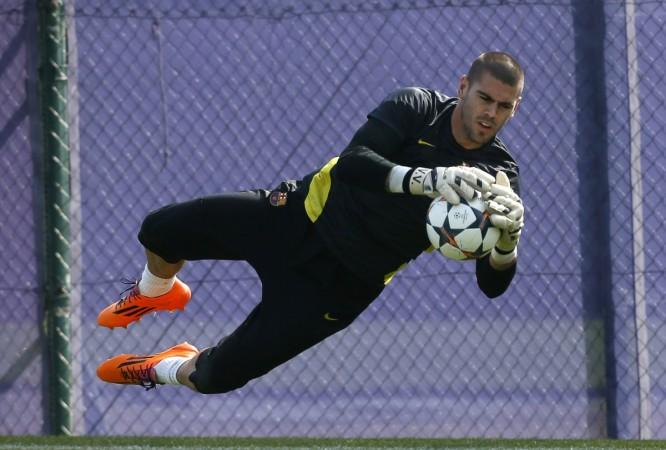 Liverpool are reportedly planning a move to make Victor Valdes their 11th and final signing of the summer.
Though the Reds were not expected to do any business on the transfer deadline following the acquisition of 10 players over the summer, manager Brendan Rodgers had said he might be signing one more player.
"Maybe one more will come in. A few boys have been told they aren't going to get much game time so they have been given that respect early on to help themselves find a club," Rodgers had told BBC.
And now it is clear that the former Swansea City boss was talking about Valdes, who is currently a free agent after being released by Barcelona this summer.
Rodgers is reportedly looking to sign the Spaniard to provide some competition to their current first choice goalkeeper Simon Mignolet. The move would certainly be a good one for the Merseyside club as 32-year-old goalkeeper would not cost any transfer fees.
However, the Spaniard will only be available in December as he is currently still recovering from a cruciate ligament injury he sustained in March.
Although earlier it was thought that Valdes was set to seal a move to French side Monaco, the deal fell through due to the Spaniard's injury.
"We have negotiated with Valdes, but he's injured, he can't sign for us," the club's vice-president Vladim Vasulyev had earlier said in a statement.
And now Liverpool appear to be the favourites to sign the veteran goalkeeper though Arsenal and Manchester City are also reportedly being linked to the Spaniard.
Meanwhile, Rodgers says that he is not certain whether Brazil international Lucas Leiva will be leaving Anfield on the transfer deadline.
Although the 27-year-old started during Liverpool's opening Premier League fixture against Southampton, he was not even named as a substitute in the next two games.
"Lucas is a very important member of our squad and he is unfortunate not to be in," Rodgers told Sky News after his side's 3-0 Premier League win at Tottenham on Sunday. "I've not had anything through about him leaving but we will see how the next few days go."