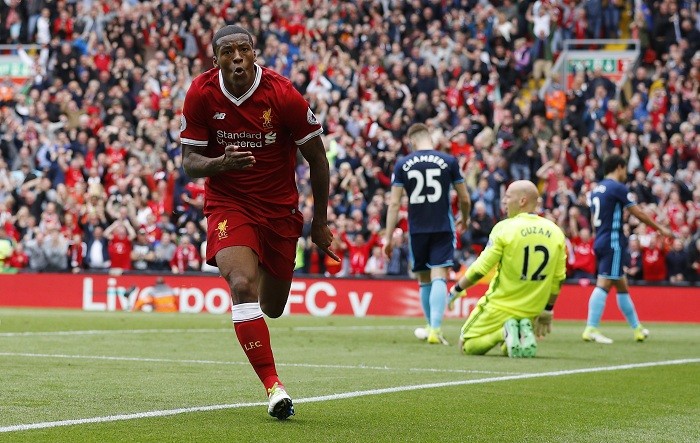 Football is one of the most popular sports in the world, and there is a huge fan following of a number of players. One has heard some emotional stories and seen some heart touching moments involving football players on and off the field.
There is a special connection between the fans and their players, and one such scenario was witnessed in Adidas store on Monday, which will melt your heart.
Liverpool midfielder Georginio Wijnaldum, who is gradually becoming a fan favourite after joining earlier in the season, has gained some more fan following with his generous act. The Dutchman saw one 11-year-old, Paddy Mackessy. looking at one of the football boots at the store, but the kid, who was accompanied by his mother Louise, could not buy the boots, deeming it to be too expensive.
But, what followed will certainly amaze you. Wijnaldum bought that pair of Adidas PureControl football boot, worth £300 (€347) for the kid.
Louise explained as to exactly what happened. She informed that they had already left the shop, but a lady from the store ran upto them as Wijnaldum wanted to buy that boot for Paddy.
"We went into the Adidas store and Paddy just went and bought a pair of skinny pants, and of course being a typical Irish mammy, I went 'come on so' because he would stay looking at soccer stuff all day if you let him," Louise told RTE Radio 1.
"I was like 'come on, come on' and so we came out of the shop and he said 'I got a selfie with him' and I was like 'oh brilliant' and he said they started chatting about the soccer boots. He said to Paddy 'do you like those boots?' And Paddy said 'I do'. He said 'what size are you?' and he said 'size five' and he was like 'why don't you buy them?' And Paddy was like 'they're so expensive'"
"At that stage I had called him and we left the store and Paddy was telling me this and we walked out into the city and we literally just looked behind and the lady from the store had ran after us and she said 'listen, can you come back to the store? He wants to buy Paddy the boots'."
Now, that is one special moment, which Paddy will cherish for the rest of his life.