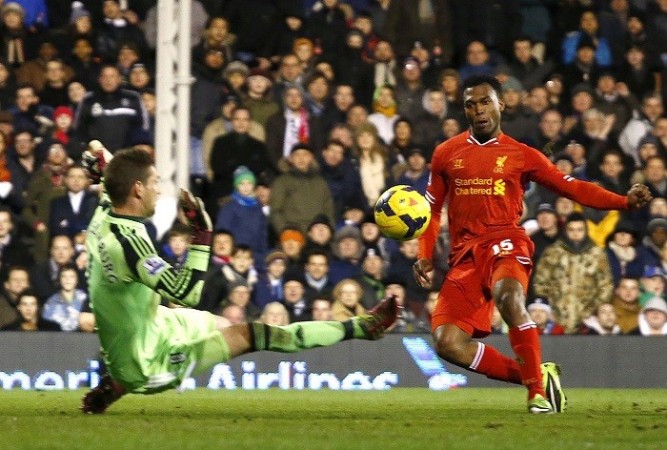 Former Liverpool defender Jamie Carragher believes the absence of Luis Suarez will help fellow forward Daniel Sturridge emerge from the Uruguayan's substantial shadow.
After Suarez's departure from Liverpool last month the team now have Sturridge and new signing Rickie Lambert as their main forwards who will look to play their best and reel in some titles for their side next season.
In an interview to Anfield wrap, Carragher stressed on the fact that Sturridge is a highly underrated player, with Suarez having dominated over the 24-year old, often taking away the limelight from his performance.
"I don't think he gets enough credit, I've mentioned it before," the former Liverpool defender said.
"He's not Suarez, we know that. I remember times last season when I was in the Main Stand. In the Everton game he and Suarez were going hammer and tongs at each other, they were still arguing at the halfway line and the manager brought Sturridge off.
"I'd have done the other one."
Carragher's claims further add to Suarez's tendency of creating controversies, with the Uruguayan now serving a ban for his World Cup biting incident.
"I felt at times that Suarez bullied him a little bit. I know with strikers there's sometimes a little bit of a jealousy thing there, if someone's scoring.
"I felt for him at times. I think he got the rough end of the stick at times with him and Suarez."
Furthering his opinion on Sturridge finally getting a chance to step out of Suarez's shadow, he said: "I'm not saying they never got on, but they both wanted to be the main man scoring. Now there's no doubt he's the man."
Carragher, impressed with the 24-year old's performance from last season where he scored 24 goals for the Reds, went on to say how Sturridge can be one of the best strikers in Europe, given his current form.
"Look at his record: I think I'm right in saying he's got more goals after 50 games than any Liverpool player ever. If you look at the strikers Liverpool have had that's an unbelievable achievement... He could be the best striker in the league.
"Think of the ability he's got to get goals: He's got class, he's got pace, he scores all sorts of different goals, he's cool when he's going through on goal, he's England's main striker now and he could be one of the best in Europe."