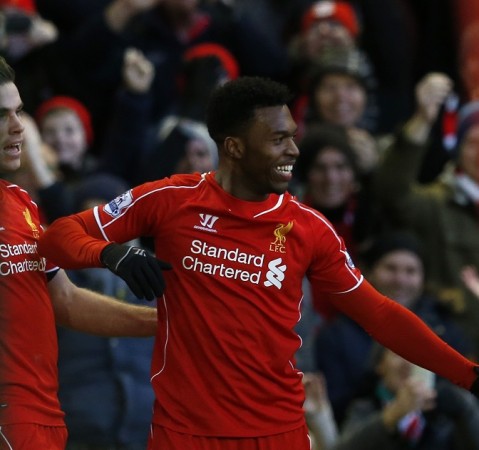 Liverpool striker Daniel Sturridge insists that he is "ready to play every game" for the Reds despite manager Brendan Rogers recently stating the 25-year-old needs to be protected.
Rodgers had stated, ahead of Liverpool's 2-0 win over Burnley, that the club needed to take extra care of Sturridge in order to minimise the risk of the former Chelsea striker, who has recently returned to the squad following a five-month spell on the sidelines, picking up another serious injury.
However, the England striker, who scored the second goal to seal Liverpool's 2-0 victory over Burnley on Wednesday, says he feels great and is "ready to play in every game."
"I feel good, I have felt really good since I came back and I am ready to play every game," said Sturridge, according to Goal. "I don't want to be eased in but I suppose that is what the manager wants."
Meanwhile, Rodgers feels that Emre Can has all the qualities to become a "world-class" in the future.
The 21-year-old German, who moved from Bayer Leverkusen for a transfer fee £9.75 million (€12 million) last summer, played very well against Burnley, displaying a lot of versatility by playing in the centre-back as well as the right back position on Wednesday.
And the Northern Irishman is certain that Can can became a top player in a couple of years.
"I look at him and I think: 'you give him another couple of years and he could play in any team in world football'," the Liverpool boss told Goal. "That's how highly I rate him."
"He plays at the back, is strong, aggressive, fast, serves the ball well. In midfield, whether it's central or wide, his football intelligence you can see. He breaks through lines with his power and his pace. He's got great composure. I think he's settling into the game in this country very, very well.
"I think you see the response from the crowd - they love him. He does the dirty work as well. He doesn't just play and look nice, he presses the ball really well. He is aggressive and I really think he'll develop into a real world-class player."