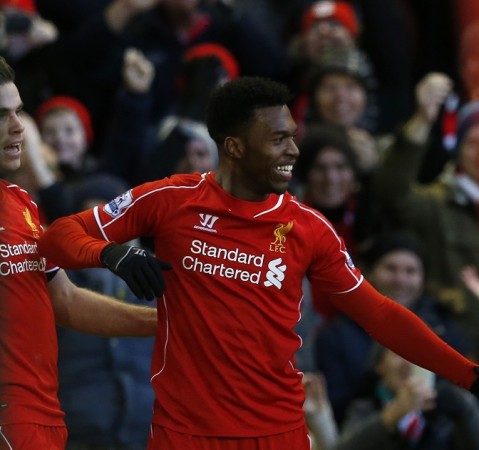 Liverpool manager Brendan Rodgers had indicated that striker Daniel Sturridge could be making his first start since August during the Reds' derby clash against Everton on Saturday.
The 25-year-old striker, who has recently returned to the squad following a five month spell on the sidelines due to a thigh and calf injury, was very impressive during his two substitute appearances for the club, scoring on his return against West Ham on Saturday, before inspiring the Reds to make a comeback and record a 2-1 win over Bolton in the fourth-round replay of the FA Cup on Wednesday.
And Rodgers despite admitting that Liverpool "need to analyse" Sturridge's fitness in the "next couple of days", says that the former Chelsea striker has a very good chance of starting during the Merseyside derby at Goodison Park on Saturday.
"Every player wants to play, not just Daniel," said Rodgers, according to ESPN "He's coming along very well. It's not he won't start. We just need to analyse that over the next couple of days."
Sturridge has been very successful in the Merseyside derby so far, scoring in two of his three games against Everton since his £12 million switch from Chelsea to Liverpool in January 2013.
While, he scored a late equaliser during a 3-3 draw at Everton in the Premier League last season, he netted a brace as Liverpool thrashed the Toffees 4-0 in the return fixture at Anfield.
And the former Manchester City striker admits that scoring in the Merseyside derby was one of the best feelings he ever experienced in his footballing career.
"There was a goal I scored against Everton away, late on in the game," the England striker told BBC. "I see Everton fans in the city. I had one talking to me in a store, and he said: 'If you score, I'm not going to serve you.'
"It's about the bragging rights in the city. You want to give everyone in the city bragging rights as well. Scoring goals is the best thing in life for me. I don't know what else there is I could say is better than that."
"I've done a lot of things and had a lot of fun in life, but scoring goals is difficult to do. When you do it, it's a great feeling."