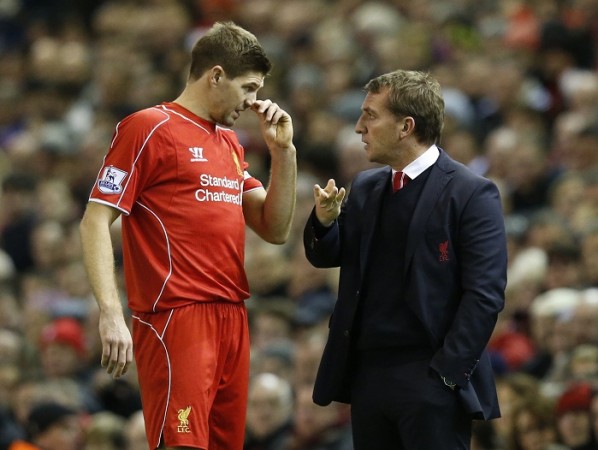 Liverpool boss Brendan Rodgers has urged Liverpool to reach the FA Cup final so they can give a fitting send-off to Steven Gerrard, who will be leaving Anfield at the end of the season.
The Reds progressed to the fourth round of the FA Cup following a 2-1 victory over AFC Wimbledon 2-1 on Monday courtesy of a brace by Gerrard.
If the Reds manage to progress to the finals of the FA Cup, which is incidentally on Gerrard's birthday on 35th birthday on 30 May, then that would be his last game in England.
And Rodgers feels that the FA Cup final would be a proper farewell for a player like Gerrard.
"The FA Cup final is on his birthday, so there would be no better way for us to mark it. That would be a wonderful send-off for him," the Northern Irishman told ESPN, adding that the 34-year-old is still a world class player despite his age.
"OK, he might be getting a bit older but he'll always have that world-class ability and world-class talent."
Gerrard also says that he is looking to win the FA Cup with Liverpool before he leaves Anfield this summer.
"I always enjoy the FA Cup," Gerrard told BBC One. "I grew up loving the competition and as it's going to be my last time, I want to make the most of it and try and go all the way."
"If I weren't here playing for this team, I'd probably be in the stands watching it so I know what [the FA Cup] means to every single supporter, that's why I always try to give my best."
However, Gerrard insists that the road to the final is not going to be easy and Liverpool have to be focused in each and every game.
"We've got to take each game as it comes. I'm told we've got Bolton at home in the next round and that'll be another difficult test. I know Neil Lennon quite well and I know he'll set up his team to be very difficult to beat."
"We take each game as it comes but of course, [winning the cup is] what dreams are made of and hopefully that'll be the case."