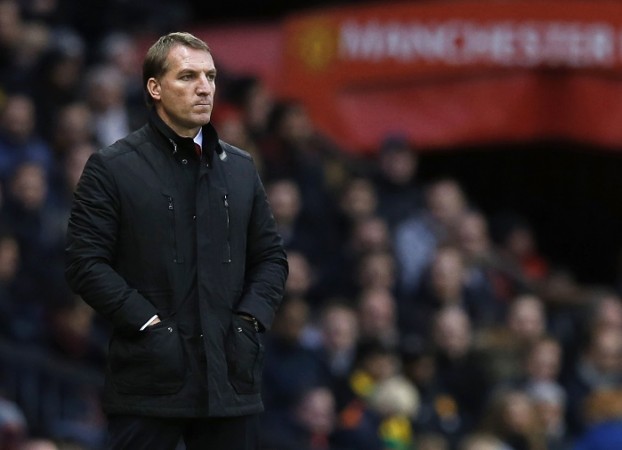 Liverpool boss Brendan Rodgers feels that Manchester City have an advantage over the Reds ahead of the two sides' Premier League clash on Sunday due to them getting more time to rest and prepare.
While Manchester City have already played their Champions League fixture against Barcelona on Tuesday, the Merseyside club travel to Turkey to face Besiktas in the second leg round of 32 of the Europa League on Thursday.
And Rodgers feels that the Citizens have an advantage due to them getting four days of rest, compared to Liverpool's two.
"It's not ideal, especially if you don't get help, and we're on [TV] when we are in the early kick-off on Sunday," Rodgers told the Liverpool Echo. "There wasn't a great deal we could do about it. We're just trying to manage the situation to try and get the result we need to get us through."
"That extra period of 48 hours that City will have could be crucial, certainly physically. We don't get back until 3 am, so we will have very little preparation time. It'll just be about recovery."
"We can't train on the pitch at Anfield, we can't make it any worse than it is, so we're having to train in daylight hours, where we could have trained later in the evening at Anfield. That doesn't help us either."
The Northern Irishman, who insists that "rest" is a vital factor at this stage of the season, claims that his side will only be getting one day to prepare for their Premier League clash against the defending English Champions.
"The key in it is the rest. At this stage of the season the physical condition of the players is there. What is vital is sleep and rest.
"They will not rest much going back on the plane, with the adrenaline still flowing after a game. They will not sleep so well. Friday will be about rest. Then we prepare Saturday, game Sunday."
Meanwhile, Rodgers, who currently has a number of players including Steven Gerrard (hamstring), Lucas Leiva (thigh) and Lazar Markovic (suspended) on the sidelines, has revealed that Philippe Coutinho and vice-captain Jordan Henderson will also be unavailable for Liverpool's trip to Istanbul.
"I've had to leave out young Coutinho. He hasn't travelled with us," he added. "He's an outstanding young player for us, a key player and he's played a lot of games consecutively for us.
"This was a game that I'd earmarked to give him some recovery in knowing he can stay at home, not travel and prepare and get ready for the weekend.
"We've also picked up a few injuries - Jordan has a knock. The rest of the guys are either young or haven't played a great deal."