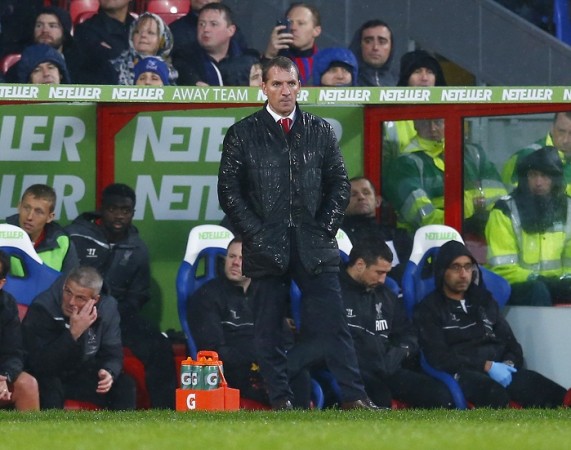 Liverpool were as bad as they could have been against Crystal Palace in the English Premier League again, remaining toothless in front of goal, while showing little mental and tactical fortitude against the relegation-threatened side.
As if invoking the ghosts of the 3-3 draw at Selhurst Park last season was not enough, Liverpool went one better and let in three goals again at the same ground, while only scoring one themselves in a poor 3-1 defeat.
It all looked hunky dory for Liverpool initially, after Rickie Lambert put his team ahead with a brilliantly taken goal in just the second minute of the game. However, Dwight Gayle equalised on 17 minutes, latching onto a rebound after a strike from man of the match Yannick Bolasie struck the base of the post.
With Liverpool struggling for answers in front of goal, Crystal Palace went ahead on 78 minutes via Joe Ledley, who turned in from close range after another brilliant run and cross from Bolasie, before Palace skipper Mile Jedinak smashed the final nail in the coffin with a stunning freekick three minutes later.
That result put Liverpool in 12th place, with just 14 points from 11 matches, and a massive 18 points behind league leaders Chelsea, and Rodgers will now slowly start to fear the dreaded axe if his team do not turn things around immediately.
"I'm not arrogant enough to think that I will be in a job through anything" Rodgers said. "Any manager will tell you that you have to win games and you have to get results, especially after how we've been developing as a football club.
"But I have a great communication line with the owners. We've been honest enough with each other but ultimately you have to get results. You have to perform. In my first year when we weren't maybe getting the results we were performing well.
"Owners and directors and chairmen and chief executives have to see development on the field. Barring this period, our development has been very good and fast. But there's no doubt as a manager you have to get results. That will support the confidence to the owners, and you take it from there.
"I will only ever do my best. The best has seen us develop well. Now I need to fight even harder. And take the responsibility because as manager full responsibility comes down to me. Any pressure comes on to me."
Rodgers was also honest in his assessment that Liverpool were dire against Crystal Palace, their sixth loss of the season.
"It was bitterly disappointing," added Rodgers. "Nowhere near the levels we'd expect, after a very good start. You've seen a team low on confidence. Not quite together as a team. We need to find a solution very quickly because it was very disappointing.
"It's my responsibility as the manager, ultimately. I put the team out there, the best team to win us the game. We made a good start. You could see our passing was a wee bit tentative, and then we make mistakes. Mistakes you wouldn't expect to see from a team that's supposed to be challenging. We failed to manage the game."
Liverpool now visit Ludogorets on Wednesday in the Champions League, a game they absolutely need to win to keep their hopes of getting past the group stages alive. Rodgers will know a similar performance against the Bulgarian side and that axe will feel a lot closer.