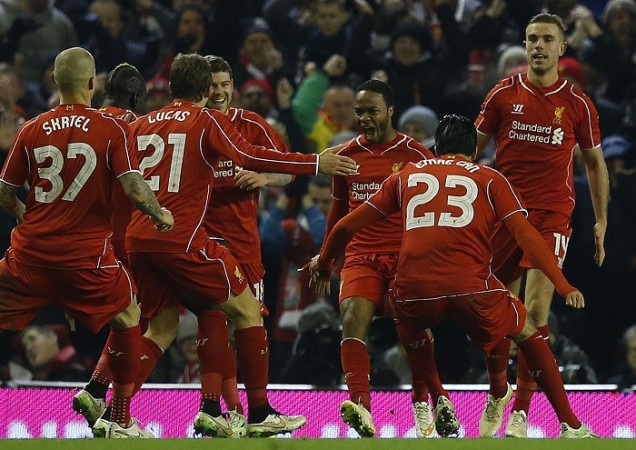 Liverpool have announced that they have signed a record breaking deal with American sportswear manufacturer New Balance, who will become the Reds' official kit supplier next season onwards.
The Merseyside club, who signed a six-year deal worth £25 million a season with Warrior Sports in 2012, have now struck a mega deal worth a reported £300 million with New Balance (Warrior Sports' parent company).
"We are thrilled to announce this partnership with one of the world's leading sportswear brands, which is a record-breaking deal for the club," Liverpool's chief commercial officer Billy Hogan told the club's official website.
"Like Liverpool FC, New Balance has over 100 years of heritage and a global footprint. Not only are they well known for their technical innovation across a range of sports but they also have a presence in many countries across the world, which will all feature LFC kit. We are very excited about joining forces with them."
Richard Wright, general manager of New Balance Football, also expressed his delight at having successfully partnered with Liverpool.
"Liverpool FC is one of the most successful and decorated clubs in world football and we're delighted to partner with them," Wright told Liverpool's official website.
"The partnership represents an important step for New Balance launching into football and reflects the global growth ambitions of the brand."
"Over the course of the contract, New Balance will bring innovation and world-class product to Liverpool FC and its global fanbase."
Meanwhile, Liverpool boss Brendan Rodgers feels that Emre Can's good performances of late is proving that his transfer from Bayer Leverkusen for £10 million last summer was a bargain.
Despite initially struggling to make an immediate impact in the Premier League, the 21-year-old has been pretty impressive of late. And, Rodgers feels that £10 million for the German is proving to be a very good bargain for Liverpool.
"I think £10 million will prove to be a bargain for Emre," Rodgers told the Liverpool Echo."Emre is a big talent. He's also a great learner and very good tactically for a young player. He has a big future ahead of him."
The Northern Irishman insists that the Reds have always been looking to get players who they think can develop.
"That's the nature of the model here. We look to bring in players who we can develop," added the former Swansea boss.
"Look at Daniel Sturridge. We bought him for £12million. What would Daniel be worth now? Philippe Coutinho, £8million, what's his value? What would Raheem Sterling be worth?"
"They come into a real coaching environment here and it's my job to make them better players. That's all you can do as a coach and a manager and then the performances will follow."