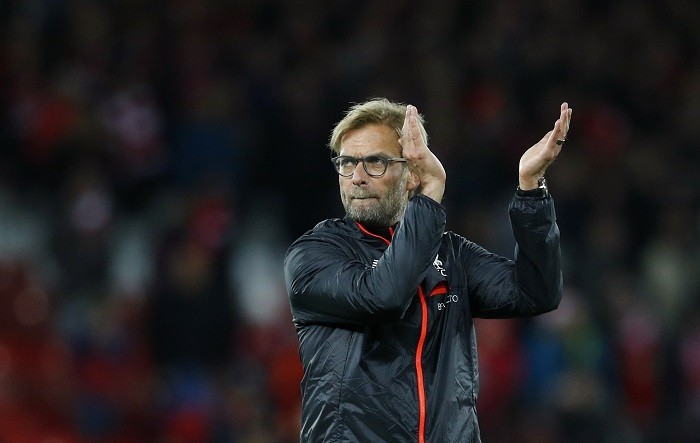 Jurgen Klopp believes the Manchester United challenge will be act as good preparation for what West Bromwich Albion throw at them when Liverpool play Tony Pulis' men in the Premier League on Saturday. Liverpool and Manchester United played out a drab goalless draw on Monday, with Jose Mourinho going with a physical lineup, which nullified Liverpool's threat.
Klopp knows Pulis is also likely to employ similar tactics, and having played out two turgid draws with West Brom last season, the Liverpool manager is keen to learn from his team's mistakes against Manchester United and the Baggies.
"We all know we have had to watch out for a few problems that we had last season, although we are not suffering from the same amount," Klopp told reporters, pointing to the set-piece issues that Liverpool have had.
"We are a football-playing side and Manchester United were more physical and stronger than we were with a lot of tall players. We did it well and I cannot remember there was a big advantage in this game out of these situations.
"We need to be ready again for situations like this. You can always use a few things from the last game but on the other hand it will be different again. Defending these balls was important, very important in the United game and will be important in the next game.
"Playing football would have been important in the Man United game too and will be very important in the West Brom game. There is a lot of work to do."
While both teams were criticised for different reasons after the goalless draw, Mourinho, in his true style, pointed the finger at Liverpool for the match being low on quality, accusing them of being too "cautious," by deploying two midfielders in Jordan Henderson and Emre Can, who stayed in deep more often than not.
When Klopp was asked for his opinion on Mourinho's comments, the Liverpool manager decided to take the high road, refusing to get caught up in what could lead to a war of words.
"I am not interested in it," Klopp said. "I thought the game was over, so why should I talk about it still? I don't care what anybody says after the game.
"I know the game already and I know what I have to learn from it. You want to write what you saw and if it is the same and what other people say, I don't know if that is good or bad, but use it or leave it.
"Don't bother me with things like that. I am not interested."