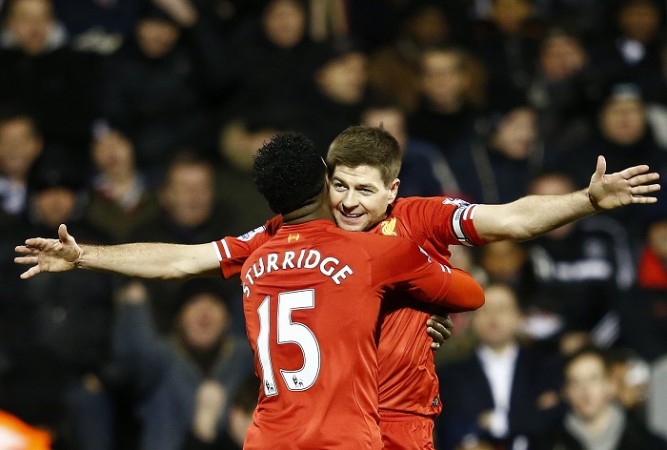 Liverpool striker Daniel Sturridge is certain that Steven Gerrard will return to Anfield and become the Reds manager sometime in the future.
Gerrard recently shocked everyone by announcing that he will be leaving the Merseyside club and joining MLS side LA Galaxy after the expiration of his contract at the end of the season.
And Sturridge admits that he was "devastated" after hearing the news, although he is hopeful of seeing the 34-year-old "very soon."
"I'm devastated he's leaving," the former Chelsea striker told BBC Sport. "I think he'll be at the club in some capacity very soon and I'm sure he'll manage the club one day."
Still in the meantime, the 25-year-old striker, who says that Gerrard is his "role model", insists that the former England captain will be "sorely missed" by everyone at Liverpool.
"Words can't describe what he's done for Liverpool as well as his country," added the former Manchester City and Chelsea striker. "He's still a role model of mine. I look up to him, I think everyone in the squad does.
"He'll be sorely missed - he's somebody who's given me a lot of experience and helped me to improve as a person and a footballer."
Meanwhile, Sturridge says that he is finally ready to make his comeback against West Ham on Saturday following a five-month spell on the sidelines.
"I've been champing at the bit," Sturridge added. "I'm ready now - it's been a long time coming, but I am happy with how everything has gone and I am looking forward to it. I won't hold back from anything."
Despite admitting that he does not like watching football games on television, Sturridge says that he watched all of Liverpool's matches during his rehabilitation in Boston.
"I'm not a very good watcher," he said. "I don't like watching too much but I had to. I watched every single match when I was in the States - I was getting up early doors in the morning, so sometimes it'd be 4am, depending on where I was and what time the game was.
"I'd get up early and it was important for me to see how we played, the formations and the style of the new players."