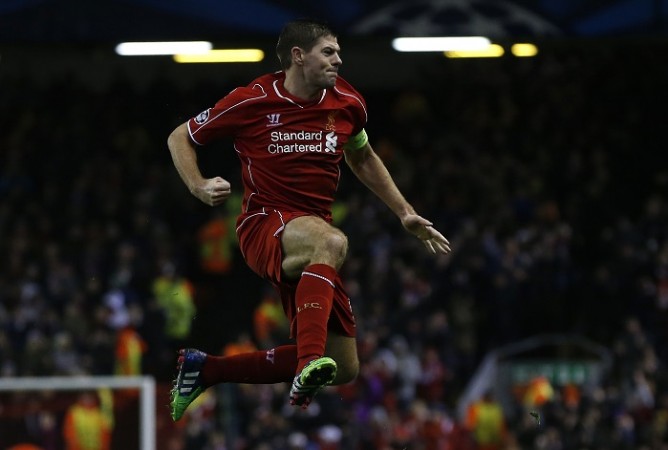 Liverpool captain Steven Gerrard has revealed that he is looking to help his side make a top four finish in the Premier League and win the FA Cup before leaving the Merseyside club this summer.
The 34-year-old, who joined the Reds when he was eight years old, recently shocked everyone by announcing that he would be leaving Anfield to join MLS side LA Galaxy after the end of his contract this summer.
And the midfielder, who last won a trophy with Liverpool in the form of the League Cup in 2012, says that he wants to leave the club on a high by helping his side make a top four finish and win the FA Cup this season.
"I want to finish the season really strongly," said Gerrard, according to Goal. "I want to leave the team in the top four, and go all the way in the FA Cup. That's how I want to sign off."
The 34-year-old, who has been out of action since suffering a hamstring injury during a Liverpool's 3-2 win over Tottenham Hotspur in the Premier League on 10 February, has confirmed that he has made a full recovery and will be available for the Reds league clash against Swansea City on Monday.
"I've just got over a hamstring injury," he said. "I'm fit and available for the next game."
Meanwhile, Gerrard insists that English football is under "no crisis" despite the four Premier League clubs failing to do well in the Champions League this season.
While Liverpool failed to qualify to the knockout stages, Chelsea recently crashed out after losing to French outfits Paris Saint-Germain on away goals (3-3 aggregate) in the round of sixteen.
Manchester City and Arsenal are also unlikely to qualify to the quarter-final, having recorded home defeats in the first leg of the round of sixteen against Barcelona and AS Monaco respectively.
However, Gerrard despite admitting that English clubs have not done well this season, insists that they will bounce back soon.
"It's not a major problem. It's just that this season English teams have not been good enough," Gerrard told Liverpool Echo.
"I don't think it has been our year but I don't think it is a crisis. I don't think it will repeat as the years go by. Teams will bounce back."
"Chelsea, City, ourselves, Arsenal, will make signings in the summer, and come back next season and have another go."
"It has happened before where teams have gone out early and then come back the next year and won it.