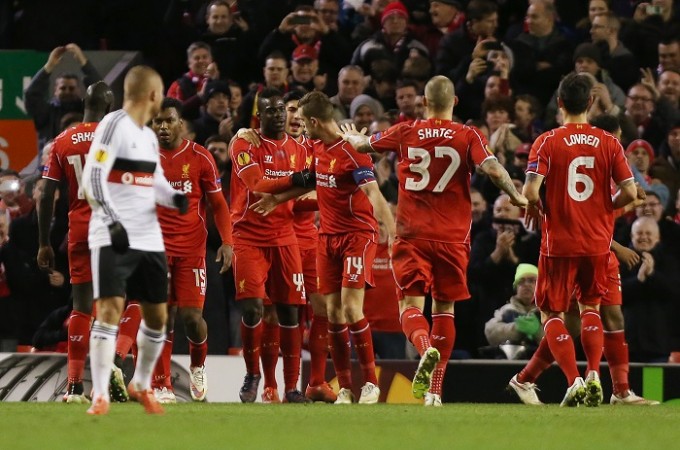 Liverpool captain Steven Gerrard feels that striker Mario Balotelli showed "disrespect" by taking the penalty instead of Jordan Henderson during the Reds' 1-0 win over Besiktas in the round of 32 first leg of the Europa League on Thursday.
The Reds were awarded a penalty after Jordan Ibe was brought down by Ramon Motta in the box in the 84th minute.
Henderson, who normally takes the penalty for Liverpool, stepped up, but Balotelli insisted on taking the spot kick and the England midfielder gave in after an apparent disagreement.
Finally the former Manchester City striker sent the goalkeeper the other way and scored the winner for Liverpool, but Gerrard, who was unable to play due to an injury, was displeased with Balotelli's behaviour.
"Jordan should have taken the penalty," Gerrard told ITV. Rules are rules. It should have been Henderson. Mario has been a bit mischievous."
"Jordan is the captain and Mario showed Jordan a bit of disrespect there, but he's scored a very important goal. I think six or seven players would have wanted to take that penalty so if they all say they are taking it, what happens then? Rules are in place for a reason."
The Liverpool captain, however, praised Henderson saying that the midfielder "handled the situation very well."
"I think Jordan has handled the situation very well. He can see that Mario really wanted to score. Jordan walked away at the right moment and handled his post-match interview very well."
Former Liverpool defender and Sky Sports pundit Jamie Carragher, however, backed Balotelli, saying that the Italian was the "best penalty taker Liverpool had on the pitch."
"It was obvious Sturridge was supposed to take it and looked a little peeved along with Henderson, but at that moment the best penalty taker Liverpool had on the pitch was Balotelli as we've seen with his spot kicks for Man City. So in this instance I was ok with it because the main penalty taker wasn't on the pitch in Gerrard," said Carragher, according to Sky Sports, adding on Twitter
"Also just heard it was Henderson supposed to be on them not Sturridge, more reason for Mario to take it!!!"