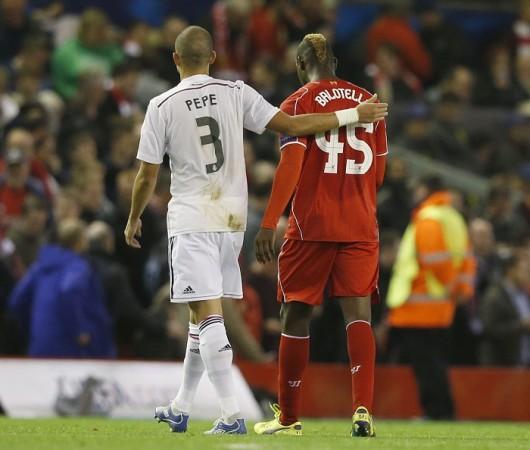 Mario Balotelli has not made the greatest of starts to his Liverpool career, and that is an understatement. However, the Italian did himself no favours by swapping shirts with Real Madrid's Pepe at halftime, something that is frowned upon in England and by the fans.
Balotelli was one of the players to face the heaviest criticism after Liverpool's 3-0 loss to Real Madrid, with the former Inter Milan, Manchester City and AC Milan striker substituted by Brendan Rodgers at halftime, following another anonymous performance.
Asked about the shirt swapping incident at halftime, Rodgers, who has previously fined Mamadou Sakho and Philippe Coutinho for similar events in the past, admitted that Balotelli would be fined by the club.
"Yes, and it's exactly the same," said Rodgers when asked if Balotelli would face the same sanctions as Sakho and Coutinho did when they swapped shirts with Chelsea players at halftime last December.
"We had an incident last year and it was something that was dealt with internally. It's not something that I stand for, if you want to do that do it at the end of the game, and I will deal with it."
Rodgers also revealed the reasons behind his decision to substitute Balotelli for Adam Lallana, hinting that he didn't think the Italian worked hard enough for Liverpool in the mega match against Real Madrid.
Balotelli did not even make his presence felt on the bench in the second half, instead deciding to catch the rest of the match in the dressing room, which again would not have gone down too well with the fans.
"It was purely tactical," Rodgers said when asked why he replaced Balotelli with Lallana. "I felt we needed more movement centrally to occupy the centre-halves. Adam came on and he was tireless.
"For us at Liverpool that's the minimum here, you need to work and press, and Adam came on and did that really well, and Raheem Sterling, even in a position that was alien to him, worked incredibly hard."