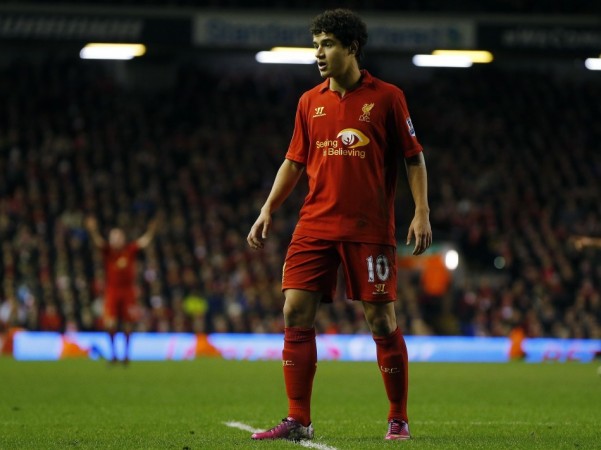 Liverpool's impressive early season form will be put to test as playmaker Philippe Coutinho has picked up a shoulder injury. The Anfield club has confirmed that the Brazilian, whose importance has steadily grown since his purchase in January, will be sidelined for over a month.
"After being assessed by the Reds medical staff, it's been decided that Coutinho will now have surgical stabilisation on the AC joint in his shoulder. Liverpool hope to have the 21-year-old back in contention again towards the end of October," read a statement on the club's official website.
The only other available player in Liverpool's squad who is adept at playing that role is the inexperienced Luis Alberto. It will be interesting to see whether manager Brendan Rodgers trusts Alberto enough to let him play or whether there is a change of system.
On the bright side for Rodgers, Luis Suarez, who is currently serving a suspension for biting Branislav Ivanovic, is scheduled to return after two games. The Uruguayan will be able to replace Coutinho in the role behind the main striker. Rodgers does not expect Suaez' return to disrupt the team.
"The idea is that hopefully when he steps back in it will be seamless," said Rodgers. "Of course there will be a transitional period for him but I am really looking forward to having him back. He is working his socks off."
"We are trying to map out over the period he has been out," the Northern Irish manager continued. "We have been organising some games behind closed doors, both in terms of in-house 11-a-side matches and bringing teams in."
Rodgers suggests that being unable to play has been difficult for his star striker.
"Suarez loves the game," he said. "If he doesn't play the game, it kills him. Any kid when they start to play, the integral part of it all is the game and that is what he is."
"So if you put him in an environment where he is smelling the smelling salts in the changing room it can be counterproductive," Rodgers added. "We have to keep him out of the way."