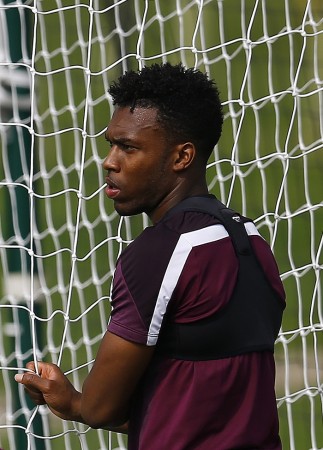 Liverpool's Daniel Sturridge is in line to make a comeback against former side Chelsea in the second leg semifinal of the Capital One Cup, although manager Brendan Rodgers insists the striker will not be risked if he does not regain full fitness by Tuesday.
The 25-year-old striker, who was very impressive last season, scoring 24 goals in 33 appearances in all competitions, has been out of action since late August following a thigh injury while training with England in September.
Although he was expected to return much earlier, a string of setbacks during his rehabilitation resulted in him being sidelined for almost five months.
Now, Sturridge, who recently returned to Merseyside after spending a month in a rehabilitation centre in Boston, is finally on the verge of making a comeback for the Reds.
However, Rodgers, despite saying that Sturridge has been looking good in training, insists the striker will not be risked against Chelsea if he is not ready.
"We'll see how he is today," Rodgers told Liverpool's official website."He had a training session with the team yesterday and he trained very, very well.
"It was as comfortable as he's looked, even when he was coming back before - he was maybe a little bit tentative. I thought yesterday he looked back to normal."
"We won't risk it, that's for sure. He's been out for a long time, so we just need to make sure he is ready and feels ready, which is important, to come and contribute."
The former Swansea City boss admits that the England striker will need some time on the pitch to regain100 percent fitness.
"I don't think he'll be 100 per cent when he comes back, that will only come when he's got his game time once he gets playing games," added the 42-year-old boss.
"All we can do, alongside him, is make sure he is in the best possible condition that he can be, both physically and mentally, and that will give him a chance to stay fit."
Meanwhile, Rodgers feels that Chelsea will have "great motivation" to beat Liverpool in the second leg semifinal of the FA Cup following their embarrassing 4-2 home defeat to League One side Bradford City in the fourth round of the Capital One Cup.
"The result at the weekend doesn't help - they will have great motivation," Rodgers told BBC. "When you come off a game like that, you want to put it right."