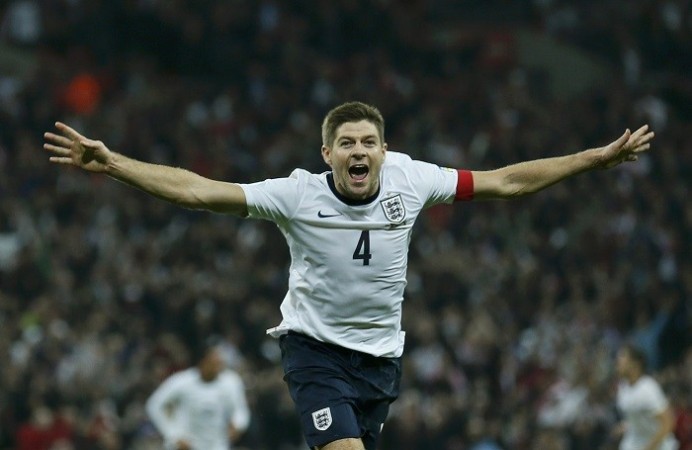 Liverpool captain Steven Gerrard says that he will decide on his international future after the 2014 World Cup in Brazil.
Gerrard, who turns 34 next week, insists that he has not made up his mind as yet, and will be sitting down with Liverpool manager Brendan Rodgers and England head coach Roy Hodgson after the World Cup to decide on his international future.
"I'm not going to leave anyone hanging. Don't worry, as soon as the World Cup is over I'll sit down with the manager at the right time and I'll make the decision. I can be open and honest with you now that I haven't made that decision because I haven't had the chance to chat with the manager at length over it," Gerrard told ESPN.
"But I'll be chatting to [Liverpool manager] Brendan Rodgers, Roy Hodgson and a few important people around me whose opinion I respect, players I've played with. I'll chat to them all and make the right decision at the right time."
Gerrard, who has won 109 caps for England, says his decision will be greatly affected by how he and England perform in the World Cup.
"It will be very close after the World Cup, I'll make that decision. It does depend on how the World Cup goes, how I perform, how the team performs. Am I still going to be wanted after the World Cup? These are all the questions we'll have to sit down and answer. I won't stay around if I'm not wanted. I hope I perform to the level where I am wanted and I've got that difficult decision to make," he added.
Although Gerrard, who made his debut for England in 2000, says that he would love to equal or break his hero David Beckham's record of 115 caps, he insists that he is more focused on helping England make it through to the knockout stages of the World Cup.
"It is a target but it's not a very important one. It's not one I've thought about a lot but I have thought about it. To get close to David Beckham, to match him, or to go ahead of him would be an unbelievable achievement," added Gerrard.
"He's a hero of mine, I was lucky enough to play with him. He's a top role model and a top player as well. I have thought about it and it would be very nice from a personal point of view. But you guys know me well enough now to know what my targets are and that's to get out of this group."
The 33-year-old midfielder, who was very impressive with Liverpool in the Premier League this season, says that he is confident that England will be qualifying to the knockout stages of the competition, despite being placed in a very tough group (D) alongside Italy, Uruguay and Costa Rica.
"It's a tough group, every game is going to be tough but I believe and I'm confident that we're capable of getting out of it."