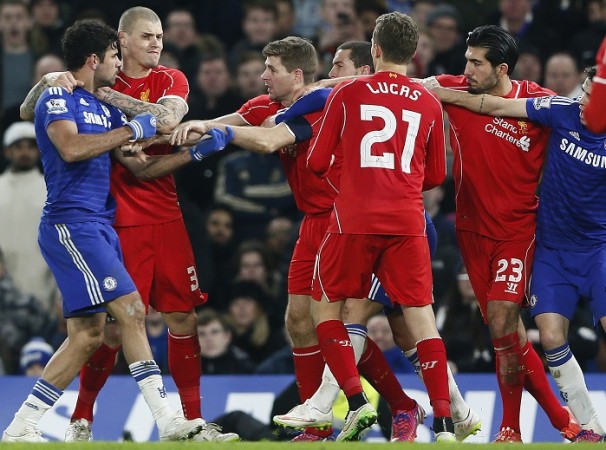 Liverpool boss Brendan Rodgers feels that Chelsea's Diego Costa was very lucky not be sent off during the Red's 0-1 defeat to the Blues in the second leg semi-final of the Capital One Cup at Stamford Bridge.
The 25-year-old striker appeared to stamp on Liverpool's Emre Can and Martin Skrtel during the match, but escaped punishment on both occasions as referee Michael Oliver failed to take action against him.
And Rodgers, whose side were knocked out of the competition after losing to Chelsea on a 1-2 aggregate in the two legged semi-finals, feels that Costa should have been sent off for his aggressive behaviour.
"These things happen in the game but I think anyone watching it would not like to see what we've seen Diego Costa do," Rodgers told Sky Sports. "Not just on Martin Skrtel but on Emre Can, a young player who was clearly stamped on."
"You don't want to see that. There's no need for it. You can easily land somewhere else without having to directly land on an opponent's ankle. It's disappointing to see that on the replay and he was probably very fortunate the referee and the linesman didn't see it."
However, despite the defeat, Rodgers feels that his side played well, insisting that Chelsea goalkeeper Thibaut Courtois was the only reason behind his side failing to advance into the finals of the League.
"We're very proud of the team," he added. "Over the two legs, we were the better side but their goalkeeper has got them [Chelsea] to the final. Up at Anfield and here tonight, he's made some very important saves and that's won them the game."
The Northern Irishman also revealed that striker Daniel Sturridge may be making a comeback when the Reds host West Ham on Saturday.
Although the 25-year-old, who returned to training last week after spending nearly five months on the sidelines with a thigh and calf injury, was tipped to feature in the Capital One Cup clash against Chelsea, Rodgers had stated that the England striker would not be involved at Stamford Bridge if he wasn't feeling a 100 percent fit.
And Rodgers, who admits that the League Cup game was "too soon" for Sturridge to make a return, is hopeful that the former Chelsea striker may be making a comeback against West Ham on Saturday.
"Obviously it was too soon for this game but I think he's really relishing coming into the team," said the former Swansea City boss.
"He's worked very hard to get back and he's training with the team. This was game was too close for him but by the weekend hopefully he can play some part."