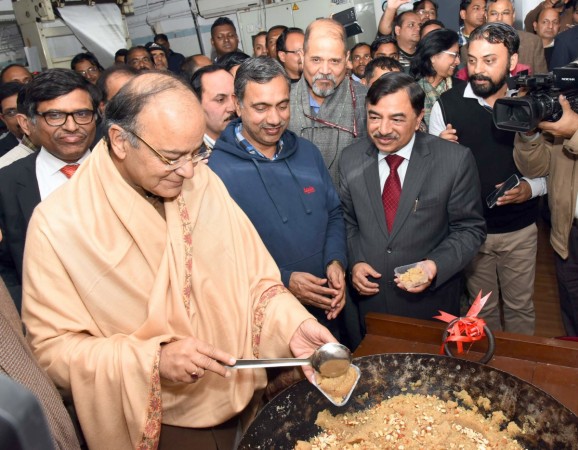 Amid uproar over Narendra Modi's government continuing with the Union Budget 2017-2018, following the death of E Ahmed, Congress MP from Kerala had raised doubts over the possible postponement of Budget speech. However, the House Speaker, Sumithra Mahajan gave the go ahead following a tribute and few minutes silence in respect of the deceased MP.
The highlights below let us have a peek into the government's focus for the next fiscal year, until the fine print of the Budget reaches everyone.
Read: Union Budget Session 2017 Live Updates: MP Ahamed's death creates uncertainty; FM Arun Jaitley reaches Parliament, Union Cabinet to meet shortly
Finance Minister, Arun Jailtley started his Union Budget 2017 at 11 pm as planned.
Top highlights of Union Budget 2017-2018:
We have moved from a discretionary administration to a policy-based administration.
Focus will be on energising our youth, to reap benefits of growth and employment.
International Monetary Fund estimates that the world GDP will grow by 3.1 percent in 2016 and 3.4 percent in 2017.
Demonetisation is a bold and decisive measure, for many decades tax evasion was a way of life for many.
Pace of remonetisation has picked up and will soon reach comfortable levels. Effects of Demonetisation not expected to spill over to next year.
Have done away with planned and non-planned allocation.
Agenda is to transform, energise and clean India.
Surplus liquidity in the banking system will aid in lower cost of lending and credit.
Committed to double farmer income in five years.
Agriculture is expected to grow at 4.1 percent in the current year.
Overall approach in this year's Budget has been to spend more in rural areas.
Farmers will benefit from 60-day interest waiver announced by PM.
Target of agricultural loans to farmers set at record Rs 10 lakh cr in 2017-18
Fasal Bima Yojana coverage will be increased to 40 percent.
Issuance of soil health cards has gathered momentum.
Pledges to setup a mini lab in krishi vigyan kendras
Will support NABARD to digitise 63,000 primary agri co-operatives.
To set up Rs 5,000 cr worth dedicated micro irrigation fund by NABARD.
Long term irrigation fund set up in NABARD, additional corpus Rs 20,000 cr.
Dairy processing fund initial corpus at Rs 2,000 cr.
Pledges to bring one crore households out of poverty by 2019.
National agricultural markets to be expanded to 585 markets.
Cabinet approves extension of tenure of loans under credit linked subsidy scheme of Pradhan Mantri Awas Yojana from 15 to 20 years.
Budget allocation to MNREGA increased to a record Rs 48,000 crore for 2017-18 from Rs 37,000 cr in 2016-17.
Total allocation for rural, agricultural and allied sectors for 2017-18 is Rs 187223 cr, which is 24 percent higher than last year.
100 percent village electrification will be achieved by May 1, 2018.
Proposes to introduce a system of measuring annual learning, science to be given more focus.
To complete 1,00,00,000 houses by 2019 for houseless and those living in kaccha house.
Open defecation free villages are now being given priority for pipe to water supply.
Safe drinking water to cover 28,000 arsenic and Fluoride affected habitations in the next four years.
For senior citizens, Aadhar cards giving their health condition will be introduced.
Two new All India Institute of Medical Sciences (AIIMS) to be set up in Jharkhand and Gujarat.
Steps will be taken to launch dedicated trains for pilgrimage and tourism.
Rail safety fund with corpus of Rs 100,000 crore will be created over a period of five years.
A new metro rail policy will be announced, this will open up new jobs for our youth.
At least 25 stations are expected to be awarded during 2017-18; 500 stations are to be made differently abled-friendly by providing lifts and escalators.
By 2019, all coaches of Indian Railways will be fitted with bio-toilets.
Service charges on e-tickets booked through IRCTC will be withdrawn.
Transport sector allocated Rs 2.41 lakh crore and Bharat Net Project allocated Rs 10,000 cr.
The Foreign Investment Promotion Board has been abolished.
Action plan to eliminate Kala Azar and Filariasis by 2017, Leprosy by 2018, Measles by 2020 and Tuberculosis by 2025.
Mission Antyodaya to bring 1 crore households out of poverty and to make 50,000 Gram Panchayats poverty-free.
During 2017-18, another 5 lakh ponds will be constructed, for drought-proofing.
Railway related state-run companies like IRCON and IRCTC to be listed on stock exchanges.
3.5 crore youth will be trained under Sankalp program launched by the government.
Propose to double the lending target of Pradhan Mantri Mudra Yojana and set it up at Rs 2.44 lakh crore for 2017-18.
Unmanned railway level crossings to be done away with by 2020.
Government to commission 3,500 km of railway tracks in 2018.
Propose to feed 7000 solar railway station in medium term.
Government proposes 1 lakh cr corpus for Railway ministry's safety fund over five years.
Chandigarh and eight districts of Haryana have been declared kerosene free.
Pace of construction of roads has increased to Rs 133 km/day in 2017.
2,000 km of coastal roads have been identified for development.
National Highway allocation now stands at Rs 64,000 cr.
FM proposes Rs 2.41 lakh cr allocation.
Rs 3.96 lakh cr have been allocated for infrastructure.
Government to take up second phase of solar power development for additional 20,000 mw.
Government to launch Adhaar Pay soon.
Rs 10,000 cr allocated for recapitalisation of PSU banks.
New rules for pricing medical devices to benefit common man.
Government considering introduction of new law to confiscate assets of offenders who escape the country.
Aadhar enabled payment system to be launched soon. Banks have targeted to introduce additional 10 lakh Point-of-Sale terminals by March 2017.
Total expenditure of budget 2017-18 has been placed at Rs 21.47 lakh cr.
Defence expenditure excluding pension at Rs 2.74 lakh cr.
Total resources being transferred to the states andunion territories with legislature is Rs 4.11 lakh cr.
Fiscal deficit target for 2017-18 is 3.2 percent.
Proposes to create a payment regulatory board at RBI.
Government to launch two new schemes to promote BHIM App.
Government to take steps to promote digital payments at petrol pumps, hospitals.
Government to set up new crude oil reserves.
Web-based pension distribution system for defence will be established.
We are largely a tax non compliant society, when too many people evade taxes burden falls on those who are honest.
Out of 3.7 crore who filed tax returns in 2015-16, only 24 lakh persons showed income above Rs 10 lakh.
Due to demonetisation advance tax on personal income tax has been increased by 34.8 percent.
There is an urgent need to protect the poor from chit fund schemes, draft bill placed in public domain.
The net tax revenue grew by 17 percent in 2015-16.
Capital gains tax to be exempted, for persons holding land from which land was pooled for creation of state capital of Telangana.
Holding period for land and building will be reduced to 2 years from 3 years.
Income tax for small companies with an annual turnover of 50 crore, now to pay 25 percent, a 5 percent reduction.
Not to remove Minimum Alternative Tax in 2017-18; Propose to allow a carry forward of MAT for a period of 15 years as against 10 years now.
Proposes to reduce basic customs duty on LNG from 5 percent to 2.5 percent in 2017-18.
To cut presumptive turnover threshold for companies with turnover up to Rs 2 cr to 6 percent.
SIT has suggested no cash transaction above Rs 3 lakhs. Government has accepted this.
Maximum cash donation any party can receive will be Rs 2000 from one source.
Political parties will be entitled to receive donations by cheque or in the digital mode from their donors.
Political parties will need to file income tax returns.
Proposes transparency in political party funding.
Proposes to amend RBI Act for issue of electoral bonds for political funding.
Government abolishes Foreign Investment Promotion Board (FIPB), more easing of the FDI policy on the anvil.
Propose to reduce existing rate of taxation of those with income between 2.5 lakh to 5 lakh from 10 percent to 5 percent.
Surcharge of 10 percent for those whose annual income is Rs 50 lakh to 1 cr.
Finance minister to exempt some foreign portfolio investment from indirect transfer provisions.
Tax foregone from deduction in tax rate at Rs 15,500 cr.
Net revenue loss in direct tax could be Rs 20,000 cr due to exemptions.
FM concludes his speech. Lok Sabha adjourned.
(Source: EY India, ANI, CII)