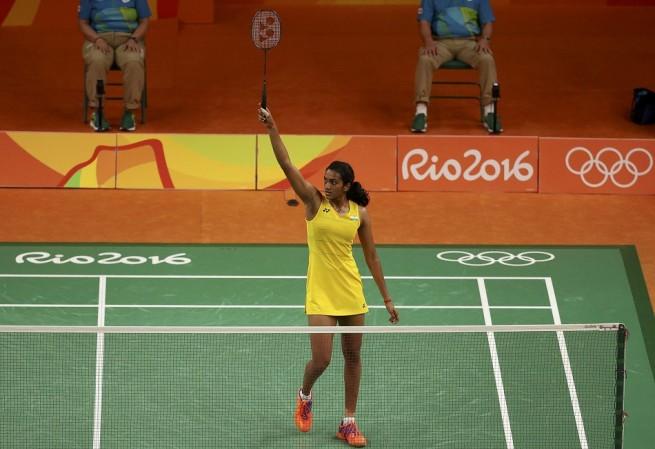 That's all from me folks for now. Do join in for the live coverage of the Hong Kong Open badminton 2016 finals on Sunday. Happy weekend from me, Sayantan, and good wishes to Sindhu and Verma for their all-important matches tomorrow!
6:40 pm IST: THAT'S IT!!! SINDHU INTO THE FINAL OF A SECOND CONSECUTIVE BWF SUPER SERIES AFTER A COMFORTABLE SEMIS WIN!

FINAL SCORE: Cheung 16-21 Sindhu

The match lasted a total of 46 minutes.
6:38 pm IST: Sindhu with a match point now! Been a great day for Indian badminton fans...
Score: Cheung 15-20 Sindhu
6:34 pm IST: Cheung bringing all the best aspects of her play here to make the scores level. This one is a looooong game!
Score: Cheung 14-16 Sindhu
6:32 pm IST: Sindhu back on track to possibly seal the game and the match comfortably out here!
Score: Cheung 12-15 Sindhu
6:25 pm IST: Sindhu has reached double figures already in this game and Cheung is slowly catching up! This is not over yet, folks...
Score: Cheung 10-10 Sindhu
6:22 pm IST: Cheung seems totally frustrated with her play right now. Nothing at all is working for her! She does show some signs of a comeback with some unexpected brillance though. Don't count her out yet!
Score: Cheung 5-7 Sindhu
6:17 pm IST: Sindhu seems to be continuing with her winning momentum in the second game too and using her reach advantage to perfection!
Score: Cheung 2-3 Sindhu
6:13 pm IST: That's it! The opening game to the Rio 2016 Olympics silver medallist in 18 minutes' time.
Score: Cheung 14-21 Sindhu
6:12 pm IST: Cheung being tested to her limits here by Sindhu. The Hong Kong based badminton player had it easy against Sindhu yesterday, but here, she is in all sorts of pressure.
Score: Cheung 14-19 Sindhu
6:08 pm IST: Sindhu's composure is better than what it was at the start of the game. She is winning more clear winners with her powerful forearm. Cheung is slowly starting to feel the heat now!
Score: Cheung 11-15 Sindhu
6:02 pm IST: Sindhu's forehand smashes have done the trick. She's officially into double figures now!
Score: Cheung 9-10 Sindhu
6 pm IST: It has started a bit slow, but hopefully, we can see the pace of the game reach the level of the previous one between Verma and Jorgensen...
Score: Cheung 7-7 Sindhu
5:56 pm IST: Well, Sindhu needs to take it easy for now. She's been hurrying and a host of unforced errors are getting committed by her!
Score: Cheung 4-3 Sindhu
5:55 pm IST: OFF WE GO! Cheung with the first serve of the game....AND the first point of the match for Sindhu owing to an unforced error from the Hong Kong shuttler!
5:50 pm IST: Okay, the big match of the evening is here! PV Sindhu and Cheung are out in the court and the match is beginning in just a few moments... Here's how to watch live!
Sindhu leads 2-0 in the head to head record...
5:43 pm IST: HISTORY!!!! SAMEER VERMA HAS BOSSED THIS GAME AS WELL AS THE MATCH. DEFEATS JORGENSEN OVER TWO GAMES....

SCORE: 24-22

IT TOOK JUST 45 MINUTES FOR THIS TO MATCH TO END!
5:41 pm IST: THIS IS UNBELIEVABLE! Jorgensen is made to sweat by an Indian badminton player who has never before made it to the semis of a BWF super series!
Score: Verma 22-22 Jorgensen
5:38 pm IST: DAAANG! SCORES LEVEL... The rallies are turning out to be the major limelight of this match. Trust us, Sameer Verma is the player to watch for, from India!!!
Score: Verma 20-20 Jorgensen
5:35 pm IST: Jorgensen, however, using all his experience and mettle to clinch this game!
Score: Verma 15-17 Jorgensen
5:32 pm IST: Verma officially into double figures now in this second game of the match. We tell you this is just brilliance from the 22-year-old Indian. You need to watch the match to know more. Here's how to watch live!
Score: Verma 13-13 Jorgensen
5:28 pm IST: Verma has been good with his smashes, but he does need to find the right direction to play it, otherwise it's mostly out of the line!
Score: Verma 5-11 Jorgensen
5:23 pm IST: We told you! Jan O Jorgensen is coming for this game! A bright start already for the World No. 3.
Score: Verma 2-7 Jorgensen
5:20 pm IST: First point of the second game of the match for Jorgensen. He does have the spirit to make a comeback!
5:18 pm IST: FIRST GAME OF THE MATCH FOR SAMEER VERMA! Daang, this has been an upset!
Score: Verma 21-19 Jorgensen
5:15 pm IST: For those just tuning in, Sindhu's match gets under way after the end of the ongoing match between India's Sameer Verma and Denmark's Jorgensen. So far, the first game has been unexpectedly quite tight! The 22-year-old from Dhar, Madhya Pradesh, is putting up quite a show...
His strong points? Speed, nimble feet and a powerful forehand.
Score: Verma 17-17 Jorgensen
5:10 pm IST: Until now, we have witnessed some real nimble and quick feet from the Indian, but Jorgensen is starting to find his mojo steadily. Using his brute force and speed to cause most of the damages. The unforced errors, however, are something the Danish should be wary of.
Score: Verma 13-13 Jorgensen
5:05 pm IST: Both the shuttlers are into double figures now! Sameer Verma has really started things well, but he has to find a solution to Jorgensen's hard smashes, as quickly as he can. Things are getting level here!
Score: Verma 10-10 Jorgensen
5 pm IST: TOE-TO-TOE! What a great rally of 35 shots that has been.....AND AGAIN! Verma gets the point!
Score: Verma 4-1 Jorgensen
4:57 pm IST: Off we go! Verma with the first serve of the match...AND the first point of the game!
4:55 pm IST: Okay, what an opportunity this is for India's Sameer Verma as he takes on the badminton men's No 3 Jorgensen at the Hong Kong Coliseum now. This is the 22-year-old's maiden semis appearance in a BWF superseries. He is ranked 43rd in the world.
4:50 pm IST: Ladies and gentlemen, we are back on Super Saturday to witness yet another crucial match of PV Sindhu, the current hotshot in women's badminton. The 21-year-old Indian bagged her maiden Badminton World Federation (BWF) Super Series title last Sunday and things can definitely repeat this Sunday as well.
For now, let us focus on Sindhu's Hong Kong Open badminton 2016 semi-final match against hometown favourite Cheung Ngan Yi. The match is set to begin following the men's singles semi-finals match between India's Sameer Verma and Denmark's Jan O Jorgensen. So, expect Sindhu's match to start just before 6 pm IST.
This is me, Sayantan (twitter @san_footy) bringing you all the updates from the two major matches of the day featuring the Indians. Stay tuned to this page!