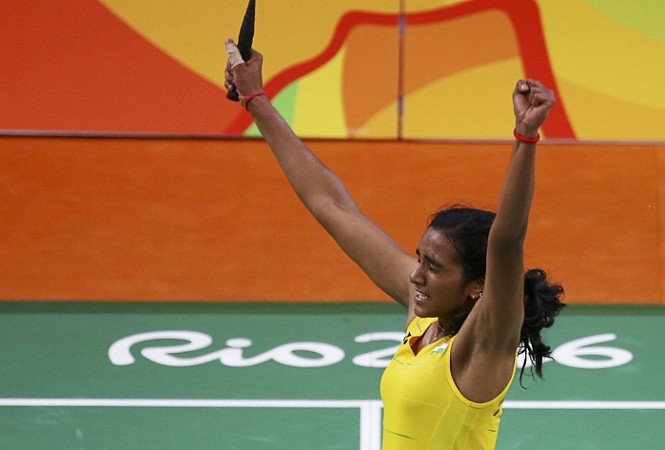 India shuttlers PV Sindhu and Sameer Verma lost their respective women's and men's singles final after some decent performance in the title-decider on Sunday. Though it might have been disappointing for Sindhu and Verma to finish runners-up, they should be pleased with their overall performance in the Hong Kong Open.
14:33: With two back-to-back points for Ka-Long, the crowd erupts as the home favourite clinches the title. The final score read 21-14, 10-21, 21-11 to win the Super Series title in Hong Kong.
14:32: Ka-Long is two points away from the Super Series title, and boy, has he not delivered the goods in the final. 19-11.
14:30: Wait. Is there a twist in the tale as Verma takes four points straight to cut Long's lead to 16-10.
14:28: The game, as it seems, to be in Ka-Long's bag as he has been effective at the net as well as from the baseline. Oh My God! Some of his net plays, incredible I say. Long leads 16-6.
14:26: Verma is trying to push Ka-Long at the back, which is not a bad ploy, but Long still enjoys a 13-6 lead.
14:24: Verma has not been able to bring that A class performance, which he had showed in the second game as Ka-Long has a six-point advantage at 11-4.
14:21: The longest rally of the match so far, and Verma hits it wide to help Ka-Long score one point. 5-3 to Long, who makes it 6-3 with a powerful shot from the baseline.
14:18: The home player is on the groove, supported by the local crowd. His smashes are making it tough for Verma, who trail 2-4.
14:17: Ka-Long has started the third game on a bright note, running into a 3-0 lead.
14:15: Verma, with the help of some errors from Ka-Long, has managed to win the second game, 21-10. The men's final goes into a decider.
14:11: Seven-point advantage for Verma, who should clinch the game from here on. He increases that lead to 15-7 as Longs hits it far. There is an air of confidence in Verma's play as he takes 17-7 lead.
14:09: Verma's movement in the court is quite impressive, and he has a good defence as back up too. Verma leads 13-7.
14:07: Verma has taken his game to the next level, increasing his lead to 10-4. Verma, with a powerful smash, goes into the mid-game break with 11-5 lead.
14:03: With Ka-Long making errors, Verma capitalises and takes 3-2 lead. The Indian has turned the screws around, as he scores an amazing cross court shot to clinch another point. Verma leads 7-2.
14:01: 1-1 as Long's shot hits the net after securing the first point of the second game.
13:59: There is not much rallies happening. Both the players are going for the killer smash to secure points. Ka-Long wins the first game 21-14.
13:56: Verma needs to hit the shuttle more close to Long's body, which he is not doing, and allowing Long the time to unleash his shots. Long is dangerous when he gets time to strike the shuttle. Ka-Long leads 17-12
13:54: Verma has momentum on his side and the Indian shuttler has scored four points on a row. Still Long leads 13-12.
13:53: Two smashes and two points fro Verma, who needs to play such strokes in a consistent basis. Long's smashes, it has power written all over it, and the home player increases his lead to 13-8.
13:51: Verma is coming back strong, wins two back-to-back points to make it 5-9, but Long is in complete control of the first game so far. His smashes, and his game at the net has been too good from Verma, who is down 5-11.
13:48: Drop shot of the highest class from Long to make it 8-2. He is looking confident with every point he wins. 9-3.
13:47: Ka-Long has taken a huge lead of six points. 7-1.
13:45: The home player has increased the lead to 4-1, and Verma is looking nervous. Ka-Long hits a powerful smash again to make it 5-1.
13:43: Ka-Long picks up the first point at the net. Verma scores with a deft touch at the net. 1-1
13:38: Verma and Ka-Long walks into the playing area, and both the players seem to be hungry for the title. There is loud cheer for Ka-Long, the home favourite.
13:25: The wait is over as the Indonesian pair clinched the mixed doubles title. In a matter of 10-15 minutes, the highly-anticipated men's final will take shape. The countdown begins..........
13:10: I know, waiting is no fun as the ongoing mixed doubles contest needs to be over before Sameer Verma features in the final. Anyways, this doubles match is worth the wait, at least for me. These rallies in doubles, I tell you, are worth a watch.
12:55: Verma and Angus NG are not big names in world competition, but these players, after some consistent badminton and with some stars missing in Hong Kong Open, have used that to their advantage to reach the finals. Now, they will battle it out for the massive Super Series title.
12:42: Despite the loss, India badminton fans can still hope for a good result as Sameer Verma will take on Angus Ng Ka-Long in the men's final, which will take place after the mixed doubles contest. Sameer's match should take place in the next hour or so depending on the time taken for the doubles match to end.
For the men's final as well, I will provide you with all the live updates.
12:32: The prize distribution ceremony has been done with and Sindhu has that smile with the runners-up tag, but one knows that she will be disappointed to have lost in the final. No matter, who are you are up against, losing a final hurts real bad.
SINHDU FALLS SHORT IN THE FINAL AS TAI TZU WINS THE HONG KONG OPEN TITLE.
12:24: Tai Tzu converts the second match point, and defeats Sindhu to win the title with an amazing performance. Sindhu might not have played poorly, but she came up against a determined player, who was in complete control of the match. To be fair, that was some badminton exhibition from Tai Tzu, who won the match 21-16, 21-15.
12:21: Tai Tzu is one point away from the title, 20-16.
12:19: Sindhu has just earned the point of the match where she floored Tai Tzu twice with a smash, but wins a point at the net. What defence from Tai Tzu, who leads 18-16
12:17: Will Sindhu comeback? It looks tough.
12:16: This match has witnessed some huge rallies, with some strong net plays. Another one, and this time Sindhu earns the point. Tai Tzu, later, stretches the lead to 16-13, and is cruising towards a victory.
12:14: What should I say? Is Sindhu not playing well or Tai Tzu too good? To be honest, Tai is in top form in the final. Tai Tzu leads 13-11.
12:11: Tai Tzu misses an easy smash, and allows Sindhu to go into the mid-break 11-10. But Tai has looked a better shuttler in the final so far.
12:09: Tai Tzu looks in impeccable form. Plays a drop shot and Sindhu is helpless in the middle of the court. Tai Tzu leads 10-9.
12:08: Sindhu is trying to push Tai to the back, and it is working, at least scored two points with that. Tai Tzu hits it long, Sindhu leads 8-7.
12:05: This second game is too tight to call, as it is 5-5. Both the players have taken their game to the next level. Sindhu hits a cross court shot to take 6-5 lead.
12:04: Sindhu has managed to make it 4-1, but Tai Tzu shows her class in a long rally to score an important point, follows that with a powerful smash. Sindhu leads 4-3.
12:02: Sindhu mishits and Tai Tzu takes 1-0 lead, but the CHinese Taipei player returns next at the net to make it 1-1.
Second Game Begin
12:01: Sindhu has not been able to play her aggressive game, but she needs to find a way to take the game to the decider. The second game is the all-important one in the context of the final now.
12pm: No, Sindhu cannot fight back all the way in the first game as Tai Tzu has won the first game 21-15.
11:58: Wait, Sindhu is coming back, Tai's lead has been cut to four points. 14-18.
11:57: Tai Tzu has increased her lead to 18-12, and looking at things, she should clinch the first game of the final.
11:54: Sindhu is not going down without a fight, but she is being currently outplayed by Tai Tzu, who enjoys a 16-10 lead. Sindhu, can she comeback?
11:52: On the money from Tai Tzu, who scores another point to make it 12-8, and follows that with an amazing drop shot from the baseline. Yes, you read it right, from the baseline. Tai Tzu leads 13-8.
11:50: Going into the first break of the match, the final has been wonderful so far, though both players have been making mistakes. Tai Tzu increases her lead to 11-8 with a deft cross court shot.
11:48: Sindhu, you beauty, as she drills her characterstic smash down the line to take 8-7 lead. Strong rally, and Tai Tzu wins the point. 8-8.
11:46: The match has not really hit top gear, as the powerful series of smashes are yet to be unleashed. Sindhu fights back with some strong points to make it 6-6.
11:45: Tai Tzu leads 6-3 after Sindhu concedes three straight points.
11:44: Both the players are making some unforced errors. Nerves? 3-3.
11:42: Sindhu earns the first point of the final as Tai Tzu hits it wide. Sindhu does the same as she hits it just a bit wide to allow Tai score her first point. 1-1.Thunderous smash from Tai, who leads 2-1.
11:40: We are just moments away from the final as the two players are out there in the middle, practicing their shots ahead of the major final.
11:30: PV Sindhu had posted this last week, after winning the China Open. Will she have the victory smile after the Hong Kong Open?
11:22: Money is important, and at this cash-crunch crisis due to demonetisation (in India) some of you must be in the long ATM queues, and you are not able to watch the game live, worry not, when I am here. I cannot help you jump the queue, but provide all the live details of the match here itself.
11:15: My dear friends, the match should start in the next 20-30 minutes, and if you have some plans for the next one hour or so, drop it. You will not want to miss Sindhu in action, that too, when she is in roaring form.
10:58: When Sindhu and Tai Tzu last met in the Rio Olympics, it was a brilliant contest, with the Indian emerging victorious. She was at her menacing best during the match, and Sindhu will hope for a similar performance in the Hong Kong Open final. Can she come with a repeat performance? Yes, she can, but the task is not going to be easy.
Here is how Sindhu defeated Tai Tzu in Rio, and I bet you, the Chinese Taipei player will be desperate for revenge.
10:46: It is Super Sunday for India badminton fans with PV Sindhu and Sameer Verma both having played some wonderful badminton to reach the finals of the Hong Kong Open. Can it get any better than this? As of now, let us focus on Sindhu's match, which is the first final of the day.
10:40 am IST: Hello everyone. Welcome to International Business Times India's live blog coverage. This is Ashim Sunam, and I will provide you with all the highs and lows, and all those much-needed details from the Hong Kong Open 2016 women's and men's final.
Are you ready? I am. We are just around an hour away from the epic final between Sindhu and Tai Tzu Ying.