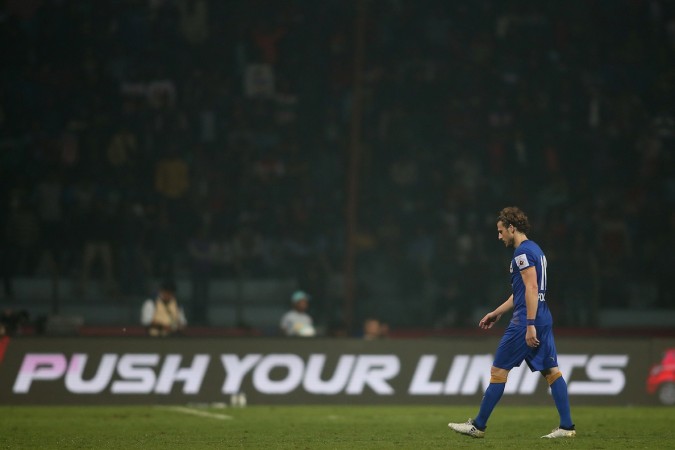 THAT'S IT! THEY HAVE DONE IT. ATLETICO DE KOLKATA ARE THROUGH TO THE ISL 2016 FINAL.
Aggregate score: ATK 3-2 Mumbai
What a storyline this is! ATK, reduced to 10 men with a defender red-carded, is thwarting every possible goalscoring opportunity from Mumbai City FC.
90 (+1)' Goian with a volley but Debjit holds it!
Added time: 4 mins
90' Sameehg Doutie on for Javi Lara!
88' Holy Lord! Has Mumbai City just given away the game there? Brilliant build up but the final attempts on goal has been terrible.
85' Another attempt on goal from Didika. He's not giving up. Not at all.
84' Lofted shot from Didika, but nowhere near the goal. Interesting question: Why is either Postiga or Hume still not here?
83' Oh dear! Cafu is on for Defederico. He has the power to take the match to extra time.
80' Ten minutes to go. Can any hero step up now? Who will it be?
78' ATK are all about experience. The star-studded Mumbai attacking line are totally struggling to get past the 10-men away side.
75' CHANCE! Lara with yet another good corner, but Beloncoso's final shot on goal a bit too high.
71' Good corner from Javi Lara, but Amrinder makes a good save!
68' Good news: Debjit is back and making saves as usual!
Sub: Vadocz comes off, Cunha in.
65' ATK custodian Debjit is putting up quite a show. And it's so tragic that he is down after a thumping fall in the ground while making a save.
60' WHAT A MISS! Javi Lara with a great ball inside the box, but Belencoso can't even get a touch on it. Surely would have been a goal!
58' The play is getting a tad too physical now with the passing of time.
55' Substitution: Jackichand Singh has come on for Sehnaj Singh.
47' And again! Leo Costa with another effort on goal. But Debjit wins again.
46' Off we go again! Keegan Pereira has come on for Ruidas.
Strike by Sony Norde early on and the ball just misses the goal!
HALF TIME! Goalless so far at the Mumbai football arena.
As it stands, ATK make it to the ISL 2016 final.
45' Loooong effort from Gerson! The ball is just caught by Debjit.
Ruidas here with an YELLOW. Disciplinary probs already for ATK!
42' RED CARD! Absolutely rash play from Robert and he picks up his second yellow of the match. Dismissed!
40' Mumbai City FC giving their all now. Trying their best from the set pieces, but the absence of Forlan is so visible for the home side.
36' CLASH OF HEADS between Didika and Goian. Daaang that looks ugly but nope, not serious!
34' ATK fullback Robert with an YELLOW now for a needless challenge.
32' If the away team have one lethal weapon tonight, it definitely is Javi Lara!
30' Absolutely nothing seems to be working for Defederico. His passes are not right, his final shot is not getting the right contact. Here's someone who's missing Forlan for sure!
MUM 0-0 ATK
28' CHANCE! Abinash Ruidas' cross for ATK turns out to be real trouble for the MCFC defence.
25' YELLOW CARD for Borja for a cruching challenge.
24' Substitution: Didika has come on for Bidyananda Singh.
22' Except for that Sunil Chhetri effort and that burst of pace from Javi Lara, nothing much really has happened so far. Of course, both teams are building up well from the back.
18' Mumbai are doing well to create opportunities, but every time, the ATK defence are thwarting them! Good duel this.
14' Javi Lara provides some boost to the ATK attack now as he dribbles from the left to take a shot, but that is wide of the goal.
12' Massive chance missed by Defederico to put Mumbai 1-0 up, thanks to Borja Fernandez's timely interception.
10' Goalless so far, but it is the home side who has made major inroads on goal so far. Fail to understand why Postiga and Hume have sat out. Does Jose Molina want them to come on late and create magic?
6' CHANCE AND MISSED! Sunil Chhetri clean through there but his final shot on goal just caught by Debjit Majumder. The ATK goalie has just won the duel there.
4' Nice build up from a corner between Sony Norde and Defederico. The ATK defence need to be at their feet throughout!
2' Mumbai City FC have started the game pretty well. Guess they don't want to waste any time to get the goals.
7 pm IST: HERE WE GO! MATCH KICKS OFF.
6:55 pm IST: The players are out on the pitch. Kick-off only moments away. Will it be Ranbir Kapoor's side or Sourav Ganguly's side? Who will prevail at the end?
6:45 pm IST: The countdown to kick-off has started. WATCH THE MATCH RIGHT HERE...
6:30 pm IST: Just 30 odd minutes left for the match to start. Reminder: if the aggregate scores are level following 90 minutes of play, the match goes on to extra time and penalties.
The aggregate result at the moment stands at ATK 3-2 MUM.
6:20 pm IST: No Iain Hume or Helder Postiga in the Atletico de Kolkata starting 11. What can be the reason behind that? Pretty interesting.
6:15 pm IST: The lineups are here, folks! And as expected, Sunil Chhetri fills in for Diego Forlan, upfront.
Mumbai: Amrinder; Sehnaj, Ali, Goian, Ralte; Gerson; Leo Costa, Vadocz; Norde, Chhetri, Defederico.

ATK: Debjit; Pritam, Tiri, Sereno, Robert; Borja, Pearson; Ruidas, Lara, Bidyananda; Belencoso.
6 pm IST: An hour to go for the start of the match. ICYMI: ATK have a one-goal advantage coming into this game. The first leg match in Kolkata finished 3-2 in favour of the home side.
5:50 pm IST: Hello and welcome once again, folks. We get to know the first team who makes it to the ISL 2016 final, tonight! Will it be Mumbai City FC or will it be former champions Atletico de Kolkata? Stay tuned with me Sayantan (twitter @san_footy) right here as I bring across you all the live updates from the crucial match at the Mumbai Football Arena!
The match is kicking off at 7 pm IST.