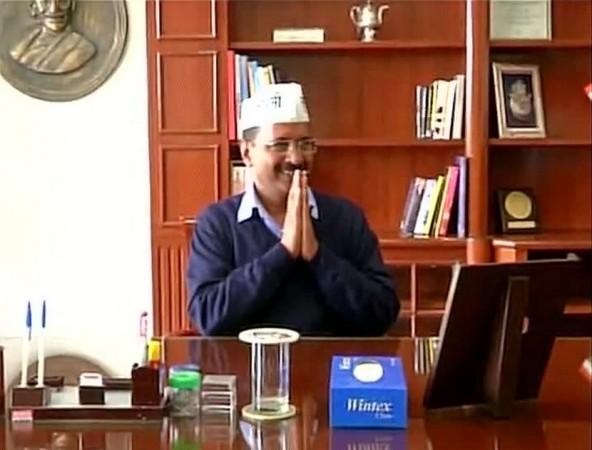 Delhi Chief Minister Arvind Kejriwal in his speech during the swearing-in ceremony promised to make Delhi the first corruption-free place in India and also requested media to give him and his party more than just a few hours to fulfill his promises as the people of Delhi themselves have given AAP five years time.
After the ceremony, Kejriwal and his cabinet ministers arrived at the Delhi Secretariat and took charge of their offices.
Delhi CM was to visit Rajpath and also hold a cabinet meeting later on Saturday but the programmes have been cancelled for the day due to his illness. Kejriwal has high fever and his sugar counts are high.
1:05 pm: Delhi CM Arvind Kejriwal concludes his speech with a prayer
1:03 pm: Praises the workers of AAP and also its volunteers and asks crowd to clap for them
1:01 pm: "Today I didn't take oath as Chief Minister of Delhi, you all have taken the oath. You all are the CMs of Delhi"
1 pm: All the political parties will have to join hands for the betterment of Delhi. Will seek Kiran Bedi's advice and we will also consult Congress leader Ajay Maken if needed.
12:58 pm: Requests media not to mock AAP or the party's intentions if he goes to a bungalow
12:56 pm: Want to end VIP culture from Delhi: Kejriwal
12:54 pm: Kejriwal promises support to businessmen but asks them to pay full taxes. He says taxes will be used in construction of roads, schools, water, electricity, women safety and for other developments
12:49 pm: Arvind Kejriwal raises the issue of religious intolerance in Delhi with reference to attacks on Churches and Christian schools
Will make Delhi safe for every religion: Kejriwal
12:47 pm: Will pass Jan Lokpal Bill but request media to not expect AAP to do it in hours. "People of Delhi has given me five years time."
12:46 pm: When offered a bribe, accept it but reach to your mobile phone in the pocket and record the conversation and bring it to me, AAP will take action against the corrupt: Kejriwal
12:45 pm: Will make Delhi first corruption-free place in India
12:42 pm: We will focus only on Delhi for the next five years, do not want to expand to other states because it's nothing else but greed, arrogance: Kejriwal
"I have decided, God has given me a direction, Delhi ppl gave me love. I will stay in Delhi & work for Delhi: Arvind Kejriwal"
12:39 pm: After this victory, we need to keep away the egotism and arrogance: Kejriwal
"We will have to be careful not to allow 'ahankar' (arrogance) to come in us because of huge mandate: Arvind Kejriwal"
12:38 pm: Kejriwal thanks people of Delhi for the love they have shown through the votes in the Delhi assembly elections and gave AAP the spectacular victory
12:35 pm: Delhi Chief Minister Arvind Kejriwal addresses the crowd gathered at Ramlila Maidan
12:34 pm: Oath-taking ceremony is concluded with National Anthem
12:31 pm: Jitender Singh Tomar is sworn-in as Law and Home Minister by LG Najeeb Jung at Ramlila Maidan
12:28 pm: AAP Gopal Rai takes oath as Transport and Labour Minister at Ramlila Maidan
12:25 pm: Satyendra Jain is sworn-in as Health Minister of Delhi by Jung
12:23 pm: Sandeep Kumar takes oath as Women and Child Development Minister
12:20 pm: Food and Civil Supplies Minister Asim Ahmed Khan takes oath as a Cabinet minister at Ramlila Maidaan
12:18 pm: AAP leader Manish Sisodia takes oath as Deputy CM of Delhi. Sisodia will also be the Urban Development, Public Works and Education Minister of State.
12:15 pm: Arvind Kejriwal takes oath as Delhi CM at Ramlila Maidan
12:12 pm: Arvind Kejriwal's supporters have gathered in huge numbers at the oath-taking ceremony at Ramlila Maidan
12:08 pm: Lieutenant Governor Jung arrives at Ramlila ground for the swearing-in ceremony Arvind Kejriwal and his 7-member Cabinet
11:53 am: Arvind Kejriwal arrives at Ramlila Maidan for swearing-in ceremony
11:25 am: Kejriwal leaves his residence at Kaushambi for the swearing-in ceremony at Ramlila Maidan
10:54 am: Kejriwal's wife Sunita Kejriwal, other family members and actor Javed Jaffery leave for swearing-in ceremony
10:51 am: Delhiites have started gathering at the venue to witness swearing-in ceremony of Arvind Kejriwal and his 7-member Cabinet
10:40 am: Arvind Kejriwal will now leave for Ramlila Maidan at 11:15 am instead of 10:30 am. He is right now at his residence at Kaushambi with AAP member Kumar Vishwas and a few others
10:35 am: Manish Sisodia who has been elected as the Deputy Chief Minister reaches Arvind Kejriwal's residence in Kaushambi
10:15 am: Song "Dil Diya Hai Jaan Bhi Denge" from film "Karma" and other patriotic songs are being played at the venue of Kejriwal's swearing-in ceremony
10:12 am: Kejriwal's admirers and supporters are celebrating outside his residence in Kaushambi and at the Ramlila Maidan, where he will be taking oath as Delhi's Chief Minister on Saturday
10:10 am: Kejriwal's sugar count is said to be high and he is down with high fever ahead of his swearing-in ceremony
9:45 am:
9:30 am: "Today is a day of celebration & reflection. When both the processes are done with true responsibility & commitment, India is the real winner," tweets Kiran Bedi
The wheel has turned full circle. AAP President Arvind Kejriwal will take oath as Delhi's eighth chief minister on Saturday, exactly a year after he resigned from the post citing non-implementation of the Jan Lokpall bill. Nearly one lakh people from across the country are expected to attend the second swearing in of Kejriwal.
Kejriwal's love-hate relationship with Delhi
However, this time around Kejriwal is not in the best of health, and unlike last year may not stop by at Rajghat on his way to the secretariat after the ceremony.
The AAP chief will be accompanied by his family members - wife, parents, two children, brother and sister - for the ceremony, reports The Times of India.
AAP workers went into overdrive at Ramlila Maidan to provide the final touches for Saturday. "The function is taking place on a grand scale. Chairs have been provided for 30,000 guests while the rear portion of the ground has been kept for people to stand in," a senior PWD official said. About 2,000 AAP volunteers will help in maintaining law and order. Apart from that hundreds of police and CISF personnel will be posted in and around the grounds. According to an official, Delhi Police has asked AAP volunteers to be the interface for crowd control.
Coronation of Kejriwal in Ramlila Maidan.Why not have regular swearing in?Televised too.Who pays4this colossal waste?Tax payer or hawala? — Col Ajit Bhinder (@ajitbhinder) February 14, 2015
"More than 50 workers will keep the ground clean on Saturday. Boundary walls have been repaired and fumigation was also done. The dais, which will be used as a stage, is being repainted in white and crimson," a North Corporation official added.
Earlier on Friday, President Pranab Mukherjee appointed Arvind Kejriwal as Delhi CM and revoked President's rule in the state, reports IANS.
Arvind Kejriwal's Aam Aadmi Party cracks down on Delhi babus even before swearing-in http://t.co/Nj2XxFNJMm @AAPforINDIA @BharatAAPka

— Vikas Garg (@vikasgargindia) February 14, 2015
He also appointed, on Kejriwal's recommendation, six ministers: Manish Sisodia, Asim Ahmed Khan, Sandeep Kumar, Satyendra Jain, Gopal Rai and Jitender Singh Tomar.
(Source: ANI tweets)