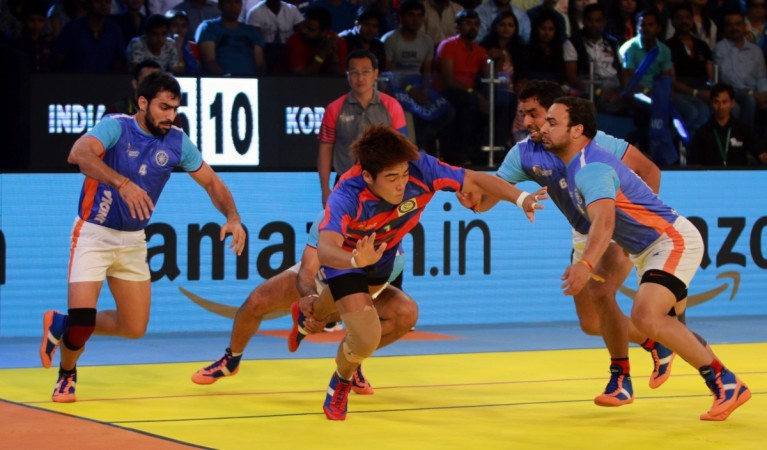 THAT'S IT! INDIA VS IRAN IS THE MATCH THAT WILL BE PLAYED IN THE KABADDI WORLD CUP 2016 FINAL.
FINAL SCORE: INDIA 73-20 THAILAND
38' Two minutes to go! This game is already done and dusted and it will be played but for a few more points.
35' The crowd are silent for now. They have cheered a lot. They knew that the match was decided since the first few points were won by India. Score: 68-12.
34' All Out no. 5! The hosts strike again. Score: 62-10.
32' Super raid! Nitin Tomar bags another three points for India.
30' It's a lethal show by Anup Kumar and Co so far in Ahmedabad. Thailand, slowly but steadily, finally managed to get into double points. Score: 55-10.
26' All Out no. 4! Rahul Chaudhary of India behind the all out now.
25' Pardeep Narwal has already picked 10 raid points in the match.
23' The impressive Tin Phonchoo has absolutely no chance against the Indian defence. This is absolute dominance! Score: 45-8.
21' The second half is on. Judging by what has transpired so far, it is none but India who are going to the final.
Half Time! The 1st half of 20 minutes comes to an end and it is India who have the dominating lead now going into the break. Score: 36-8.
19' All out no. 3! Surender Nada inflicts the third all out of the match. Score: 33-7.
18' Super Raid! Pardeep Narwal gets the first three points for India with his tremendous tenacity.
15' Every raid calls for a point for India. Sandeep Narwal catching some eyes here. Surjeet, meanwhile, is conducting some brilliant tackles. Score: 26-6.
13' All Out no. 2! Who else but India? Score: 24-3. Thailand are being handed a lesson in kabaddi here. Men vs boys.
10' Pure dominance shown by the Indians so far.
Score: 17-3
8' All Out! The home team eliminate all the Thai players and inflict the game's first all out. Score: 11-2
5' No empty raid yet so far by India. A dominant start for the hosts. Score: 7-1 after 5 mins of play.
2' Anup Kumar gets the first raid point for the hosts. Pardeep Narwal and Manjeet Chhillar with one raid point and one tackle point each. Ajay Thakur, too, picks up a point.
9:30 pm IST: Much is expected of Ajay Thakur and Anup Kumar from India tonight. However, Tin Phonchoo and Khomsan Thongkham would also put their best foot forward for Thailand.
9:07 pm IST: That's it! Iran move to the Kabaddi World Cup 2016 final. They beat Korea 28-22.
9:02 pm IST: We are well past the 9 pm time and yet the match between Korea and Iran continues. This is turning out to be a real thriller of sorts!
8:50 pm IST: The battle between Iran and South Korea is just neck to neck so far and this is looking so close with less than 10 minutes to go. Jang Kun Lee or Mehraj Sheykh -- who will come out on top?
8:45 pm IST: India take on Thailand in the Kabaddi World Cup 2016 semi final on Friday in Ahmedabad in what is expected to be a thriller of all sorts. Currently, the other two sides in the last four of the tournament -- Iran and South Korea -- battle it out in the first semi final of the day.
Join me, Sayantan, as I bring you all the updates from the hosts' match against Thailand beginning 9 pm IST.