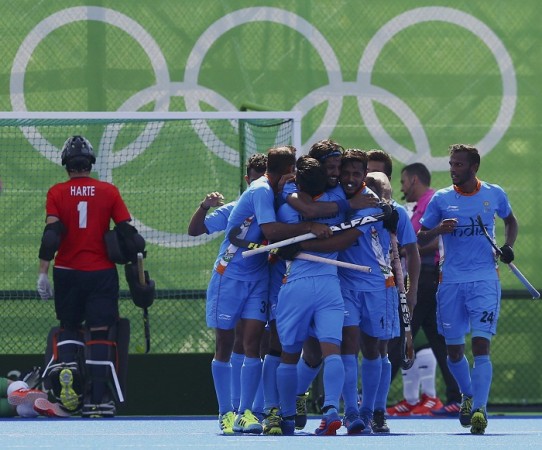 India have deservedly won the Asian Champions Trophy gold with a brilliant win against Pakistan, score reading 3-2. Rupinder Pal Singh, Affan Yousuf and Nikkin Thimmaiah scored the goals for India.
WIth this win, India justified the favourites tag, and finished the competition without losing a single game, which is truly commendable. This is India's second gold in the Asian Champions Trophy after emerging victorious in 2011.
INDIA WIN GOLD, DEFEAT PAKISTAN 3-2.
60' India have a long corner with a minute to go. They keep the ball for 30 seconds, and Pakistan wins a free hit. India gets the ball back immediately. It is time, and India are the Asian Champions Trophy gold medal winners in Kautan Malaysia.
57' India are getting sloppy at the back and midfield, and are giving balls to Pakistan players. They cannot afford such mistakes. They need to hold onto the ball for longer duration.
54' AGAIN as Pakistan players cannot even complete a simple pass.
53' Pakistan earns a penalty corner. Bilal the favourite to strike at goal. Poor from Pakistan players, who fail to control the ball. This is school boy stuff from Pakistan.
51' Nikkin makes up for that, and he scores to help India take 3-2 lead. GOAL.
47-49' Both teams are playing some positive hockey in search of that goal, and Sardar steals the ball, and later earns a free hit. He goes to the left and the ball is moved to the right. They are building up a move, it seems. India are putting pressure on Pakistan defenders, who are defending in numbers now. Nikkin fails to control the ball in front of goal, and misses a chance to score. That is poor from Nikkin.
The last 15 minutes of the match. Can India shine in the fourth quarter?
45' The hooter goes, and the match is delicately poised at 2-2. Pakistan have gained immense confidence after that second goal.
44' Are India losing the plot as they are making some mispasses, and it can cost them the title if they do not get their A game going.
41' With the game tied at 2-2, the match has become interesting as both teams will hope to take lead in the third quarter itself.
39' Ramandeep claims a goal, but video shows that he had not touched the ball before it rolled in.
38' Despite the possession, it is Pakistan who score their second with luck playing a role. The ball deflects from Sardar's leg to Shan Ali, who slots it home. Good advantage play by the match official. Paskitan draw level. 2-2. GOAL
37' India are playing some delightful hockey, and only their passes in the final third in the second half has been missing so far. It has been all India in the third quarter.
35' Pradeep Mor fires from the right flank in search of a stick to deflect it home, but to no avail. India are putting some good pressure on Pakistan now.
32' Two minutes into the second half, and nothing much has taken shape. Both teams enjoying decent possession, with India having it slightly more, but nothing to show for it.
Q3 gets underway.
FIRST HALF OVER. India 2 Pakistan 1
30' The entertaining first half comes to an end. India, who have been dominant in the first 30 minutes, will start the second half with a 2-1 lead.
28' Now, it is India on the counter, and Nikkin has the ball with him, enters into the danger area. He strikes a reverse hit, but it is well over.
26' Pakistan earn their first penalty corner of the match, which is converted by Bilal, who strikes a low and powerful shot into the goal. GOAL - Pakistan scores, still trail 1-2.
23' India double their lead as Affan Yousuf scores a brilliant team goal, with a good assist from Ramandeep, who received a defence splitting pass from Sardar. India are dominating Pakistan, and Sardar has been stunning in this match so far. GOAL India 2-0.
21' After some amazing skills from Nikkin, getting past Pakistan midfielders, he spreads the ball to Talwinder, who hits the ball over the bar. WHAT A GOAL THAT COULD HAVE BEEN
19' Now, it will be interesting to see how Pakistan responds. Will they still play with the same formation and depend on long and aerial balls up front?
18' India earn their second penalty corner of the night, and one assumes it will be Rupinder with his drag-flick. It is, and Rupinder does what he knows best, convert it into a goal. India 1-0
16' Pakistan break on the counter after Walmiki loses the ball, but they cannot make much out of it.
Second quarter starts
15' First 15 minutes completed. India 0 - 0 Pakistan.
14' Kothajit gets a chance to help India take lead, with no one around him, but he hits it straight to the goalkeeper. Pakistan, at the other end, also goes for goal and Chikte makes another good save. This is brilliant from the India goalkeeper.
12' 75m aerial ball from Pakistan defender, which reached his team mate, and India goalkeeper Chikte closes him down to make a good save, Long Corner.
10' India are playing a high-pressing game, and applying pressure on Pakistan defenders, which seems to be working.
9' Pakistan are trying to play the ball long towards their forwards, but that is not working for the defending champions. India are enjoying decent possession.
7' India win their first penalty corner, and let us see if Rupinder can score. The drag-flicker has been stunning from this range, but it is Jasjit, who goes for goal, and he hits it a little wide. One wonders why did Rupinder not take that strike. Part of the game plan?
5' The first five minutes have been quite cagey, and the game is yet to open up like hockey fans would love to.
3' Sardar Singh tries to thread the ball from the midfield, but it is too high, thus risky.
2' India strike a powerful ball from the right flank into the danger area, and this is India's first offensive attempt. Good start.
Here we go, India in traditional blue and Pakistan wearing green.
6:08: Both teams are out in the middle, and are singing their respective national anthems.
6pm: Here are the two teams for the finals.
5:55 pm: India have played some solid hockey, with their offensive players like Akashdeep Singh and Ramandeep Singh scoring important field goals. Add to that, the wizardry of Sardar Singh in midfield, PR Sreejesh's goalkeeping skills and Rupinder Pal Singh's goal conversion from penalty corners, India will start the match as favourites. India will also take inspiration from their last win against Pakistan, earlier in the competition, defeating them 3-2 in a thrilling contest.
Can India come up with a repeat performance? We will know about it in the next two hours or so.
5:40: Meanwhile, Malaysia have clinched the bronze medal as they defeated South Korea in the penalty shootout. Now, we are just few minutes away from the India vs Pakistan final.
5:35 pm: India come into this final as the only unbeaten side so far, and will be keen to maintain that record intact after the final comes to an end. But Pakistan will hope to do the opposite, and become the first team to register a victory against India in the competition, thus win the title.
Pakistan might not have been great in the competition, but their record in the Asian Champions Trophy has been brilliant ever since the inception of the competition. They have won the title twice and are gunning for their third straight title.
5:15 pm: Though hosts Malaysia might have failed to reach the final, hockey fans are expected to pour out in numbers to watch a brilliant game of hockey. And, it goes without saying, hockey fans in the India and Pakistan will be glued to their TV screens, hoping to see their respective team emerge victorious.
Hello everyone. Welcome to International Business Times, India live blog coverage of the highly-anticipated Asian Champions Trophy 2016 final between India and Pakistan. This is Ashim Sunam here, and I will provide you with all the thrills and spills from the contest, which is, as always, expected to produce some amazing moments.
We are just more than an hour into the finals. Presently, Malaysia and South Korea are engaged in battle for 3rd/4th place.