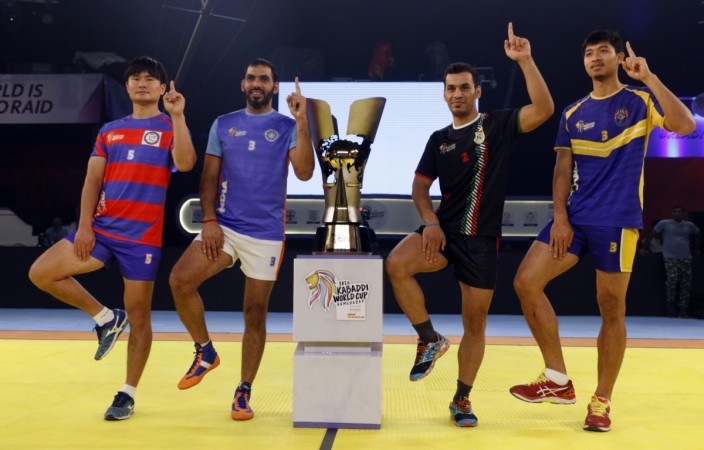 THAT'S IT! INDIA HAVE WON THE GAME 38-29. AMAZING GUTS, PERSEVERANCE AND TENACITY FROM THE HOSTS. INCREDIBLE PERFORMANCE BY ANUP KUMAR AND CO.
This is me, Sayantan, signing off, but remember, if you want to catch the highlights, move on to Hotstar. Till then, have a great weekend, folks. Thanks for joining in!
38' ALL OUT! Again, India pick up the huge number of points with their second all out in less than 10 minutes.
35' Surjeet Narwal with some brilliant tackling. India are six points ahead. Score: 30-24.
34' Super Tackle! Two points for Iran. What do we have here? Oh my! Score: 29-24.
31' Iran are trailing by five points now. Total momentum shift. Ajay Thakur, meanwhile, has picked up 10 raid points.
30' ALL OUT! India finally does it for the first time in the match. Three points bagged. Score: 24-21.
28' Thrilling display of kabaddi at the TransStadia Arena in Ahmedabad. Indians are doing everything possible to level the scores. And a wonderful dubki by Ajay Thakur does it. Score: 20-20.
25' Super raid! Ajay Thakur gets two points with the crucial raid for India. Score: 17-19. Meanwhile, Sandeep Narwal has made a successful review.
23' Costly error by India's Manjeet Chhillar as he loses balance and falls in the kabaddi mat. On review by Meraj, Iran earn another point and yet another successful review attempt. It's been a while since India last won a touch point.
21' The second half is under way with empty raids by Meraj Sheykh and Anup Kumar.
Half time. Iran have dominated the first half. As expected, Meraj, Fazel and Abolfazl have been star performers for the away side. India have got some real work cut out now. Check out the photos from the match here.
Score: India 13-18 Iran
18' ALL OUT! The points for Iran catapult with this successful defending by the away side. India 12-16 Iran.
17' Super Tackle! India get two points with their maiden super tackle of the match.
But, Meraj Sheykh is just dominating the raiding department for his team so far. Points after points with successful raids.
15' Iran having the edge now, with five minutes left in the first half. This is getting really interesting now. What can India come up with? Score: 7-9.
10' This is a tough battle going on right now. Both teams taking it very seriously and in a calculated manner now. Score: 6-7.
8' India are being made to sweat here. Abolfazl with the first tackle point of the match for Iran.
On the other end, India also pick up their first tackle point through Surender Nada.
5' Ajay Thakur wins the first do-or-die raid for India in the match. Score: 3-3.
3' Sandeep Narwal picks up the first raid point for the hosts. Meraj Sheykh wins the first raid point for Iran, after a successful review.
1' India sends skipper Anup Kumar for the first raid of the game. And well, that's an empty raid.
Iran sends skipper Meraj Sheykh for the first raid, and that's an empty raid as well.
8 pm IST: We are under way from Ahmedabad!
7:50 pm IST: Here we go. The teams come out from the dugout and take the centre stage in the kabaddi mat. Abolfazl, Farhad, Soleiman, Meraj, Mohammedsmaeil, Abozar and Fazel feature for Team Iran.
7:40 pm IST: The TransStadia Arena in Ahmedabad is steadily filling in and we are just minutes away from the electrifying start. The stalwarts, Pardeep Narwal, Sandeep Narwal, Anup Kumar, Ajay Thakur, Manjeet Chhillar, Surender Nada and Surjeet feature for Team India.
7:20 pm IST: Oh look! It's the India cricket team hotshots who are wishing the hosts for their mega clash in Ahmedabad.
"Good Luck Team India for the Kabaddi World Cup Final. We are cheering for you. Hope you bring home the cup," tweets Virat Kohli.
"Good luck to the Indian team tonight for the finals. Run the Iranians out," tweets R Ashwin.
"Let's cheer for our #IndianKabaddiTeam in today's Finale against Iran!! Come on boys, you will rock tonite!!!" - Suresh Raina.
7:15 pm IST: Hello guys, welcome to the live coverage of the most important match of the Kabaddi World Cup 2016. The match to look forward to -- India vs Iran. Even before the start of the tournament, the two giants were expected to feature in the final. And it has turned out to be exactly that.
Who gets the upper hand today? That remains to be seen. But we can guarantee that it will be a Super Saturday, for sure. Join me Sayantan (twitter @san_footy), as I bring to you all the updates from the match over here. Stay tuned to this page. MATCH PREVIEW HERE.