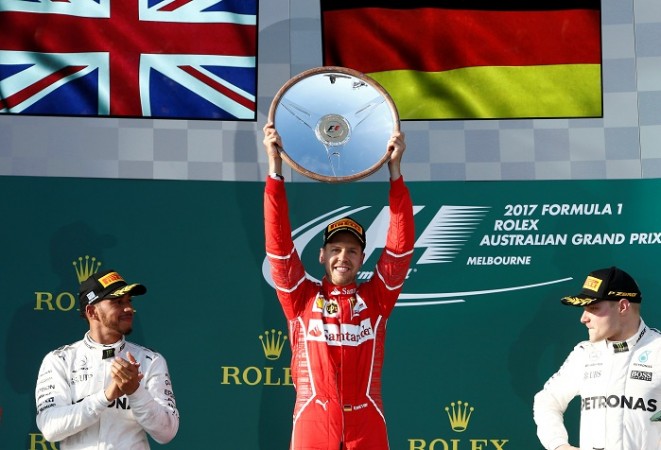 Thats it from me folkes. I'll see you next time for the second race of the season , the Chinese Grand Prix on April 9. Here is a look at the top three on the podium.
The last time Vettel won at Australia was in 2011 and he went on to win the World Championship that year. Mercedes certainly wont have it easy this year and it looks like Ferrari are back to dominate the sport.
Here is a better look at the final standings from the Australian Grand Prix.
That's that for the first race of the season guys. Here is how the drivers lined up after 57 laps of the Australian Grand Prix.
1) Vettel
2) Hamilton
3) Bottas
4) Raikkonen
5) Verstappen
6) Massa
7) Perez
8) Sainz
9) Kvyat
10) Ocon
11) Hulkenberg
12) Giovinazzi
13) Vandoorne
Alonso, Magnussen, Stroll, Ricciardo, Ericsson, Palmer, Grosjean all had to retire from the race due to various issues.
Lap 56 and 57 - And Vettel crosses the finish line to win the first race of the 2017 Formula One Season. Hamilton in second, Bottas in third and Raikkonen in fourth with Verstappen completing the top five.
Lap 55 - Vettel with a comfortable 10 second lead at this point. Just two laps left to go now and the German looks set to win the first race of the 2017 Formula One season.
Lap 53 and 54 - Alonso is done for the weekend and he takes his car to the pits and gets out. Kvyat has just set the fastest lap of the race.
Lap 51 and 52 - Just five laps to go now. Force India's Ocon is into the top ten as he goes past Alonso with the Spaniard dropping down to 12th as Hulkenberg also gets past him.
Lap 49 and 50 - The top three does not look like its going to change much unless something drastic happens with Vettel now 8.4 seconds in front of Hamilton.
Lap 48 - With less than 10 laps to go Hamilton seems to have finally found his feet and has a 2.5 second gap over Bottas.
Lap 46 and 47- Problems for Hamilton as the Brit is reporting that his power is dropping in and out. Only a car problem can stop Vettel from winning the Australian Grand Prix right now.
Lap 44 and 45 - Just 12 laps to go and Hamilton need to push his car as Bottas closes the gap to 1.5 seconds. Lance Stroll's debut is over as the Canadian takes his car to the pits.
Lap 42 and 43 - Vettel look too far ahead at this point as the two Mercedes battle it out. Bottas continues to close the gap on Hamilton as he waits for the perfect chances to overtake his teammate. Verstappen is also closing the gap on fourth place Raikkonen.
Lap 40 and 41- Kvyat drops down to ninth after his pit stop. Here is the top ten with 16 laps to go.
1) Vettel
2) Hamilton
3) Bottas
4) Raikkonen
5) Verstappen
6) Massa
7) Perez
8) Sainz
9) Kvyat
10) Alonso
Lap 38 and 39 - Vettel seems to be really comfortable up front as he opens a eight second gap on Hamilton. At the point the Brit should be worried about Bottas overtaking him.
Lap 36 and 37 - Hamilton is now 7.4 second behind Vettel as Bottas closes the gap on to his teammate to 2.7 seconds. Hamiltons needs to go faster.
Lap 34 and 35 - Looks like Hamilton was right when he said Ferrari are the favourites for this season. Vettel is pushing further away from the Brit as Bottas closes the gap on his teammate with the gap only 3.8 seconds now.
Lap 32 and 33 - Only 16 cars remain in the 2017 Australian Grand Prix with Grosjean, Palmer, Ericsson and Ricciardo all out of the race. The gap between Hamilton and Vettel is increasing.
Lap 30 and 31 - Here is how the top ten looks like after all that shake up.
1) Vettel
2) Hamilton
3) Bottas
4) Raikkonen
5) Verstappen
6) Kvyat
7) Massa
8) Perez
9) Sainz
10) Alonso
Vettel holds a 6.1 second lead over Hamilton, with Bottas third and a Raikkonen and Verstappen battle battling for fourth.
Lap 28 and 29 - Ricciardo looks like he has finally given up after his car stop once again. The Australian is not having a good start to the 2017 Formula one season. Yellow flags are being waved. Hamilton will be hoping for the safety car to close the gap on Vettel.
Lap 26 and 27 - Verstappen also makes his first pit stop with Raikkonen now in the lead With Vettel in second Hamilton in third. Raikkonen also makes his first stop with Vettel back in the lead. Mercedes' plan to get Hamiton in for an early pit stop has clearly not worked.
Lap 24 and 25 - Vettel comes out right in front of Verstappen and Hamilton. Bottas leads the race for now as the yellow flags are being waved. Bottas comes in for his first pit stop of the race and he's out.
Lap 22 and 23 - Hamilton's team telling him to get past Verstappen and he replies over the radio saying "I don't know how you expect me to do that." Verstappen reporting that he's starting to struggle with his rear tyres. Vettel in and out of the pits.
Lap 20 and 21 - Hamilton comes out flying and he sets the fastest lap and is closing the gap on Verstappen as he looks to get back back the lead at the Australian Grand Prix.
Lap 19 - Vettel lead the line now after Hamilton's pit stop and holds a 9 second gap over second place Bottas . Hamilton rejoins the race in fifth.
Lap 16, 17 and 18 - Grosjean's problems are a gain for Alonso as he gets into the top 10. Vettel not letting Hamilton out of his sight as the Ferrari driver closes the gap to 1.3 seconds. Hamiltons is in and out of the pits.
Lap 13, 14 and 15 - Renault driver Jolyon Palmer is having engine issues and is not able to speed up his car. Hamilton responds to Vettel by setting the fastest lap and restores his 1.9 second lead. Bad news for Hass and Grosjean who was doing so well. He returned to the pits and had smoke coming out of his car.

Lap 11 and 12 - The top ten remains the same. Vandoorne was in to the pits with a loss of power, and the team has effectively restarted the car to get him going again. Hamilton extends his lead at the front of the pack to 1.9 seconds.
Lap 9 and 10 - Hamilton has a 1.6 second lead over Vettel at the moment but Vettel continues to set the fastest lap.
Lap 7 and 8 - Hamilton slowly seems to be opening up a reasonable gab now with Vettel, with a 1.1 second advantage at the moment. Bottas and Kimi seem to be loosing sight on the top two.
Lap 6 - Here is a look at the top ten after 6 laps.
1) Hamilton
2) Vettel
3) Bottas
4) Raikkonen
5) Verstappen
6) Massa
7) Grosjean
8) Sainz
9) Perez
10) Kvyat
Lap 4 and 5 - Vettel closing the gap on Hamilton as he go fastest on the fourth lap and the turn thee incident involving Ericsson and Magnussen to be investigated by the FIA.
Lap 2 and 3 - The Australians cheer on as Daniel Ricciardo comes back on but he is two laps doen already.
Lap 1 - Hamilton starts well and maintains his lead with Vettle second, Bottas third and Raikkonen fourth.
10:37 - And everything looks set for the start now. the 2017 Formula one season is a go.
10:36 - The start of the race has been aborted. Cars are doing another warm up lap or formation lap as its called now.
10:31 - And here we go ladies and gentlemen. The warm up lap is underway.
10:27 - We are less than five minutes away from the start of the Australian Grand Prix and all might not be lost for Daniel Ricciardo. His car is back in the pit lane and his team is working on getting it fixed.
10:19 - Looks like it's all over for Daniel Ricciardo. His car has suffered technical problems on his way to the grid.
10:11 - Reports say that Red Bull driver Daniel Ricciardo is going through car trouble as his car got stuck in sixth gear on his way to the grid. He's currently stranded on the track.
10:09 - We are less than half an hour away till the lights go green ladies and gentlemen. Do you think Lewis Hamilton can get off to a winning start or will his teammate Valtteri Bottas or Ferrari's Sebastian Vettel cause an upset?
9:55 - Here is a group photo of the drivers.
9:45 - Despite being dropped down to 15th place Daniel Ricciardo is still motivated for the race. The Australian said "It's not perfect [grid penalty]. But it's more motivation to cut through the field and give the fans something to cheer about."
9:31 - We are just under an hour away from the start of the Australian Grand Prix now. Here is a quick look at how the drivers will be lining up for the Australian Grand Prix.
1. Lewis Hamilton
2. Sebastian Vettel
3. Valtteri Bottas
4.Kimi Raikkonen
5. Max Verstappen
6. Romain Grosjean
7. Felipe Massa
8. Carlos Sainz
9. Daniil Kvyat
10. Daniel Ricciardo
11. Sergio Perez
12. Nico Hulkenberg
13. Fernando Alonso
14. Esteban Ocon
15. Marcus Ericsson
16. Antonio Giovinazzi
17. Kevin Magnussen
18. Stoffel Vandoorne
19. Lance Stroll
20. Jolyon Palmer
Its race day and it's the start of another Formula One season as we get closer and closer to the start of the 2017 Australian Grand Prix. I, Bryan Rodrigues will be bringing you all the live updates and happenings from the race right here. Lewis Hamilton topped the time sheets in qualifying and is set to mark his 62nd career pole. Sebastian Vettel is in second with Valtteri Bottas in third and Kimi Raikkonen in fourth.
Also read: Lewis Hamilton says Ferrari are favourites this season, Sebastian Vettel disagrees
It was a bad day for home favourite Daniel Ricciardo as he crashed out in Q3 and after needing a gear box replacement, the FIA slapped him with a five-place grid penalty and is set to start from 15th. His teammate Max Verstappen is set to start from fifth.