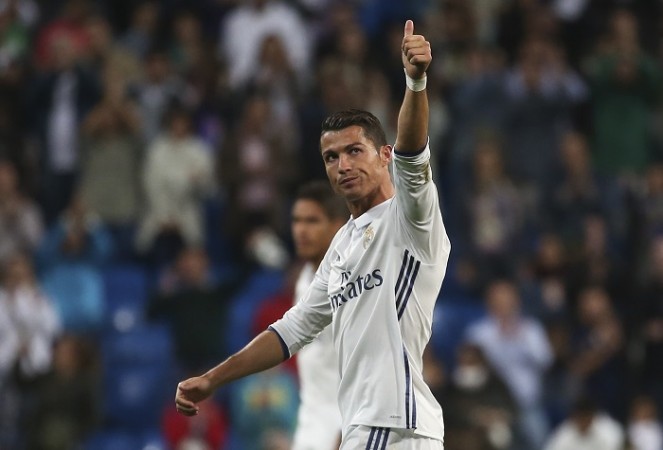 6:50 pm IST: That's all we got from the press conference on Monday afternoon at Madrid. Thanks for joining in.
Cristiano on future: "I live in the present. The future will take care of itself. I don't know where I will be in 30 years' time but I will be associated with Real Madrid.
"I've matured and developed as a player since I came here. I feel the warmth of all those around me. I want to enjoy the rest of my playing days. I still want to improve.
"The season is long. There are a lot to be won."
6:40 pm IST: More from Cristiano: "Winning the Euro 2016 and signing this 5-year contract in the same year has been a dream. I'm on cloud 9. It was great to win the Champions League as well as the European Championship."
6:35 pm IST: Cristiano: 5 years is a long time. I want to give my best and keep creating history with the club. I want to continue learning. This is a dream year for me. There's more to come"
On Portugal national team: "Portugal deserved to win Euro 2016 and I'm not contemplating early retirement from the national team. There are a lot of challenges ahead."
"In Real Madrid, scoring 500 goals is possible but that is not my sole concern." [He has 371 goals at the moment]
More from Cristiano: "No one knows what the future holds. Of course, I want to end my club career here but this is my penultimate contract."
6:30 pm IST: Cristiano Ronaldo: "Hello to all. I like to thank the president, the club, my teammates, all those who have helped me reach this stage. It is a very important day for me. I've said many times, I carry this club in my heart. It's not going to be my last contract, but it will be very special. I'm at the best club in the world. Real has a great memory.
"I want to continue being the best. I want to continue my time here -- scoring goals, winning titles. Thank you to Real Madrid football club."
6:28 pm IST: More from Perez: "6th of July, 2009, we signed a very special player. You never tire, you always want more. Dear Cristiano, we desire the same as you do. That is why we want you to stay. We want you to be together for many years to come."
6:25 pm IST: Club president Florentino Perez takes to the podium and addresses on the legacy of Real Madrid and praises the current crop of footballers, including Cristiano. "You're a living legend, Cristiano," says Perez. 6th of July, 2009, we signed a very special player. You never tire, you always want more.
6:20 pm IST: Cristiano Ronaldo, on Monday, signed a long-term contract extension with Spanish heavyweights Real Madrid football club during an event in the presidential box of the Santiago Bernabéu stadium, attented by club president Florentino Pérez and the forward himself. The new deal sees him playing at the club until the age of 36, i.e, until June 30, 2021.