Well that's all folks and it was a pretty good game. Manchester United did their best, but once again the finishing just wasn't there. West Ham showed a lot of promise and towards the end of that game had a few crackers. They can take a lot of positives from here. They play Manchester United again midweek in the League Cup, but we could see very different sides. Southampton have beaten Everton, which means United stay in sixth.
FINAL SCORE: MANCHESTER UNITED 1 – 1 WEST HAM
93 min: Another substitution for West Ham. Payet off Feghouli on.
92 min: Manchester United couldn't buy a win at the moment. The crowd is beginning to trickle out. Rooney has a go, but nope!
90 min: Four extra minutes expected. West Ham are finishing strong here. The United box is a flurry of flailing limbs
89 min: Nothing comes of Payet's looping free kick
88 min: The young Fletcher leads a superb West Ham counter and is almost on the score sheet. De Gea blocks. Free kick to West ham.
86 min: Nobel releases Ayew on the right, but Darmian is there. Looks like United are going to look to ping the ball on to the large heads of Fellaini and Zlatan now.
86 min: A rare West Ham attack through Payet and Fletcher is eventually snuffed out. Lingard is off for Fellaini
84 min: Horrible header from Collins sees Zlatan free on goal...except...Randolph!
83 min: West Ham have started breaking up United's plays rather easily over the last few minutes. This calls for 'Elbows' Fellaini. He's getting ready to come on
81 min: Superb pull down from Zlatan, but Randolph's at it again. United are attacking with verve. But they can't beat that goalkeeper
80 min: If it wasn't for Randolph the scoreline could have been very ugly for Slaven's men. As it stands, however, it's honors even. with just over 10 minutes to go.
79 min: Free kick to United, quickly taken. Great strike from Pogba. But it's that man Randolph again with a great save.
78 min: NO GOAL. How did they not score...legally. Some great exchanges between Lingard, Rooney and Zlatan results in Lingard tapping the ball into the goal. But he was offside. Much better from United.
76 min: United are now parked outside the West Ham box. The passing is good, but not good enough to get past the massed ranks of West Ham defenders
75 min: Ayew is coming on for Lanzini. This looks more attacking than it is. West Ham are sitting back a bit here
73 min: Valencia it is again on the right. Good defending by West Ham. United are piling on the pressure here. Some good stuff by United results in Lingard pulling the trigger, but straight to Randolph
72 min: Good pass by Rooney to Valencia results in a bit of a scramble in the West Ham box. The resulting corner comes to all variations of zilch.
70 min: Corner to Manchester United. Rooney is up but comes to nothing
69 min: Oooooo Rooney has a go after being laid on by Zlatan. But Randolph saves rather easily
65 min: Here we go, Rooney on for Rashford and Mkhitaryan on for Mata. Fletcher replaces Sakho for West Ham.
65 min: The game has slowed down, which will suit West Ham just fine. The crowd's getting a bit antsy. Rooney and Mkhitaryan set to come on. My, Ferguson HAS been on holiday. He's redder than a red-painted tomato that's just found out his pants are down.
63 min: United are looking like they're ready to step up a gear. What's that I hear...ROONEH! ROONEH!
62 min: The commentators will just not shut up about Mourinho's touchline antics. Get over it!
60 min: Noble is all over Pogba like a rash, but Moss hardly thinks it's life-threatening
59 min: Nice cross in by Herrera, but the trusty Collins is there. Antonio romps down the right but the cross is straight to De Gea.
57 min: United scramble away the ensuing corner and break, but that breaks down. Goal Kick
55 min: Antonio is getting more space down the right, and Valencia's struggling a bit. Free kick to Payet (read West Ham). OOOOOOOO De Gea tips it over the bar
54 min: Corner for West Ham. Payet to take. But Sakho can only head it over
52 min: A high tackle by Rojo on Sakho. And he's lucky to get away with that. No handbags yet.
50 min: Lingard and Rashford are linking up nicely but there's no end result on the horizon. Zlatan just waits in the centre pondering human existence
49 min: West Ham pass the ball around in front of the United area pointlessly until it's passed into touch (ah rugby)
47 min: United have started positively. Rooney's warming up. Oooooo
---
The players are back on and let's get back to the football. It's not been bad thus far
Expect Rooney and maybe Young to come on fairly sharpish if the scoreline doesn't change too soon. Could Jose (read Rui) maybe giving Mkhitaryan a run about? I can't really see the need to bring on Schweinsteiger at the moment, but if United got a few goals up then just maybe.
For the most part West Ham's back three of Ogbonna, Collins, and Kouyate have done pretty well cutting off the supply to Ibrahimovic.
Well that was a half of two halves. Whenever Manchester United looked to have control of the game West Ham popped up with some scintillating counters. Having said that, if Rashford and Lingard had converted their chances, United could have been out of sight by now. And if my aunty had...
HALF TIME: MANCHESTER UNITED 1 - 1 WEST HAM
47 min: Another great save by Randolph from Lingard. Absolutely superb!
45 min: West Ham corner comes to nothing but United break through Pogba, and Zlatan's shot is brilliantly blocked.
44 min: Brilliant cross from Mata, but Zlatan just wasn't able to jump high enough. United are probing but with little luck.
43 min: Corner for Manchester United. But Pogba's header is over the top.
42 min: Rui Faria who's in place of Mourinho is looking like he'd rather be waterboarded
40 min: Manchester United get a corner. Mata to take, but cleared by West Ham
38 min: That really should have been 2-1 to Manchester United. Well saved by Randolph, and really Rashford should have done better
37 min: WHAT A SAVE!!!! Randolph's leg saves West Ham after Rashford goes through in a one-on-one
34 min: Valencia and Mata are now combining well down the right, and a good ball in can't seem to find Lingard's foot
33 min: Corner for United but it comes to nothing. The game has slowed considerably
31 min: United have to pull themselves together now. There's been too much angst on the touchline and they need to regroup. Mata appeals for a handball, but nothing doing says Moss
29 min: Jose has been sent to the stands for kicking a water bottle at the touchline (it was a right hoof) and Pogba should have no complaints about that card. That was a dive if I ever saw one.
28 min: JOSE MOURINHO HAS BEEN SENT TO THE STANDS!!!!!
27 min: Ummmm nothing. But United charge forward and Rashford just couldn't get the cross right. This is now end to end stuff. And Pogba gets a yellow for simulation! He's going to miss the midweek league cup game against West Ham
27 min: West Ham have another free kick close to the United box. What can Payet do here?
25 min: United are now controlling the midfield and West Ham need to break out and gain back some measure of stability
24 min: Here comes Manchester United again. That goal has given them a huge boost, and no clean sheet for West Ham...again!
23 min: It's all square at Old Trafford, and it's game on!
21min : GOAL!!!!!!!!!
Ibrahimovic it is. Brilliant assist by Pogba
It's all going to kick-off soon. But first...this
Good evening folks. Looks like this could either be a cracking game or a snooze fest with both Manchester United and West Ham teams enjoying a few sarnies in their own goals. We'll hope for the former shall we.
United (with apologies to West Ham, Leeds, Newcastle, etc) have won one and drawn two in their last three league outings. Last time out, however, they gave Feynoord a frightful hiding at Old Trafford in the Europa League. And from the way he played midweek it's unlikely that Wayne Rooney will be quitting football to become a career 'wedding-crasher'. The Zlatan will also be looking to make Paul Scholes eat his words (or choke on them if we know the Big Z).
Question is, will wee Marcus get a look-in and will Phil Jones finally become "Manchester United's greatest player"? We'll soon find out.
West Ham on the other hand, have drawn one and lost two of their last three league games and are currently hovering over the relegation zone like a petulant parent thanks only to a superior goal difference. Slaven 'puff the magic dragon' Bilić, however, is not worried that he's heading for the Do-One door.
They're going to have to hope both Lanzini and Antonio bring their A-game, otherwise they could end up being that 'other Dutch team' tonight.
Bilić is going to be hoping that there are some tired legs in the United camp, and that Mourinho's Carnival of Unpredictability continues on.
KICK OFF at 4:40pm GMT
LINE-UPS
Manchester United
De Gea; Valencia, Jones, Rojo, Darmian; Herrera, Pogba, Mata; Lingard, Ibrahimovic, Rashford.
Subs: Romero, Blind, Fellaini, Schweinsteiger, Mkhitaryan, Young, Rooney.
West Ham
Randolph; Ogbonna, Collins, Kouyate; Antonio, Obiang, Noble, Cresswell; Lanzini, Payet; Sakho.
Subs: Adrian, Nordtveit, Feghouli, Zaza, Ayew, Fletcher, Fernandes.
Ref: Jonathan Moss
---
No Carrick in the side to provide that much needed stability and allow Pogba to bomb forward. But keep an eye out for the trindet of Rashfor, Lingard, and Zlatan. Needless to say, the Zlatan will be stoic.
West Ham are lining up as they should. They're looking strong on paper, but then Scissors beats Paper, and we all know that United ain't no Rock at the moment. Can Payet show us some of that French charm? Oui says no one in particular. Randolph (Rudolph's underappreciated cousin) is goal for the Hammers.
---
Meanwhile in other sporting news, Nico Rosberg is the F1 world champion 2016. Nico, is often known for his charisma and wit.
---
French smooth operator Antoine Griezmann has been fluttering his eyelids at Manchester United. He told Telefoot: "PSG? It is an interesting possibility but Ligue 1 does not interest me for now. I would prefer to stay in La Liga or go to the Premier League." Which means he'll soon be joining Inter Milan.
Meanwhile the Daily Mirror speculates that Manchester United could be lining up a mega offer for Hammer Ogbonna. Ok not really, but the rumour is that United will throw the kitchen sink at securing a deal to take Dimitri Payet oop North, so that he can join Valencia as one half of the Scuttling Scamps.
---
ARSENAL WIN 3-1
Arsenal have just beaten Bournemouth at the Emirates. Let me tell you that 3-1 scoreline doesn't half tell a tale. Bournemouth gave it a right old college try and the score could have easily been 12-11 to Arsenal. Cracking game, but a couple of schoolyard errors from Bournemouth really hurt them. Goald came from Walcott and a brace from Sanchez. Arsenal go fourth in the table
---
Bastian Schweinsteiger is on the bench folks! Maybe Jose wants to show him what he's gonna be missing when he eventually heads to the U!S!A! U!S!A! football knacker yard.
---
If Manchester United (cuurently sixth place) can pick up a win here then they'll be sitting pretty in...errr...sixth. But if they lose and Everton beat Southampton then they could be diving down to seventh. That won't go down well with Jose.
---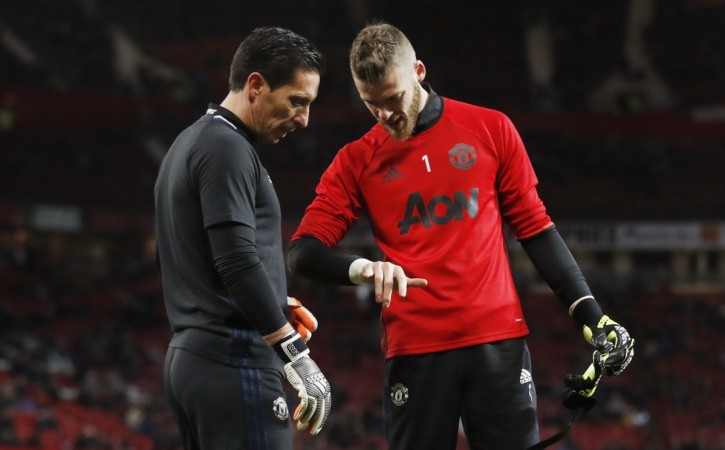 Well whatever happens, Manchester United have to take the gazillion chances they've had all season. If they can, then boy, we could see them move up the ladder, but as it stands they couldn't hit the side of a barn, unless that barn is in the Europa League of course.
---
Mourinho is out, as is Slaven. Here come the teams, only a few minutes to go. Much camaraderie. That silliness will stop soon.
---
1 min: West Ham to kick off, and we're off.
2 min: West Ham get a free kick very soon. Just outside the United penalty box. And it's a GOAL!!!!
GOAL!

Brilliant free kick by Payet, and a diving Sakho gets his noggin on that, just ahead of Zlatan's boot. Brilliant stuff, and Mourinho's best laid plans...and all that
4 min: Manchester United have to calm down now. There's a world of time left and if one thing 2016's West Ham are good at, it's letting them in
7min: Good combo between Lingard and Rashford, sees Rashford cross one just inches too far for Zlatan
9 min: Rashford has got the run down the left and he's making his defender jig at the moment. Some good link up play with Pogba from United leads to a 'slightly offside' Zlatan scuffing one.
11 min: Rashford and Pogba are going on safri down that left flank. West Ham could face a problem on that side and need to give Kouyate and Obgonna some cover. The Christmas songs are out!
13 min: West Ham are playing a waiting game, but are they inviting trouble? Rashford and Pogba are combining wonderfully down the left, but they can't get in the all-important cross.
14 min: Pogba goes for a right belter. There's an object flying across the moon. United can't get that killer pass
15 min: Obiang breaks up another promising United move. But United come again and this time Zlatan passes to Mata who hands it straight to Randolph. This is good stuff from Manchester United, but West Ham is holding firm.
17 min: Pogba is beginning to boss midfield primarily because West Ham are sitting back and giving him the space to ponce about. United think of probing down the right but it comes to nothing. Creswell has got Valencia's number by the looks of it.
19 min: Now here come West Ham through Antonio, but United snuff that threat out while West Ham appeal for all sorts.
20 min: West Ham are playing with a team that knows Manchester United is there for the taking. They're beginning to flex their muscles a bit through Payet and Antonio down the right.