Uttar Pradesh Chief Minister Yogi Adityanath visited Taj Mahal on Thursday in Agra, and participated in a cleanliness drive. Adityanath's visit to the historical monument is of significance as it comes in the backdrop of controversial statements made by Bharatiya Janata Party (BJP) leaders and ministers regarding the status of the 17th century monument in India's culture.
The UP CM is scheduled to stay for half an hour at the graves of Shah Jahan and Mumtaz Mahal and visit the Shah Jahan park nearby. He will then inspect various places along the way, both inside and outside of the monument.
Here are the live updates of his Taj Mahal visit:
11: 00 AM: UP CM assiting in the cleaning drive
10:40 AM: Adityanath interacts with government officials during the cleanliness drive
10:00 AM: Adityanath takes part in cleanliness drive at the Western Gate of Taj Mahal.
8:45 AM: Uttar Pradesh Chief Minister Yogi Adityanath arrives in Agra.
Reports state that Adityanath will also lay foundation for the development of a tourist pathway from Taj Mahal to Agra Fort. He is also set to run a mega cleanliness campaign along with 500 BJP activists and social workers around the west gate of Taj Mahal.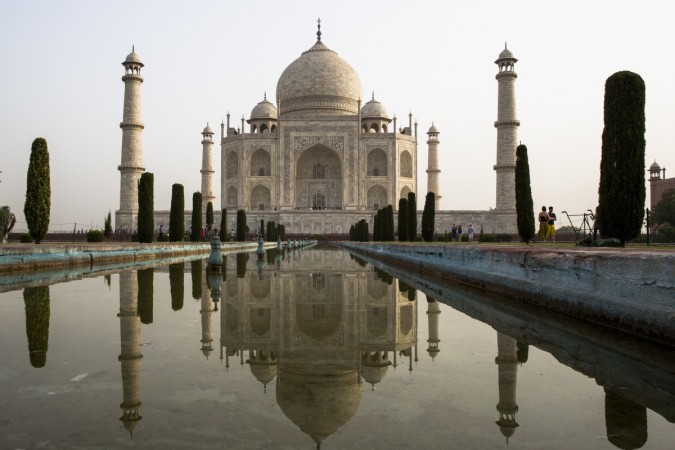 The chief minister had earlier declared that the Uttar Pradesh government will allocate funding of Rs 370 crore on development plans aimed at promoting tourism in Agra, the city of Taj. He is a;so scheduled to inaugurate several development projects in Agra.
The controversy around the ancient monument erupted after BJP MLA Sangeet Som called Taj Mahal a "blot on Indian history" and BJP MP Vinay Katiyar said it was originally a Shiva temple.
After the BJP MP's statement, a dozen youths belonging to Hindu outfits were caught reciting 'Shiva Chalisa (hymn)' on the premises of the Taj Mahal on Wednesday, causing tension at the iconic monument.
Adityanath, however, while addressing a rally in Gorakhpur recently called Taj Mahal the "pride of India" and referred to it as a "world class monument".
"It does not matter who built it and for what reason; it was built by blood and sweat of Indian labourer," the UP CM said.