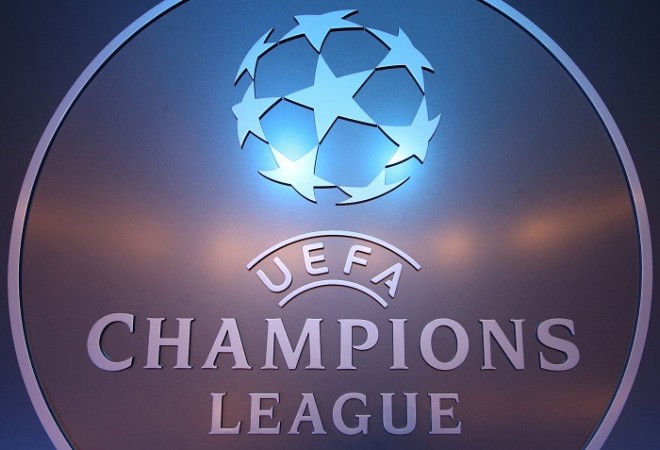 So that's that from the Champions League and Europa League quarter finals draw. Have a good weekend.
5:48 - Manchester United face a rather tricky test when they go up against the leaders of the Belgian First Division A. Celta Vigo have suprised a lot of people by making it so far into the competition and they face off against Genk. Ajax will take on German team Schalke and the final match sees Lyon taking on the Turkish champions in Besiktas.
5:46 - So that was that from the Europa Leageu quarter final draw ladies and gentlemen. In case you forget, the first leg of the Europa League matches will be played on April 13, with the second legs following a week later on April 20.
5:44 - Here is a look at the complete fixture list.
The final two teams two teams are Lyon and Turkish champions Besiktas.
Ajax are the next team selected and they will face Schalke.
The next team is Celta Vigo and they will face off against Genk.
And the first team selected is Anderlecht and they go up against.........Manchester United.
5:36 - Patrik Andersson to assist the draws in the Europa League.
5:31- And here we go again people. The quarter final draw of the Europa League is underway.
5:20 - The Europa League quarter finals draw is just 10 minutes away and here is a quick recap of the eight teams that progressed.
5:04 - Remember to stay tuned for the Europa League draw which starts in less than 30 minutes as the likes of Manchester United and Lyon discover their quarter final opponents.
5:01 - The two biggest matches of the quarter finals is no doubt the clash between Juventus vs Barcelona and Bayern Munich vs Real Madrid. Carlo Ancelotti will be looking to dump out Real Madrid, a club with which he won the Champions League as he looks to achieve success with Bayern Munich.
Leicester City might have their hands full against Atletico Madrid but you never know with the Premier League champions. Could they cause another shock in the Champions League after defeating Sevilla?? And the final fixture sees Borussia Dortmund taking on AS Monaco who have really suprised everyone with their young squad.
4:55 - Well that was quick ladies and gentlemen. Just a reminder, the quarter finals of the Champions League will be played in April with the first leg on April 11 and 12 and the second leg a week later on April 18 and 19.
The next team out is Juventus and they face the only team left in the list Barcelona.
Bayern Munich the next team and they face.................Real Madrid.
Borussia Dortmund the next team out and they will play AS Monaco
4:42: Atletico Madrid are the first team out and they face...................Leicester City.
4:41 - Liverpool legend Ian Rush is going to help out with the draws.
4:30 - And here we go ladies and gentlemen.
4:20 - Here is a look at the greatest comeback in Champions League history (Barcelona vs PSG) to get you in the mood.
4:12 - We are less than 20 minutes away people strap in this is going to get interesting.
3:50 - So at this stage of the competition any team can go up against any team meaning we could see an El Clasico clash at this stage of the tournament or the Madrid Derby or the Der Klassiker.
Thomas Tuchel said he would want to avoid Bayern Munich not because they are scared but because they want to compete internationally. But really Tuchel are you seriously not scared to face Bayern??
3:35 - So we are just under a hour away from the start of the Champions League quarter finals draw and here is a look at the eight teams that made it so far in this super cool video.
3:23 - Real Madrid manager Zinedine Zidane has also come out and said that he would like to avoid facing Leicester City.
"I don't think there will be a single coach who are hoping they face Leicester. They keep achieving what they are told they can't achieve. Many thought they wouldn't hold on to their lead at the top of the Premier League — and they did. Many thought they could not turnaround the defeat against Sevilla — and they did."
"Whatever club Leicester face, they [Leicester] won't be favourites. And with that pressure off them and on the other team, anything can happen."
Could Leicester City be on their way to another fairytale story in the Champions League this time??
3:07- We are less than an hour and a half away from the Champions League draw and Juventus goalkeeper Gianluigi Buffon wants to avoid Leicester City in the quarter finals.
"Who do I prefer not to play? Leicester, because they are a dangerous and passionate team who can cause trouble for opponents who take the initiative. Against them, we would have everything to lose."
Could the Premier League champions cause more upsets and go all the way again??
The Champions League and Europa League quarter finals draw will take place a little later today and I, Bryan Rodrigues, will be bringing you all the live updates right here. All eyes will be on the reigning Premier League champions Leicester City as they have defied all odds once again to reach the last eight of Europe's top club competition.
The draw will once again be taking place at UEFA's headquarters in Nyon, Switzerland.
Eight teams in the Champions League – Leicester City, Barcelona, Real Madrid, Atletico Madrid, Juventus, Monaco, Bayern Munich and Borussia Dortmund.
Eight teams in the Europa League – Anderlecht, Genk, Manchester United, Ajax, Besiktas, Celta Vigo, Lyon and Schalke
Atletico Madrid