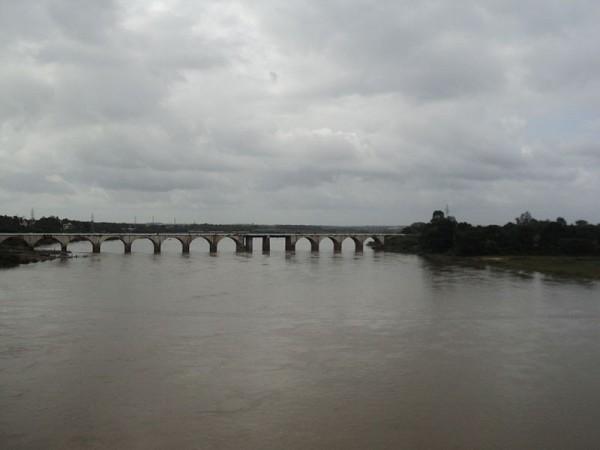 LIVE BLOG
7:00 PM: Protest march from National College to Freedom Park by KRV activists was peaceful though business establishments in some localities were affected. The march was proposed to end at Raj Bhavan but the plan was changed after the police refused to give them permission.
However, the state-wide bandh on Saturday is expected to bring the whole state into a standstill, as not only KRV members but also several organizations like LPG cylinder distributors, entertainment industry, cable operators, petrol pump owners, advocates and several other organizations have come forward in support of the pledge of the farmers in the state.
4:30: PM: CWC to submit report on Cauvery before October 11 and hold discussion with Central Water Resource Minister.
4:20 PM: Central Water Commission (CWC) team left KRS Dam in Srirangapatna. They will head to Pandavapura in KR Pet, Mandya District.
4:00 PM: BJP delegate to meet Prime Minieter Manmohan Singh over Cauvery water issue.
3:32 PM: Karnataka Chief Minister Jagadish Shettar held meeting in Bangalore with leaders following protests organized by various organizations in the state. Deputy CMs KS Eshwarappa and R Ashoka attend the meeting.
3:10 PM: Protestors reach the Freedom Park. The delegation of the KRV and other leaders are expected to delivery speeches.
3:00 PM: Protestors seem to have shevled their plan of marching towards the Raj Bhavan, as they heading towards towards the Freedom Park. The police have not given permission to march towards the Raj Bhavan.
2:20 PM: Bipin Gopal Khrishna, DGP (Law and Order), said that the state will use all the armed forces availavle to ensure law and order in the state.
2:00 PM: Advocates in Mysore shout slogans in protest against the release of Cauvery water to Tamil Nadu.
1:50 PM: Thousands of Karnataka Rakshana Vedike members march towards Raj Bhavan. Police have said that the protestors will not be allowed to enter Raj Bhavan compound.
1:40 PM: LPG cylinder distributors association has decided to support the farmers of the state by not supplying the cylinder on Saturday. Petrol pumps will not be opened too.
1:20 PM: No movie shows across the state on Saturday as theatre owners will shut down the theatres. Entertainment channels will not be aired tomorrow.
1:00 PM: Shri Balagangadharanatha Swamiji lends his support for Cauvery protest.
12:30 PM: Former Karnataka Chief Minister BS Yeddyurappa joined the protest to support the farmers. He shed tears during the rally, saying that he would go to any extent to support the farmers.
12:10 PM: Yeddyurappa to leave for Mandya to support Made Gowda in the Cauvery water protest.
12:00 PM: Actors Ambarish and Prem take part in the protest. Ambarish said that he is protesting for Cauvery, not money or power.
11:30 AM: Thousands of protestors hit the streets in protest against the release of Cauvery water to Tamil Nadu. Protestors on Mysore road burned tyres in protest.
11:10: PM: Karnataka Governor HR Bhardwaj expressed his support for Karnataka farmers but said that the state won't benefit from such protest. He said that "we should first respect the law."
11: 05 PM: Made sends letter to Yeddyurappa; You should protest along with me at Maddur
11:00 AM: 1800 Karnataka Unaided Schools Management Association (KUSMA) schools across the state will be closed on Saturday owing to Karnataka Bandh.
On Thursday: A central team led by Union Water Resources Secretary DV Singh met Tamil Nadu government officials to discuss the situation of the reservoir levels and standing crops in the southern state. The team will submit its report to the central government after assessing the situation at the Cauvery basin region.
LIVE BLOG: Karnataka-TN Cauvery Water Dispute
IT-capital Bangalore is on the verge of coming to a standstill with various organizations in Karnataka spearheading protests in the city on Friday against the release of Cauvery water into the neighbouring state of Tamil Nadu.
Karnataka has been releasing 9,000 cusecs of water to Tamil Nadu since Sunday following a directive from the Supreme Court.
Various organizations including politicians staged protests in many parts of the state on Thursday and have warned the state government that they would intensify the stir on Friday and stage a state-wide bandh the following day if the flow of water to Tamil Nadu is not stopped.
"We have set a deadline to the government... if the water release is not stopped by this evening, people will resort to a civil disobedience movement by not paying taxes," Cauvery Hitarakshana Samithi President G Madegowda told Press Trust of India.
Several associations like Raitha Sangha and Karnataka Rakshana Vedike (KRV) are planning to bring the state capital to a halt ahead of the "Karnataka Bandh" on Saturday with KRV President T Narayana Gowda saying that around 25,000 to 30,000 members would join the protest on Friday.
Security in Bangalore has been beefed up with activists from various organizations expected to hit the streets in the southern and central parts of the city. Former Karnataka Chief Minister BS Yeddyurappa, other politicians and prominent figures in the film industry are expected to join the protest.
The Karnataka government imposed prohibitory orders in a one kilometre radius around the Krishna Raja Sagar Dam and employed Rapid Action Force, a specialised police force, after more than 5,000 Karnataka activists laid siege of the dam on Wednesday.
The Bharatiya Janata Party (BJP) government in Karnataka has come under severe criticism for agreeing to release water to Tamil Nadu till Oct 15 under the directive of the apex court.
Tamil Nadu is facing severe shortage of irrigation water due to less rainfall this year, but farmers in Karnataka said that release of water would affect irrigation in their own state.