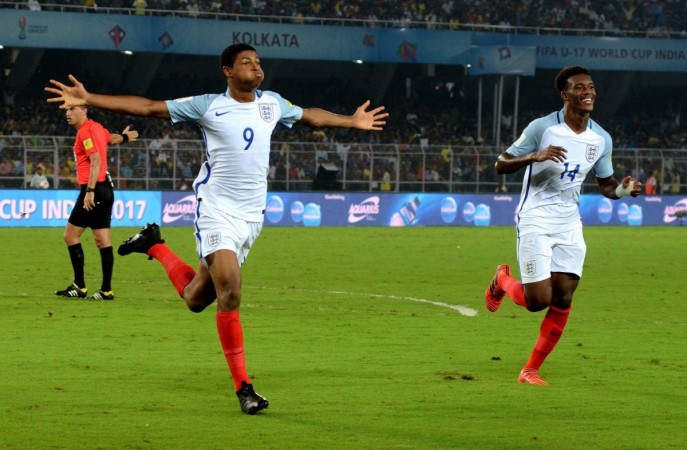 FULL TIME. England head into the final of the 2017 Fifa U-17 World Cup. The Young Lions thrash Brazil 3-1 at the Salt Lake Stadium.
Surely, a result none of the football fans in Kolkata would have wanted to witness!
Rhian Brewster, take a bow!
86' England started their campaign in the FIFA U-17 World Cup 2017 in Kolkata, and as it stands, they are set to feature in the final match of the tournament as well...in the same stadium. City of Joy luck, this?
80' 63,881 is the official attendance for the match. Surely, who didn't expect this number?
77' GOOOOAAAALLLLL!!!!! Rhian Brewster on target again.
Smith Rowe with a wonderful assist. Gets tougher for Brazil. Are the fans in Kolkata heartbroken already?
BRA 1-3 ENG
71' Brazil sub: Helio Junio replaces Victor.
66' Lincoln.....SO Close! The Selecao are trying everything to get the equaliser ASAP.
Sub: Smith Rowe replaces Gibbs White.
63' Now Paulinho takes a shot on goal, but Anderson saves it! Comeback path on, already?
60' Sub: Yuri Alberto has replaced Brenner for Brazil.
Yuri has a shot on goal straightaway, but what a sensational pass from Alan! Unfortunately, no goal there.
58' Excellent challenge from England skipper Joel to deny Brazil a goalscoring opportunity.
54' Just missed! Rhian Brewster's header is not on target. Brazil are losing the ball in the middle of the park. That's not something we see very frequently.
51' England showing some great skills and trickery with the start of the second half. Clearly, riding on full confidence.
49' Saved! ENG goalie Anderson parries Marcos Antonio's shot on goal.
46' Excellent run by Foden down the wing. Just stopped in his tracks by a Brazilian defender. Almost signs of a young Aaron Lennon there!
6:05 pm IST: Under way for the second half.
45' Amazing run down the wing by Gibbs-White, and a really good challenge from Wesley.
And that's HALF TIME!
England go into the break leading. Brazil fans in Kolkata know very well that the young Selecao team has all the qualities to make a comeback. The game against Germany has been a testament. This makes us highly-anticipated for the second half.
Join us in 15-odd minutes!
44' Mouthwatering pass from Paulinho from the right wing. Great clearance from the English defender. Brazil not out of the game yet, they cannot afford to.
38' AND AGAIN! GOAAALLLL!!!! Brewster gives England the lead.
Sessegnon gives a mouthwatering pass to his forward man, who makes no mistakes and shows no nerves in scoring again.
BRA 1-2 ENG
36' Lot of passes being played in the middle of the park from both teams. Equal share of possession. Are we seeing another goal coming just before the half time? Plenty of chances coming in.
31' SHOT from distance from the goalscorer Wesley once more. No problem for ENG goalkeeper Anderson this time around.
30' WHAT A MISS!!!! Brenner was so clean through. Such a narrow miss...almost inches! Oh dear me.
28' Sublime touch and dribbling skills from Hudson-Odoi. Earns a corner for England.
Oh, and almost another goal! Joel almost got the lead for his side via a header.
25' End to end action already at the Salt Lake Stadium in Kolkata. Two goals in a span of 11 minutes. Meanwhile, the referee has called for an early cooling break.
20' GOOAALAZOOO!!! The equaliser is right there from Wesley.
Some wonderful string of passes between Paulinho and Wesley sees the equaliser finally coming.
BRA 1-1 ENG
19' Effort from Paulinho goes wide! Can he just about re-enact his stunning strike that led Brazil to win against Germany in the quarterfinals?
15' WHAT A MISS! How could Lincoln could not get a foot on the ball? That surely could have been the equaliser. The untouched ball comes across Vitao, who makes another terrible miss. Nevertheless, he was offside!
13' Rhian Brewster has five goal in five games now. Brazil, meanwhile, looking for a swift equaliser.
10' GOAAAL!!! England have take the lead via Rhian Brewster.
Hudson-Odoi plays the pass and Brewster takes a shot on goal. Brazao just about manages to keep it out. Brewster strikes again on the rebound and it is IN!
Score: BRA 0-1 ENG
8' Shot! Now Marcos Antonio attempts a shot on goal from a distance. Meanwhile, WHAT A MISS from Foden. That could have been a sure goal!
5' England are finding it difficult to create an attacking move so far. Oh wait, as we write, a speculative shot from Foden....JUST goes over the bar!
The Young Lions' first chance of the game there.
2' Brazil have started well. Having the ball possession early on and carving out chances. ENG goalkeeper Anderson, meanwhile, just had the ball slipped from his hands. Initial worry!
5 pm IST: And the match has kicked off from the majestic Salt Lake Stadium Kolkata!
4:55 pm IST: And the teams are out in the centre of it all. The national anthems of the respective sides are sung. The Brazil flag is flying high in the stands!
Ovidiu Hategan of Romania is the referee for this match.
4:50 pm IST: England field a 4-2-3-1 formation with Brewster as the solitary center forward. Brazil, meanwhile, employ a 4-3-3 formation with Lincoln, Brenner and Paulinho up front.
It's a sea of yellow at the packed Vivekananda Yuba Bharati Krirangan in Kolkata. No doubt about which team is earning the most amount of support today!
4:45 pm IST: We are now 15-odd minutes away from the kick-off. Kolkata is absolutely buzzing!
Reminder, you can watch the match online HERE
4:30 pm IST: In case you missed the quarterfinals action, this is what transpired:
England beat USA 4-1 in Goa.
Brazil beat Germany 2-1 in Kolkata
4:20 pm IST: If the scores are locked after 90 mins of play, the result of the match will be decided via a penalty shootout. No extra time action.
Who will it be? The Young Lions or the Selecao Sub 17? Give us your predictions in the comments section below!
4:10 pm IST: We have received the lineups for the match!
Brazil: Brazao (GK), Wesley, Vitao (C), Lucas, Victor, Weverson, Paulinho, Marcos Antonio, Lincoln, Alan, Brenner.
England: Anderson (GK), George, Marc, Jonathan, Foden, Oakley-Boothe, Rhian Brewster, Callum Hudson, Joel (C), Sessegnon, Gibbs-White.
4 pm IST: Welcome all you football fans to the live coverage of a mouthwatering match between two of the biggest football nations, England and Brazil, this Wednesday. This is the FIFA U-17 World Cup 2017 taking place in India.
The Salt Lake Stadium Kolkata remains the centre of attraction for now as we witness the stars of the future clashing swords in this mouthwatering semifinal match. The kick-off is set at 5 pm IST.
This is me Sayantan as always. Keep this page open as all the updates come your way, absolutely LIVE.