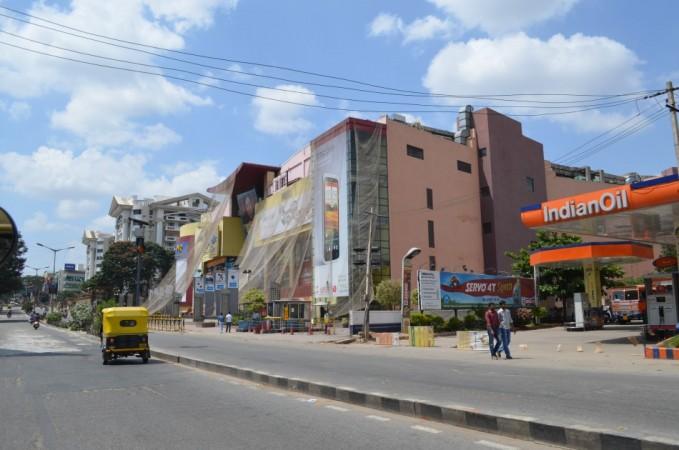 LIVE BLOG
3.20 PM: BJP president Nitin Gadkari thanked other political parties for joining the Bharat Bandh despite ideological differences.
2:30 PM: Samajawadi Party chief Mulayam Singh Yadav joins hands with the Left leaders in the Bharat Bandh. He talked of a third front saying "The third Front stands united against the government".
2:00 PM: SP chief Mulayam Singh Yadav and other leaders released. They were courted arrest at the Parliament Street in Delhi a couple of hours ago.
1:40 PM: Samajwadi Party chief Mulayam Singh Yadav, SP leader Ramgopal Yadav and TDP leader Chandrabu Naidu, and Left leaders AB Bardhan and Sitaram Yechuri courted arrest in Delhi.
1:35 PM: The South Eastern Railway affected. Six trains cancelled and several others delayed due to protest.
1:30 PM: BJP leader and former Karnataka chief minister BS Yeddyurappa and Ananth Kumar courted arrest in Bangalore during Bharat Bandh protest.
1:00 PM: SP chief Mulayam Singh Yadav held a separate protest rally with Left leader Prakash Karat at Jantar Mantar. The leaders criticized the government over diesel price hike and FDI in retail sectors.
12:20 PM: BJP President Nitin Gadkari, JD(U) chief Sharad Yadav, CPI leader AB Bardhan and several other political leaders held protest rally against diesel price hike and FDI at Jantar Mantar.
11:40 AM: Clash between CPM and TMC workers at Asansol in West Bengal after the supporters of the former, who are taking part in Bharat Bandh, forced shutdown of an State Bank of India branch.
11:35 AM: BJP leader Ravi Shankar Prasad arrested in Patna while holding protest rally at Patna with his supporters.
10:30 PM: Shiv Sena workers burned effigy of Prime Minister Manmohan Singh in Punjab. SP workers in Allahabad followed suit.
9:30 AM: Trinamool Congress party workers clashed with BJP workers in Howrah while the latter were on a rally.
The "Bharat Bandh" called by the National Democratic Alliance (NDA) and other opposition parties against diesel price hike and Foreign Direct Investment (FDI) on Thursday has crippled the normal lives of the people across the country.
Most business establishments in the country have been forced to shut down, most schools and colleges remained closed, public transport including trains disrupted and clashes between workers belonging to various political parties have been reported.
Within hours of the initiation of the strike, Trinamool Congress and the BJP workers engaged in a scuffle over the bandh in Howrah city.
BJP workers were also reported to have stopped trains in Patna, while rail traffic in Allahabad was brought to a halt by the Samajwadi Party, media reports said.
However, train services in Kolkata and Dehi, which stopped for a brief period in the early hours of the strike, resumed services. In Karnataka most public buses kept off the roads, while autos and trains were plying in Bangalore city, NDTV reported.
The nationwide strike was seen having the least impact in Maharashtra, with public transport, malls and shops continuing to operate normally due to the ongoing Ganesha Chaturthi festival. The Maharashtra Maharashtra Navnirman Sena (MNS), the Shiv Sena earlier said that they will not hold protests across the state in observation of the festivities.
Though the situation seemed tense in the country, the BJP has asked its workers to hold peaceful protests across states.
According to the news channel, about 50 million traders and 25 thousand trade associations across the nation are observing the 12-hour bandh against the economic reforms on FDI and fuel price announced by the government on Friday.