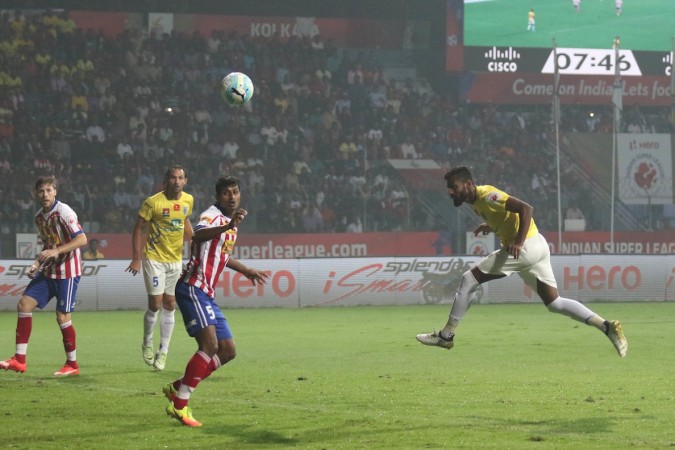 That's all from me, Sayantan, thanks for tuning in. Meanwhile, do not just miss the game between Kerala Blasters and NorthEast United FC on Sunday. That game in Kochi will decide who is the last team to make it to the ISL 2016 semis.
Till then, have a good week. Last but not least, another round of tribute to the victims of the Colombia plane crash, especially to the members of the Chapecoense football team.
Good night!
9 pm IST: So, three teams: Mumbai City FC, Delhi Dynamos and Atletico de Kolkata move on to the next round.
Here are the teams eliminated: FC Goa, Chennaiyin FC, FC Pune City.
The teams who can fill the one semi final spot: Kerala Blasters / NorthEast United FC.
FULL TIME! The second half has remained disappointing, to be honest!

Final score: ATK 1-1 KER

Both teams move to 19 points now and there hasn't been any shift in table. The draw, however, has resulted in the exit of FC Pune City and Chennaiyin FC from the league stages of ISL 2016. Can you believe that? Defending champs Chennaiyin FC, for the first time in three ISL seasons, have not made it to the semi finals!
Additional time: 3 minutes.
89' Sammehg Doutie comes on for Javi Lara. Can he turn out to be the saviour for the home team?
88' Dying moments of the game and we still see no major attack from either side. The story of the second half has been really unfortunate. The first half remained steady and a lot was expected from the second half. Phew....
86' Stephen Pearson gets the man of the match award for his equaliser and neat play for Atletico de Kolkata in the match.
83' Ishfaq Ahmed cannot continue for Kerala Blasters. He is replaced by Vinit Rai, another promising Indian footballer! Can he turn out to be the saviour for the away side?
79' Change: No goal for Hume. The Canadian striker is off. Belencoso comes in for ATK.
77' CHANCE! Kerala Blasters with double chances. Mohd Rafi attempts a volley inside the box, but that's just blocked by Pritam Kotal. But did it touch Kotal's hand? Ref says no, but the Kerala players don't agree.
Meanwhile, Belfort with a long shot on goal, but just wide!
76' Reminder: If the score remains 1-1 until the end, both Chennaiyin FC and FC Pune City exit from the ISL 2016.
75' Mehtab Hossain's corner remains wasted. Just what has happened to the game?!
70' Keegan Pereira gets a yellow for a crunching mistimed tackle on Vineeth.
68' There's an eerie silence at the Rabindra Sarobar stadium now. Pretty much expected. The tempo of the game has gone way too low. Nothing happening really.
62' Hume gets a yellow now for protesting against the ref's decision. The game is getting a bit tad physical now!
58' What an impressive clearance by Sandesh Jhingan to deny his compatriot Abhinash Ruidas an opportunity to penetrate and take a shot on goal!
54' Opportunity for Kerala Blasters from a Mehtab Hossain free kick. But that's a timely headed clearance by Borja! Oh daang! Mehtab gets a yellow for showing his frustration. Misses their last league game of the season against NorthEast United FC.
52' Most of the players taking treatment in the field at the moment. Play has just calmed a bit. Should not be long though...
49' Calculated start to the second half by both teams...
8:05 pm IST: Underway for the second half. You can watch the game LIVE, HERE...
Changes: Keegan Pereira on for Robert (ATK)

HALF TIME! Both teams level as we head in to the break.

For those who've missed, CK Vineeth drew opening blood for Kerala Blasters in the match, before Stephen Pearson equalised it for Atletico de Kolkata. Been a good half so far. The build-up play from both teams has been impressive.

Do join me, Sayantan, for the second half. Catch in a bit.

ATK 1-1 KER
45' Another free header missed! N'Doye's header off Josu's cross also goes high and wide....
43' Free kick taken by Josu and Mohd Rafi's header goes wide. Another opportunity missed for Kerala Blasters!
40' Ruidas!!! So Close...Pritam Kotal plays a lofted cross to the Indian youngster, but that's not on goal. Sorry, nice try!
37' Javi Lara tries out a clever free kick for ATK, but no, the final header is high and out. Chance wasted!
ICYMI: You can watch the game LIVE, HERE...
35' ATK are building up play very neatly from the midfield. If you ask me, we could see another goal from the home team just before the half time, if they continue the momentum..
30' Ho ho ho! Vineeth with an overhead kick, but that's just wide of the goal. Nevertheless, the Kerala Blasters forward was in an offside position anyway.
28' Good interception from Tiri to deny Vineeth from making inroads on goal!
26' Kervens Belfort has a go... But no problem for Debjit this time around. Guess the equaliser's definitely upped his morale!
24' ATK are bringing out their A game here! You can see that from the face of stalwart defenders like Hengbart and Hughes that they are in all sorts of pressure...
20' The home team are steadily improving with the passage of time. Their build-up in the attacking third should come as a major pleasure for Jose Molina. Lara, Pearson, Postiga, Hume -- everyone is giving their best.
18' EQUALISER! PEARSON MAKES A CLEVER RUN PAST THE DEFENDERS AND SLOTS IT IN. BRILLIANT THROUGH BALL FROM THE VETERAN POSTIGA. THAT'S A MARVEL OF A ONE-TOUCH PLAY.

WE ARE IN FOR A CRACKER, FOLKS!

ATK 1-1 KER
17' SHOT! If someone can, he can! Helder Postiga with a shot on goal from outside the box.... That's just wide! Daaang!
ATK 0-1 KER
13' Debjit is absolutely struggling and nerves have already got on to him. The ATK custodian has had to grab the ball three-four times already in the match and it must be just one occasion until now when he has grabbed the ball comfortably. That was from a Sandesh Jhingan header ahead of the first goal.
10' The home team are charged up now and Lara is everywhere. Meanwhile, Vineeth has four goals already in ISL 2016.
8' GOAL!!!! THE AWAY TEAM HAVE MADE THE BREAKTHROUGH... CK VINEETH IS THE MAN!

Horrible gaffe by Debjit Majumder who cannot just grab the ball mid-air. It falls in the path of Cedric Hengbart, who high foots the ball towards Vineeth, and the Bengaluru FC star scores with a header!

ATK 0-1 KER
6' Goal! NO, WAIT! Disallowed! Javi Lara slotted the ball into the Kerala Blasters net but that was offside! Oh gosh....Pearson was offside when he played the pass to Lara.
4' Oh Mehtab! The tough-tackling Indian midfielder takes Helder Postiga out with a mistimed tackle. The East Bengal medio is almost similar to Paul Scholes when it comes to making dangerous sliding challenges!
2' Action in the middle of the park as of now at the Rabindra Sarobar stadium. Neither team has yet made any major inroad on goal.
Lest we forget, TUNE IN TO THE MATCH LIVE HERE....
7:02 pm IST: HERE WE GO. MATCH KICKS OFF!
6:58 pm IST: Alright folks, the national anthem has been sung and the pre-match proceedings have completed. Kick-off update coming in some seconds....ALSO, THE ONE-MINUTE SILENCE FOR THE VICTIMS IN THE COLOMBIA PLANE CRASH IS OBSERVED.
6:52 pm IST: ICYMI:
ATK XI: Debjit; Pritam, Arnab, Tiri, Robert; Borja, Pearson; Lara, Postiga, Ruidas; Hume.
Coach: Jose Molina
Kerala Blasters XI: Stack; Jhingan, Hengbart, Hughes, Josu; N'Doye; Mehtab, Ishfaq; Vineeth, Rafi, Belfort.
Coach: Steve Coppell
6:50 pm IST: Okay guys, it's almost countdown 2 kickoff. Ten odd minutes for the match to get under way. Here is what's at stake...
6:40 pm IST: Both ATK and Kerala Blasters have an identical record so far. Except for the fact that the former champions have scored a total of 15 goals over their last 12 games, while the away side have scored a total of 11 times from their last 12 matches.
6:30 pm IST: It's been a very unfortunate day for football, especially after the air tragedy that struck the Brazilian football side Chapecoense, who were on the verge of living their dream, but unfortunately destiny had something else for them.
Wouldn't be a surprise if a minute's silence is observed by the teams ahead of tonight's ISL game in Kolkata.
6:20 pm IST: ICYMI: Read these articles below to see how the introduction of CK Vineeth changed Kerala Blasters' fortunes this year!
Kerala Blasters vs FC Goa highlights: CK Vineeth turns saviour for Sachin Tendulkar's side...
Kerala Blasters vs Chennaiyin FC highlights: CK Vineeth is new MS Dhoni, twitterati say...
Kerala Blasters: How CK Vineeth's late goals pulled attention back to ISL 2016...
Kerala Blasters draw closer to ISL 2016 semi final after brilliant show against Pune...
6:15 PM IST: So, this is what is happening ahead of the match! Remember, this is a crucial match and the victor gets a huge opening to confirm a semis berth...
6:05 pm IST: The lineups are out!
ATK XI: Debjit; Pritam, Arnab, Tiri, Robert; Borja, Pearson; Lara, Postiga, Ruidas; Hume.
Coach: Jose Molina
Kerala Blasters XI: Stack; Jhingan, Hengbart, Hughes, Josu; N'Doye; Mehtab, Ishfaq; Vineeth, Rafi, Belfort.
Coach: Steve Coppell
6 pm IST: Ladies and gentleman, welcome to the live coverage of another mouthwatering showdown between two juggernauts of the Indian Super League, Atletico de Kolkata and Kerala Blasters. This is the return leg ISL 2016 fixture between the teams and the result could bring out yet another team who will join Mumbai City FC in the last four of the Indian football competition this year.
Currently, ATK are third in the points table with 18 points, while Kerala Blasters remain fourth with the same number of points, but they have an inferior goal difference as compared to the inaugural ISL champions.
Join me, Sayantan (twitter @san_footy), for the live commentary from this all-important match. The game starts in exactly an hour's time from the Rabindra Sarobar stadium in the city of joy!