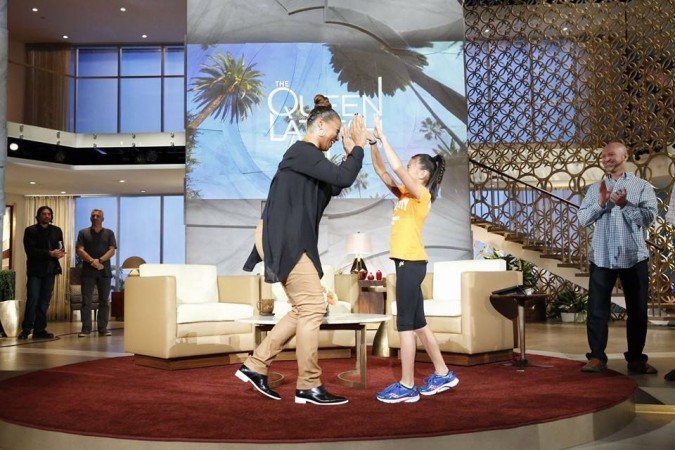 Losing a push-up contest in front of crowd is one thing, but losing as a well-endowed JROTC cadet to an opponent much smaller, younger and wearing sandals has got to be tough to deal with. Fortunately, this particular cadet was a gracious loser and the talent of the little girl who beat him was unquestionably evident.
At a fund-raiser for the Active Heroes Foundation, a charity helping Veterans, Active Duty Military and their families, in North Carolina on 6 September, young cadets went up against onlookers in fitness challenges including planks, push-ups, sit-ups, and so on, during which a 10-year-old girl challenged a cadet from Lejeune High School to a push-up contest.
The girl, Kaylyn Mitnz, effortlessly outmatched the undoubtedly fit cadet amidst proclamations from the crowds that "She won! She won!"
Kimberly Munley, the US Army Sergeant who confronted the Fort Hood gunman in November 2009, posted the video on her Facebook page and declared that Kaylyn was her new little hero.
The YouTube video of the event has since gone viral with 1,709,780 hits at the time of reporting and even got her invited to Queen Latifah.
"... We will be traveling to Los Angeles to get ready to film with Queen Latifah on Tuesday. This will be in honor of a very inspiring 10 yr old little girl (my little hero) who showed the entire world her "warrior spirit" and in honor of all the brave men and women who serve or have served our country in uniform. We will let everyone know when the show will air very soon so stay tuned!" announced Munley on 21 September.
Little did the girl know that surprises were in store for her at Queen Latifah. Mintz, who is a prolific young gymnast, is hopeful of entering the 2014 junior Olympics and has started a "go fund me account" to raise money for her expenses in this regard.
At the show, Munley releaved to Mintz, "Miss Kaylyn, it is my honour on behalf of active heroes, which is the ones who put on the event that day you attended, graciously, to contribute $2,000 to your fund.. We want to watch you see your dream come true, because you helped us so much that day".
Further, she received a special message from her idol and Olympic gold medal gymnast Gaby Douglas: "I saw the video of you doing all those push-ups and girl, oh my goodness, that was amazing... that was so spectacular and I also heard next month you are trying to make top national team, and I wanted send you all the best love you so much," and ended the touching video with a flying kiss.
A clearly ecstatic Mintza had nothing to say but, "awesome" to that.
Watch the video of Mintz outperforming the US army sergeant in the push-up challenge: